Thanks for giving me money. It helps. (Amazon | PayPal)

Wednesday, 24 October:

At Pepi's fashion show, I met up with Tada who invited me to a movie screening.

Tokyo Noise

Tada-san invited us to a movie screening of "Tokyo Noise."

Filmed by Swedish people the movie interviewed a dozen or so artists, priests, doctors about the state of the Japanese culture and country. Striking visuals, quick lively editing, an undercurrent of noise music, terrificially hip, and really impossible to judge since I couldn't understand a single spoken word. Entirely in Japanese, this film had no subtitles. The language was very high minded, as a spiritual, stylistic, philosophical study of Modern Japan it might have been fascinating.

I enjoyed the chance to meet one of Japan's most infamous photographers, Nobuyoshi Araki. Hattori introduced us. He wore a black suit jacket covered in corroded red tape, resembling dried strips of blood.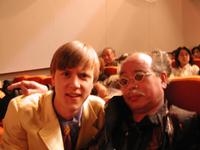 His hair was deliberated cultivated into two devilish points, which worked well with his omnipresent tiny sunglasses. Quite a cutting figure, with a tight potbelly. Araki gave me a naked lady phone card and was nice enough to pose for a picture with his middle finger waving cheerily over my shoulder.
Afterwards our group split up. I talked to a ladyfriend having some tough times to break up with her boyfriend. They had been living together. He's a white guy, she's Japanese, they met in San Francisco. Once both of them were living in Tokyo, his desire to spend some time chasing the plentitude of fine ladies surrounding him overwhelmed his desire for cohabitation and monogamy. She wasn't happy. She complained of his all night schedule running around town. I was curious. While consoling her, I wanted to watch him in action.
My last appointment of the week Friday was at the Visa office. I was actually able to plead my case to an immigration officer almost entirely in Japanese. Turns out they don't exactly have a visa provision for freelance internet writers who work for corporate sponsored research magazines. Unfortunately, there's about four things I have wrong in my career choice for matching up with their qualifications for "Journalist's Visa." Fortunately, he seemed very impressed that I had been initially accepted for my Foreign Correspondent's Club of Japan membership (final approval pending late November), and he was willing to listen to me rant and watch me gesticulate my enthusiasm for professional writing on a broad range of subjects before agreeing to see me again in December.
Leaving this meeting more than slightly excited, I asked a Japanese person to point me towards Shibuya, a young part of town, from Otemachi, where I was at the immigration office. He was very confused about the very long distance (I suppose it might be like standing at Wall Street and saying, "Where's Harlem?" and then walking off in that direction). But blindly walking across Tokyo during the day time is a low-risk proposion; with the thick network of subways stops you can readily cut short your sidestreet travels and return back to the mainstream.
I was pleasantly torn between watching high school girls and boys doing their jogging around the placid Imperial Palace and using my phone to email photos of myself watching high school girls and boys jogging around the placid Imperial Palace. I had a portable internet multimedia time, asking passersby for help with my phone-email Japanese, and inviting nearly everyone in my contact list to join me for a long walk. Most of the Japanese people who even bothered to reply seemed very confused by my presumptuous tone, cockamaime invitation and strange activity.
Jazz Cafe - Since 1967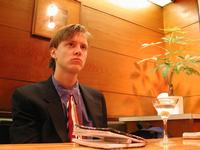 After about ninty minutes of walking and enjoying the balmy weather and the darkening sky, I was drawn into a basement bar in Yotsuya, "Jazz Cafe - since 1967." For a city that prides itself mostly on new culture, this seemed a nice deliberate time capsule. In a Scandinavian-Zen wooden interior basement, three men sat widely spread out, each alone with their drink. The room was dominated by two giant speakers set in the wall at one end, playing jazz at such a volume so as to make active listening mandatory and conversation impossible. The first album they were playing, & Ali, "Live at Tonic" was live; the applause and chit-chat sounded as though it were in the same room. This was Jazz the opposite of New Orleans, as it was sexless clarity, all in the mind and none in the pelvis. It took me a while to relax my recently inculcated New Orleans-jazz pride and accept this framework for music appreciation. A martini helped and I began to unwind and feel my ambient tension and enthusiasm replaced by a stream of pleasant wandering thoughts in response to the music. As I was about to leave, and they put on Lush Life LP, I could feel the music coming through my body and pushing thoughts out of my mind. It was like a church that place. A meditative retreat. Men entered, spoke a few words, sat alone, listened with their eyes closed, and left.
Hiroshima-style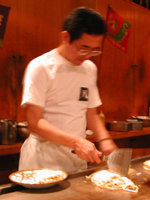 Hungry, I left the bar and wandered Yotsuya. Down a sidestreet, I came upon a type of Japanese cuisine I'd heard about but never sampled - okonomiyaki, or Japanese pancakes. Down in the basement, another nicely wood trimmed restaurant playing Jazz. Being early in the evening rush gave me a chance to chat with the owner, his wife, and their young female helper who had enough english to make a very eager impression. He hailed from Hiroshima, and had very much pride in that. "This is Hiroshima sake. Number one sake is." and "This is Hiroshima-style okonomiyaki." He handed me a matchbook, a rough translation of the restaurant name seemed to be "Hiroshima simple."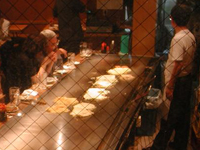 Somehow the whole atomic bomb on his hometown subject came up, at his casual and slightly sarcastic mention. I think the dialog went something like this:
"This pancake, Hiroshima style is."
"Ahh, Hiroshima, how interesting."
"Yes, Hiroshima. America Bomb."
"Ahh, bomb, so sorry."
"Yes bomb."
"Maybe now Afghanistan."
"Hah hah, yes Afghanistan bomb."

There's something unsettling and satisfying about using broken Japanese to say such silly things about huge issues as the only foreign representative of my nation's history.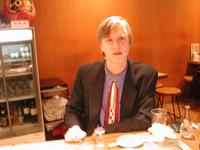 Okonomiyaki
Typical Hiroshima-style Okonomiyaki seems to be made in the following way:
Batter is spread out to a foot-diameter on a large hot cooking surface. As it bubbles up and begins to solidify, two or three different powdered spices are liberally sprinkled over the top. A four inch pile of cabbage is piled up around the entire circle. On top of that, a half inch layer of mung bean sprouts. On top of that, two handfuls of fried tempura bits. Then, three strips of pork, bacon type material. Ramen or udon noodles that have been grilling in a circle shape nearby are thrown on top. Then this tall pile is adeptly flipped to simmer and shrink under occassional compression. Finally, it is placed on top of a single egg that has been cooked in the same circle shape. Then the top is covered with a brown sauce (not terriyaki or unagi-topping, more sweet and thick) and spices. It seems like a meal originally intended for leftovers. Whatever the origins, it's darn delicious.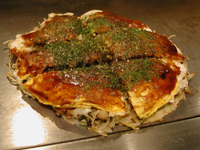 I exited and using my pocket socialization coordinator, I tracked down this hungry man I'd heard about earlier. We agreed to meet up and finally did at the MODA bar, where Patrick the bartender (from Florida, I think) was having his nails done as an early part of his costume as "the human disco ball."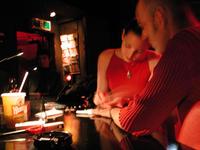 On my way there, I caught the eye of a young Japanese girl with elaborate black cornrow dreadlock hair and some funk-trendy outfit. She said I was cute, I said she was too, sorta. She asked if I was foreign, I was. She asked if I was army, I said I was a journalist. She squealed she loves army guys - her boyfriend is on the Kittyhawk.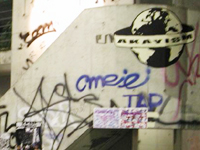 Akayism was in Evidence in Harajuku, Tokyo


Gent and I wandered off into the Harajuku night, finding some good fare of food. He's an active student of the language who has develed more deeply into some of the sexuality and criminality possible with tongues. He knew some Yakuza slang for "fuck off" which I promptly forgot, and we had a good time drinking beers and making conversation with the unsuspecting locals around us.

We agreed to meet up with friends in Roppongi.