17 November 2001

In 1994, I applied for a job at Wired Magazine. There I met a geek leader, Jonathan Steuer. I needed a place to live, he brought me into his home and his astonishingly rich Cyborganic Community.

In Jonathan's apartment in the summer of 1995 I lived again for a few weeks, and I met his sister Ellen. She was starting school in September Mills College in Oakland. The next year in November, I would see Ellen again at some Cyborganic parties and she would introduce me to Amy, who ended up being my long-time live-in girlfriend.

In the midst of that time, I was travelling from Philadelphia to San Francisco. A young man on the plane recognized me from a newspaper article about some of my web work having appeared in a film. He introduced himself as Jonathan Wilner; as we were both media-curious geeks moving to San Francisco. We struck up a conversation and agreed to meet in the city. With Amy, I ended up introducing him to Ellen - they met when he drove us to a Renaissance Faire in Northern California.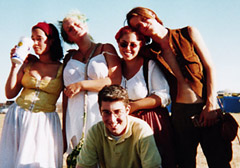 The day they met.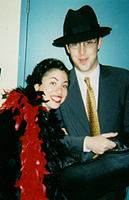 Gangstas - Halloween 1999

Three years later, all of those people above and many other wonderful folks gathered in Milwaukee to see Ellen and Jonathan wed.

Friday we gathered for toasts and musical performances. Saturday many went to the Milwaukee Art Museum, boasting a majestic new addition by a Spanish architect. Saturday afternoon and evening was the Wedding at the Milwaukee Athletic Club, and there we stayed into the night eating, drinking, dancing. Sunday there was a brunch at the home of some friends. And in between much chatting and carrying on.

I took most of these photos then, Amy took many of the others. Many are blurry; I wasn't fond of the effects of the flash. It's a tradeoff - pasty skin and demon-red eyes or persons in motion. You can click most pictures for a blow up - some of the larger versions are recommmended with a dose of Dramamine.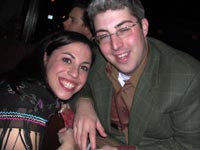 Ellen looked radiant the whole weekend. Wilner is smiling, with his cool glasses; he has trouble keeping his lids up when cameras flashed. (photo: Amy)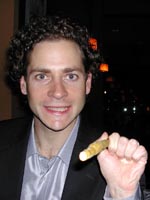 David weilds a breadstick at the bar. (photo: Amy)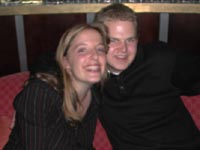 Marisa and darn it dude I forgot your name sorry. (photo: Amy)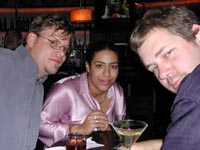 Arwa looks disconcerted, Herf just looks, and Neck is leaning in from the side offering libation. (photo: Amy)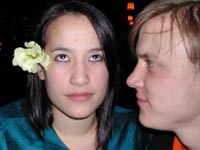 Amy and Justin.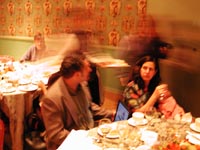 New parents in a busy world.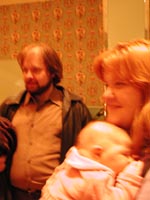 Ian and Jenni and baby Josie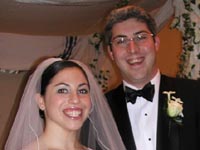 Who's happy to be here?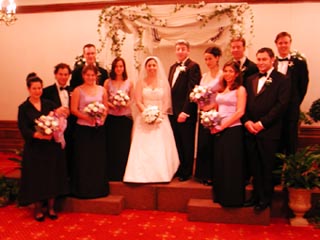 In spite of some prediction to the contrary and her own protestations, Ellen's Mom Betsy was able to take this digital photo of the wedding party. (photo: Betsy)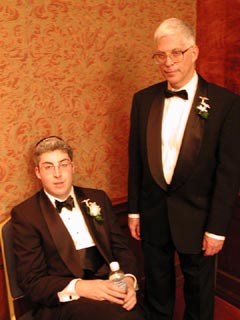 Evan and his son.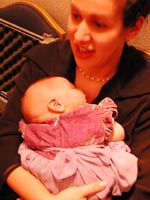 Marjorie looks excited to be holding her daughter Josie, while the baby takes it all in stride.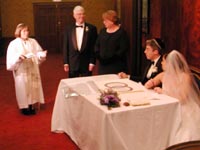 Ellen and Jonathan had an American Jewish Wedding. Part of that was the signing of the "Katuba," a Hebrew and English hybrid calligraphied parchment testifying to their bond. Most folks were not used to signing their names in Hebrew. Jon's Dad is here shown beaming.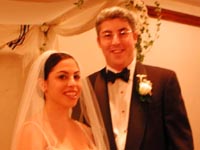 .oO(Can you believe that I'm actually getting married?)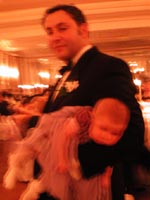 Something was wildly cute about straight-faced Steuer with a peaceful baby slung over his arm.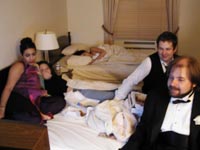 After hard dancing and drinking and carrying on, some retired to a suite at the Milwaukee Athletic Club and watched the Blue Lagoon on TV.

There are, of course, many folks and moments not pictured here. Carrying members of the family up on chairs, vigorously thrusting them in the air hoping to scare them into trusting the people below. Enthusiastic dancing in pairs and in circles, shaking a leg with Betsy to "Proud Mary." Jonathan's mother's Jackie O long black gloves. Jordan grinning widely nearly the entire time.

One older gentleman was mostly bald with a white beard and big diamond in his left ear - he got it for his 80th birthday he said.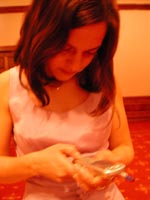 He had been in Japan just after World War II had ended; I had just flown in from Japan a few days earlier. We spent some good time at a Sunday brunch after the wedding talking about what he had seen there. Also, Marla had spent much time studying Japanese and living in Japan; we chatted a bit in Japanese (with Wilner interjecting his own Nihongo) and she was able to read some from my j-phone.

I brought it along and took some camera-phone pictures:
| | | |
| --- | --- | --- |
| Never did a bride a groom look more pixellated. | Who is zooming whom? | The lucky man. |
This was a startled time; the floor had dropped out on the Internet economy, where Jonathan Steuer and Jonathan Wilner had both worked (as well as many of the young guests). Terrorists had recently attacked New York and Washington DC; people were apprehensive about travel and perhaps about the future. So it was quite encouraging to see strong family born out of otherwise unsettled times; good friends and blood relatives who gathered to make this union.