Sunday, 31 March
now with pictures and links to two MP3s you can no longer download to enjoy
The pace of life in America might have been fast but I can not recall as I have been blindsided by Tokyo.
Land and present my Journalist's visa to discover that it was not a visa but a permission to get a visa, if you take that slip to a Japanese embassy in a foreign country. This is grounds for grounding; I am taken into the bowels of Narita where visa-less citizens are sat to stew while Japanese men debate their fate in adjacent smoky windowless rooms. I sat with a mother and daughter, notably, the perhaps 13 year old daughter crying endlessly, and the frizzy overdyed blonde mother consoling her. Their story, as I could piece it together from their Japanese and Spanish exchanges was this: they were Peruvian. Either the girls dad, but no not her dad, but her uncle was somehow Japanese. Her uncle? No her dad. But not her dad. No proof. No address. More tears. Japanese men seeming somewhat confused and unable to speak Spanish. Her Japanese language ability seemed to change with the message. I was suspect of her story, though it was mostly a straightforward expression of a desire to come to reside in Japan. Before the conclusion I was called into an adjacent room to face the facts of my error, as they were explained to me, and as I was asked to transcribe them in a handwritten apology letter to the Ministry of Immigration. Next week, I promised, I will travel to Korea and ask at that embassy there if I can have my visa. What was I thinking?
Take my suitcase to Ueno station to pack belongings unnecessary for the next three days in a large coin locker.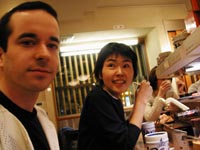 A frenchish young man I had seen earlier and smiled at, he eventually approaches me, "Are you Justin Hall?" We had corresponded briefly as he wrote looking for a place to download photos of a digital camera during this visit to Tokyo. He knew me from my web site, himself making comedy TV in Quebec. He seemed nice enough so Jocelyn and I with his ladyfriend Noriko ended up at a conveyor belt sushi place in the Ueno markets. He made a point of repeating a few times his question that didn't bukkake mean splash? And I felt sensitive to having this sort of profanity muttered loud by obvious visitors. Later as I was holding forth on something more benign one of the sushi chefs leaned under his face-shielding partition to ask that I please keep quiet. I noticed none of the other diners crowded in the other stools seemed to be audibly communicating. We left. Noriko loudly declared that she didn't think we were being loud. Her cheeks were probably as red as mine.
We parted ways and I wandered through night hanami in Ueno park, cross-dressing men drinking and flower-watching together, just down the row from the sump blanket. Nice to see so many party-going Japanese folk, though slightly alienating for a zombie-head lone man. The air was thin and warm and so were people just free to wander slightly tipsy and watching each other. I was hijacking a group photo when they asked me to go ahead and take official pictures with their cameras, there were about eight of them, disposable, piled up at my feet. Afterwards one of the wild-blonde haired dark faced young ladies approached to thank me and retrieve her disposable camera and I was somewhat shocked to find myself drawn up into her alien-styled face.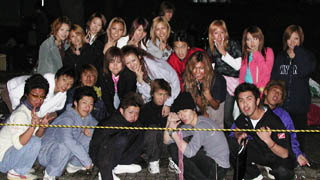 Hijacking a group photo in Ueno park during Hanami, I ended up being their 10-camera photographer. And smiled briefly with the girl center-lower-right, face extremely bronzed. Yow!
Notice, men in front, bending, women in back. Women make peace signs, often in front of their mouth (a gesture which has partial cunnilingual connotations in the West, at least).

And this was only one of the faces I felt drawn into; there was some desperation of some audible volume that night, such that I didn't roam long without somehow reaching out with my will to find someone to share a night with. It's strange to demand that from the world, when you have just landed and you have nowhere to go. So I went to work, and fell asleep at the keyboard. And then I went looking for a capsule hotel. After following some lady I'd chatted with off the train at Shinagawa, I was directed to visit Omori where there were numerous capsules available. I realized I had 1000 yen in my wallet, not enough to pay for the first bed I found. So in this creditcardless country, cashless, 11 and a half pm wandering off the central train track, wondering if I can find a bed. All around me women glancing furtively, who is that young man wandering alone, from another place? And it's immediately tempting, as though I wonder if they are observing me because they want me to go ahead and crash at their place tonight. I checked with one or two ladies and that was not the case. When I need something, it's hard to be funny and I decided last night being funny is probably the best way for me to find a place to crash.

I ended up at Mizuho capsule, they accepted my worn gray plastic debt machine. A marvellous new capsule hotel including access to a fantastic atrium skylit bath with tiled hot and cold plunge tubs and two saunas. And a restaurant with standard Japanese breakfast, 500 yen on top of the 3780 for the capsule. I had the option for "large room" where you crash on a cushion on the floor of a large room, in the company of a lot of other men. That's only 2700, and it has to be the cheapest I've heard of yet. But I wanted to compute some and jerk off so I elected for 8 dollars worth of privacy.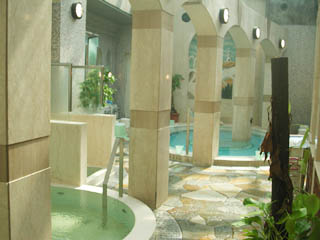 Omori, Tokyo Capsule Hotel:
37$ a night buys you a plastic coffin to sleep in, and access to these atrium skylight mosaic-tiled baths with two saunas and a cold plunge.

And discovered another drawback to a capsule hotel - no power outlet. I would love to live in plastic and do my work, it's just enough space to further compress my spine and generate text and communications. I feel increasingly anxious about not being able to write during my down moments; I love this time wandering the city for lodgings, really I do. And every night I elect to find a new place to stay, it's a great way to learn about some things. But I'm beginning to crave a room where I can unpack and wake up and work. But I can't afford it yet. A few more 29$ nights and I can justify a night or two at a nice regular hotel. Riding in business class with people who actually paid for their tickets instead of using travel frequency to upgrade, I discover that their companies pay. The nice hotels of the world are mostly supported by companies. Here the medium grade is called a "business hotel." I am my own company and a nice hotel is not in the budget. Besides that, choosing just one would be hard; I want to be free to join someone at their place.

I have elected to spend March working on speculative long-term career enhancing projects that generate no immediate revenue beyond stimulation and the chance to engage talents of various friends. One of these projects was to develop the pilot for an interview show with game developers, the people who develop our simulations and play spaces.

If TV was where I wanted to be, I stumbled into it Sunday morning in Tokyo. Itoi-san from Yokote called at 7.30, 7.50, 8.10, 9.30 and 9.50. I hadn't realized he meant we were supposed to meet at 7.30 in the morning. So I was late meeting him at NHK, the large Japanese broadcaster. He lead me into the basement, a cavernous room loosely filled with Yokote-citizens, the men who had lead the bonden charge. They had been bused in to participate in a bonden festival recreation for Japanese television. And would I please put on those straw shoes and these wraparound tie-on pants and this hanten? And not twenty hours after I landed in Tokyo I opened my eyes inside the large NHK hall, holding the plank-banner for our bonden group before two thousand Japanese audience members. The footage will air throughout Japan on 6th May, I'm told.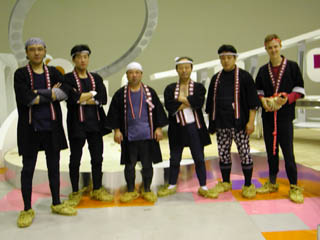 Bonden crew from Yokote standing proud on some plastic-space aged set at NHK. Notice the old-fashioned straw-shoes. Unfortunately the blow-up of this photograph, if you click on it, it's blurry.

Standing in straw shoes on stage meant that I missed the hanami party scheduled weeks in advance for Chanpon.org, my chance to meet that community. And Mimi said, great you missed it to get your face on TV. I think I just want to experience it all.

Like typing all that in Shibuya, three blimp-sized TVs staring down at me and a gaggle of style surrounding. And then walking between them, wondering if there are so many folks, why might I not find one with whom I can engage. But to address the issue directly is useless and I know that I should know better than to get to the heart of the matter; I am not a charismagician. And isn't it better to wait for something to inspire than to strike desparately with wet matches?

I found myself when two girls smiled at me and I kept walking, looking for contact lens juice unavailable anywhere at 10pm. So I returned to them, to ask, why are you waiting? Two Chinese girls and boy and I spent two hours in the middle of a street in Shibuya, waiting for their phantom friend. And this girl, I don't know her name, only her keitai email, she showed her hard chin talking about American propensity for killing, and then lying about it. She's 23, the one I took to best, though all were easy talking; she studies foreign relations here. And while we argued politics and this was where I felt that I had finally, lately, argued with a young woman in the streets of Japan, it was when I whistled Rose Rose I love you and she knew it and she sang out the rest of my verse that her smile and attitude left me slightly smitted (probably the cultural equivalent of whistling "Fly me to the Moon"). I went on to whistle Shanghai After Dark, or Shanghai Night, whatever it's called, the male man his face turned, he stared at me and said "you are very strange."

Her part-time job is working at a Japanese pub. The Japanese, they only care about drinking, and having fun, and sex - not studying, she said with a hard expression. The Chinese? We like studying. As she speaks I wonder if this is why Japan might be in decline, too rich too fat too fast and so these citizens are exploring pleasure and culture instead of prosperity-making. Three hundred million tiny plastic kitten keychains and pornographic comics in convenience stores echo her sentiments.

In exchange for all this education I was happy to leave when she ordered me to, as my unending questions were noisy, and rude, she said with a wide smile and flaring eyes. She persisted in answering them, and asking some, and I retired to the aged Shibuya 312 Capsule Hotel having had enough human female contact to get me through the night. I only might have thought I wanted sex; in fact I wanted sparring.

More of Justin's Links by Justin Hall.