Tuesday, 30 April

all that sumptuous taste I've had in my mouth or skin I've held before my eyes, and now some moments to balance it out, pushing not gently enough on her bruises and earning a long ago familiar tired expression of some downcast eyes and a long face that she would rather just be quiet than persevere any more of this how fast can i get to know you. and what then? what's to say you won't find out everything there is and then move on? that seems to be your pattern. i say, i love a creative woman who makes an endless array of objects and pursuits such that her mind and her affairs would never cease to amaze me. i've worked to find a home for my heart before and it's somewhere i could stay.

but what do i know now? i know that i was right, in my childish insight prescient as i sat before the runway in tokyo, that rushing headlong feels oh god good and then having my nose under her and breathing just before she continues talking about german poems set to classical music or elaborating on the plot points of a sequel to an animated TV show I haven't seen in years, her eyebrows dancing in time, and we feel so high we say, we have laid down in a rare weekend night and felt that through us that sort of blurry buzzing bliss that usually accompanies chemicals. so to have it that feeling of losing body and mind into something more less in the world perhaps is to relish that it comes with some control or choice, i believe, as i privilege the more natural ascent to drug states, in this case, through breathing in of my babe.

but then it is true that i am still stricken by what comes of drugs, and then their progenitors, desire - it is folly, i told myself folding over the thick rice-paper bound volume of translated Ikkyu into my lap on the bullet train from tokyo to west central Japan, folly to be so ready to head into desire. to acknowledge embrace and rush towards wanting something

because what comes too is that email and phone call this morning, where she writes that she feels overwhelmed, besides the former complaint and struggle to keep up with or be friends with such a twitchy busy hungry boy there is the question, how do i fit all this love into my busy schedule and other folks feeling left aside? i reached out to her with my hand warm from faith and good feeling, pushed some of our sweat from all our last nights on to her back and neck and talked to her of our love, as it stands each morning, parting strong still ready for a day apart and perhaps maybe smelling of all the animal and mental intensity of bedtime.

and it works, she seems to say, thank you yes, i hear as you say what i knew before but you reminded me justin, this is a wonderful thing we have, and i am so happy to live with you in it as we can between these things that make up our home and our eating and our friends and family we will become everything else for us or at least gather late nights together from a flexible boy and his old car. and it will be beautiful because we believe that any moment is delicious and waiting makes it ever more so. and i beam wide a fool happy proud and sated, poured and floored to be loved so much by such a lady bright with her feelings between us. and then later i realize, hungry, belly empty, blood sugar despair creeps towards my eyeballs and i see i have eaten her fear, that i would not fit in after she is done watching tv tonight in a pre-arranged playdate and then some other sorts of personal business, i will not have enough can i? i can settle for anything but then there are those other weekends that are now unavailable and a month in san francisco stretches out before me my body on a folded down carseat parked outside of her house or studio or office, a roaming correspondent writing from my car and happy to be an hour or two. if that!

i would demand better time or even abandoning this folly but this morning we made so much of a ride to her work to talk further and enjoy each other and then to sit in my car two hours i wrote flaming prose on the future of phones it was like i felt a leather-sheathed badass walking down the street to buy deviled eggs to congratulate myself, that i can still make words on other subjects besides idling desire.

still this love makes me want to do situps to stand up straighter and finish finally an article about puccini's madame butterfly for Chanpon.org and show the world my long chapter on mobile phones. To move on is still strength, and I would still be a blinded horse to stumble from this path that I may only see in darkness. up over top that ridge where trees still stand naked unblooming, green buds not fully pushed through thick scarred black bark tissue, there is a light coming from under a lake. and there we will see the sunrise as the early morning birds are always here to greet us. they tell me their old valley had been paved but they will find a new home as there is hope in loverspeak. i can tell stories and i can live through this and i can meet this woman with eye to eye honesty acknowledging first doubt and pain to see that through it is all the dreams of a man who could speak for ever except when she demands stillness and silence from her slave. without reflection, as she rose from the bed in flesh, i said, i'll be your slave forever. but i want to be a slave too she smiled and whined sweetly.

Saturday, 27 April

we woke up after 36 hours and three word echoes in the oakland sunlight i bounded out of bed to find some bitches brew she was a power smiling woman mother laying in that bed child body mine ours and it was all i could find in my mind in idle moments i have lost track of a few deadlines and gone long without corresponding electronically but now that she is removed from me for some moments i find myself only longing to reflect and i don't feel much self-pity but rather some burn to write this down as it feels so young i have not wanted to lay in a bed and share moments with a lady in a long while

it's only talking for three days it's been since i arrived mostly at her beck and call and poking her and then stopped learning to touch someone different appropriate and learning not only what is the right way to use my fingers again as i am with someone i want to touch talk long time and not just poke hard now but she has also taught me new words and musics and all her voice is song a thick melodious stream of her old loves and her family process and her no plans

and maybe we will live together and maybe we can't find a place to sleep near eachother next week and there is that wedding later in the summer and i want her to meet my friends and my family and just be around her. i've told her i'll work as her chauffeur. i have a car charger for my laptop so maybe i might work sometimes return to that writing that occupies my business hours but all of life seems to be a longing for something overriding it's that feeling i have to stare at her still and lose my heart and forget all i have tried to be because she just seems to like me. and for all my energy and confusion and confidence it's kept me awake on 8 hours of sleep since wednesday i landed from rural japan and i don't know what jetlag is or maybe i'll eat later, i'm propelled forward strong but underneath i've seen some true naked side of me not the confident stand on stage but something deeper that i cried talking about my dad and i'm not sure that anyone so beautiful could be seen leaning over me smiling at me through her hair. what could i be to earn that expression? maybe she is just as screwed up as me but somehow just now this month we are together working through all

and she said you're my favourite, my favourite boy, my favourite lover. she thought for a moment: i don't have any others right now, she decided, but if i did, you'd be my favourite, she smiled. and what more can i ask? i am in love.

Tuesday, 23 April

Last night I had a dream that I lost control of the fine system I have designed to keep the pain I experienced with my father from striking at people socially engaged with me.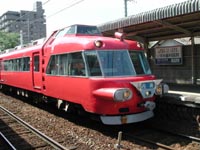 My ride into the Gifu-ken small town station looked like Tom Swift Junior's train. The train pilot sits in the glass cabinet perched atop the passenger atrium.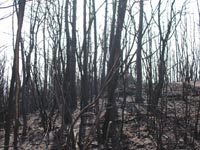 A daytime darkened forest.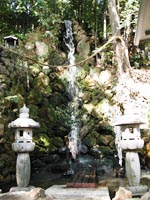 Stuck my head and blouse under this pour water Shinto shower. Before I walked up a hill!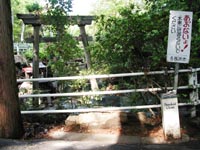 We can be smokin' clean next to this small shrine gate in Gifu-ken.


So now I have spent two days with her mother in rural Japan; it was wonderful to step off of the train and see bugs floating lazily in sun-heated air that has space between low buildings to breathe wet. The plants have responded, filling flat broad spaces with green and the whole scene is a brain vacation; only slightly twisted by a hill over town, made tri-color by a recent fire. My host is a woman who had seen her home torched by similar flames that overtook a hill and hundreds of homes in Northern California some ten years ago. Oh no, she thought, here it comes again. But it was not the case this time. Instead the forest alone has suffered the first force of rebirth. I climbed through it as the sun faded and all the trees were dark, my hand on the bark it was somehow like a soft fur, this charred matter. Small trees stripped of their deceny lashed at me naked leaving black lines on my white clothes. All the ground was soft, the connective tissue of this place reduced to piles of ashes having soaked up recent rains. In the burnt forest, at night, there is no road more or less traveled, there is only what appears to be a road. I lost track of that and I sat on a stump and I thought about many things.

Golden Week may have once been some god-honoring holiday in Japan but now it is a time for travel. So proposing to leave here during this season is deliberately entering a rush hour where all seats and standing spots are spoken for and only a fool would want to give up confirmed timing and the chance to linger longer in this fine country to see all that the spring continues to reveal of some Japanese spirits and other cities we might visit. But I am always searching, I say, wandering this land and online and elsewhere looking for something. And those times I forget my searching is when I find good conversation. And those times I seek out any of that conversation with an again person is somehow when my beating blood pumping organ finds a heart shaped box in another chest and I can share my organ and comingle emotional fluid with some strange soul. So to have a feeling like I might have found such a person is to feel like I have my future before me.

I have been so career focused, choosing paths of study - internet culture, electronic entertainment, Japan. so this has been fun, and rewarding. I've found valuable minds and unending stimulation possible in each of these worlds. But nothing to pin me down past my wriggling. That I met a pair of eyebrows that might arch higher than mine and a set of references that expands around my own in a hug past information means nothing more complicated than go. She is in the Bay Areas, and I will be landing in San Francisco some 18 hours after I leave Gifu. In Okachimachi I will grab sushi off a conveyor belt, in Ueno I will remove my bags from the last coin locker and then I will be in America until late May, when I will return again to Japan with my Mother.

None of this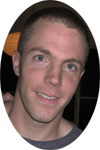 is very permanent, and perhaps she is not even entirely ready to receive a full Justin-load of exploration. But I am content to be overwhelming or alone or just somewhere else now. My body is crying sick for weeks. My brother has said, you can sleep when you are dead. So maybe I will die for a little while. I just can not hold any memory of all we talk and chat and dance and dash about over these phones and that little time in Tokyo and remembering some great comfort to share space before and think to myself this would be worth postponing for more mobile phone research or visiting other dark alleys of other pleasure quarters in older cities. Maybe I will be called back to those parts. But I enjoy this conviction and this conversation.
Maybe it is this new thick fast hard trembling temeritous relating that has me revisiting my father (osashiburi, dessho) and reading poetry and writing shorter lines in old Chinese even things I can not read I now copy into my notebook more time with a pen poised over flattened wood pulp than I have spent since I first bent my fingers over this particular hot black keyslab. I'm happy to remember I can be a poet and a lover as well as a low-grade technology technician and chronicler of human computer diversion. Talking more deeply than sharing informed witticisms. Unabashed yearning tempered only slightly by aging into sobriety, unleashed by desire and encouraged by her fine words, great brains and physical charms. And she has a welcoming warm Mom too. I helped Mom get her email working.
Saturday, 20 April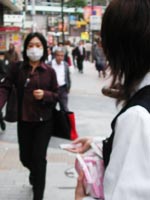 even after eating about two heads of garlic in three days and sleeping at least eight hours a night I can not shake this three week cold. my nose runneth over. thankfully Japan is filled with kind people handing out promotional packages of tissues.

I'm working on:

book chapter on mobile phone gaming for "Handbook of Computer Game Studies" book (24 April)

article on mobile phone wallets for TheFeature.com (24 April)

the next issue of Chanpon.org (28 April)

an article about mobile phones in Japan for Yahoo Internet Life (3 May)

developing and promoting Just In Tokyo

and arranging my near-term life to be in San Francisco as soon as possible.

Thursday, 18 April

Perhaps I nearly got my lights punched out taking pictures of patrons inquiring at Shinbashi massage parlors last night.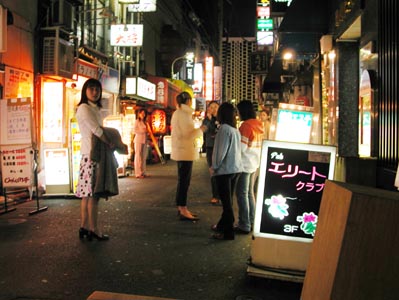 We conferred over my digital camera, them leaning drunk, angry and then they believed that I had deleted the pictures from my camera, as I had. I was a journalist, I explained. Writing about night in Tokyo. "Do your job, but do not disgrace us," the bearded young bespectacled Indian gentleman said, less visibly angry than his short-haired Japanese nightlife guide still leaning over my camera, suspicious.

This 21 year old woman lives near Asakusa, in old Eastern Tokyo.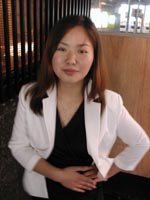 She's from China, she's in school here studying Japanese. Been in Japan for a year and a half. She would walk along side businessmen, maybe encircling their arm, calling to them in Japanese: "big brother, big brother, would you like a massage? it gives a wonderful feeling!" When they refused her she would follow behind them briefly, pantomiming a kick in their rear ends. She was young, playing around. I mimicked her kick, we laughed. She offered me a messaji (handjob) for 7000 yen. We're both students, I said, don't I deserve a cheaper price? What are you studying? she asked. You. She laughed, lightly.
Prowling these streets I am before I return to sanity. These are places that do not seem to exist in the States, or at least they do not invite me. Here men and women engage in elbow grabbing sex feints, promises of commitment in commerce. Or no commitment. Play, now, okane. Except for the threats of disgrace, there doesn't seem to be much danger here.
On the way home, I come upon the nightlife totem man: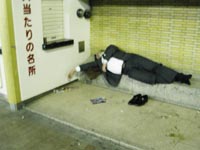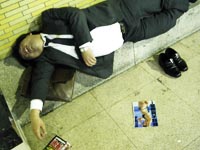 I think I may be better off than that, if only because I've landed somewhere now I no longer search for a nightly bed, but a place to do laundry.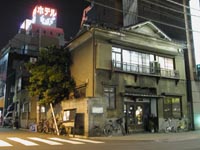 Taito Ryokan - sixty years old, owned and run by a friendly twenty-something Japanese guy who seems to genuinely like travelers. 3000 yen a night (about 24 dollars) for a single room, straw mats, futons on the floor. I have the room between the street, the front door, and the TV/lounge. With my window open I'm centimeters away from the late passing streetlife. It's in the old part of town, near Asakusa, which makes most people say "oh." like it's squaresville. But here I see priests and transvestites and bent old ladies with canes walking by stores run by people without teeth. I don't mind.

Nearby there's a bathhouse. Tonight naked without my glasses, I went and sat down firmly in an open spot in a large tub. My body crumpled and froze. I was paralyzed in roiling hot water and I couldn't understand. My skin was prickled pinpointed painful. I looked up. A blurred figure in white hair stood nearby, lifting his leg to enter the adjacent spot. I struggled to move my arm, I lifted it above the water and the rest of my frozen body wailed in envy. I had found the denki ofuro, the electric-current baths. Jaw locked, I pushed my twitching flesh through another thirty seconds, having my muscles exercised without my consent. Perhaps I didn't know how to properly relax in electricity-infused water.

There were men with tattoos on their arms, and wicked scars across their chests. Somewhat chastened by my photo experience last night, I used my mobile phone discreetly to take this picture:

Today I spent two hours waking up a lovely girl with a thick honey voice as she slept and then rose to call out of me sides I don't see so often. And I don't mind the money or the time to be so far away connected. It's amazing all rational force advises against enjoying people in other places but how can you help yourself when you are grabbed by the collar and shoved up against the world's warm belly? Do you beg to be drawn back from that sweet warm suffocation?

I fell into her face last year
but wearing a parachute
now thank you for these scissors

Tonight after work and meeting with Daniel Scuka at a ex-pat bar where I applied for a job in October when I didn't know what more to do with myself, I put on a monk's undershirt and a sandlewood bead bracelet and went out for conveyor belt sushi near Tawaramachi. Why are you wearing monk's clothes? the young fast chef asked during a low moment, plucking at his own similar white shirt. I'm studying Ikkyu, I said. Ah, he seemed moderately appeased.

One of the characters I want to introduce you to is a wonderful character in the Zen tradition, called Ikkyu, who is one of my longstanding and favourite Zen masters and who appeals, I guess, to the wild woman in me. He was born in 1394 and was an illegitimate son of the emperor Go-komatsu. He was known by some as the emperor of renegades, a wild wandering monk and teacher, sometimes called Crazy Cloud. He was a lover, a poet, and he could write very tenderly about the beauty of women. He relentlessly attacked the hypocrisy of the then corrupt Zen establishment, and even had women as his students. I think he was one of the first Zen masters to have women as students; that was considered quite radical. It was in the brothels and geisha houses that he developed the Red Thread Zen, a notion he borrowed from the old Chinese master Kido and extended to deep and subtle levels of realisation.

From Red Thread Zen: The Tao of Love, Passion, and Sex by Subhana Barzaghi. I am now reading Ikkyuu and the Crazy Cloud Anthology: A Zen Poet of Medieval Japan Translation with an Introduction by Sonja Arntzen. Borrowed from the Foreign Correspondents' Club library - it was last checked out in 1987.

Wednesday, 17 April

Still a productive member of the pecuniary collective:

TheFeature.com: MAKE MONEY FAST FROM ANYWHERE!!!
By Justin Hall, Apr 17 2002
Spam threatens mobile messaging worldwide, legislators take aim.

Tuesday, 16 April

I was feeling a little lost, staying in capsules night after night, engaging the dark leather and immigrant handjob tokyo night, wondering what is ahead of me. drawn only to a woman in the states. worried that if I leave here I might be less relevant, as I am now being emailed and treated as someone who knows things about this place.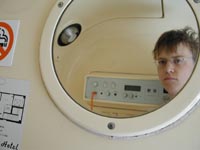 I called Amy, to talk about her return from Thailand and confess that a different plastic coffin every night and fourteen hours at the press club each day leaves me two a.m. alone walking in search of a bed on the verge of tears. And she whipped me into shape. Her customary generous insight and accurate sense of entertaining moral conduct. I've got the most marvellous freedom, probably too much of it. My anchor where?

My anchor is the one thing I've found that I pursue, actively alive and a push feeling in my chest - communications with a brilliant, lively creative lady who lives on the other side of the world. I was heading there later anyhow! Talking to old friend Amy, she asked me, better to walk as a Zombie to wait until maybe I can be near what I feel, or to pack now?

I'm already packed!

Funny how knowing how near you might be leaving makes all this time here that much sweet sweet swinging. I'll pack it with productivity! I say. And walking around these places with my head up, not down.

Sunday, 14 April

Wanting to know the city and the culture here in Tokyo, Japan I've made a point of tracking down and listening to a few of the experts who have come before. Edward Seidensticker is a major noted translator, academic, Japanese expert. He came to give a speech at the Foreign Correspondents' Club of Japan and it was a charming series of complaints about modern Tokyo. A recent article for the FCCJ paper: Edward Seidensticker: Seeking Sensuality in Tokyo after the Decline of the Shitamachi.

a bustle

Junko walked decidedly slow, carrying one hand upraised in the other, with a prim but puffy long skirt and a slightly upturned line across her face. She speaks some English learned in New Zealand, precisely and politely. She lives with her parents and her grandmother. She works as a receptionist at the Foreign Correspondents' Club and she makes excellent pleasant conversation. She loves her job, she says, the first young person I've ever talked to working in the service industry who says such a thing without being ironic and immediately thereafter reaching for a beer/cigarette/cup of coffee and wishing they were making art instead. She enjoys helping people, she says, and the people here are like a family. It's a good environment, she observes enthusiastically. I nod, mystified.

Over the last few months, across the counter at the club we've bantered. As a matter of conversation, I mentioned some of the things in Tokyo that I've seen and done. But as a child, she wasn't allowed to read comic books by her academic researcher dad. And he would answer the phone and say she wasn't home if a boy was calling for her. So now she is in her mid-twenties and she has never eaten at a ramen restaurant or a yakitori-ya (chicken skewer stand): the smoky beer-soaked boisterous pubs under the tracks spitting distance from the bottom floor front door of this club. And that's just the people's food; she hasn't of course set foot in love hotels or foreigner-packed sex parties. She's eaten yakitori before, at the Hotel Okura. But Jesus that doesn't count.

So we've done a trade. I've taken her to bawdy fun filling low culture restaurants, we ate chicken cartilage, beef rib, salted shitake on skewers. And mystic deep ramen at Tetsugakudou.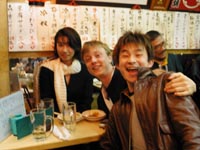 Under the Yurakucho train tracks at a skewer restaurant. This guy with me was friendly, offering advice for the foreigners - I couldn't read the menu and Junko didn't know what any of it meant. Then some arab guys sat down on the other side of him and he talked gregariously with them. I said a hearty goodbye for his efforts, he stood up and clasped my hands, honto, truly, he said, honto I want to be your friend. I want to see you again. He was a civil servant he said. I said he seemed to be doing a great job. He didn't have a name card to give me, so we left our future relationship as a promise. The guy behind us in the glasses was making rapid sign language with his buddy.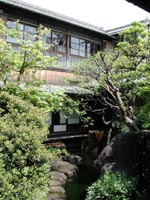 In exchange, she took me to her favourite museum, the Asakura Choso Museum in Nippori; a chance to see some strong Japanese naturalist sculpture in the context of the expansive traditional Japanese home where this man lived with his daughter and 15 cats. And we walked around temples in Nippori. It reminded me of how nice that older part of Tokyo is; I had to go back and revise Just In Tokyo again.

I'm amazed to be around her that she could be so poised and so uninformed. So much of my cultural conversation with young people assumes knowledge of at least a little something about sex and drugs and weird culture. We walked through Uguisudani and she looked at the graffiti and love hotels and said she felt slightly embarrassed to be there. It's a strange mirror on the neighborhood where I lived when I first came to Japan. Fun to show this woman the low-city parts of her hometown - she remarked that the chicken skewers were just so tasty, like she was shocked and pleased with her hands folded in her lap, grasping her embroidered pale gray handkerchief. If yakitori blows her mind, it's clear that she has a lot of exploring ahead of her. I'm going to make her get a mobile phone so she can meet some nice boys to take her gently into the night. To do that right is a bigger project than I can commit to.

My Philosophy

I was truly delighted when she pointed out that Tetsugakudou, the ramen restaurant I love, the name means "philosophy house." I sat beaming through the meal after that - there's something deep about their bowl of ramen, I knew, but that it was philosophy this ramen shack I've been enjoying, well it just made it seem ever more my home. The daughter of the owners was there, she knew of me since I had presented them with my meishi telling them I had written about them on my web site. She introduced herself and we spoke of the restaurant and ramen just a few moments before the busy Saturday lunch swell reabsorbed her. She said that Tetsugakudou originated in Yokote-city! in Akita. It's too much of a coincidence - this is the one of three other places in Japan where I've spent more than five nights. They believed in being focused on excellent ramen there. They only started making plain rice and kimchi to add to the menu when their customers demanded it. So they named the restaurant philosophy place to remember that it all started with a belief in strong ramen.

I'm a believer!

and

After a recent hard-drive music purge, clean slate, I've been listening to this song nearly non-stop: Tetsuo by Dealership. And the Stalin, some Japanese punks.

23 more photos and text descriptions for most of the snaps. and links! Updated gallery of photos taken with Japanese mobile phone.

Sunday, 7 April

What is life but participation? Visiting Department H: a Tokyo Sex Fetish party.

What is life but participation? Somehow in the last ten days, I've agreed to serve on two committees at the Foreign Correspondents' Club here, advising the club on technology, and nominating speakers and presentations. It reminds me just a bit of extra-curricular activities in high school. And I just submitted an article for the club's newsletter:

Mizu Shobai - Trading Water at the FCCJ
Two speakers presented at the club, a glimpse into Japan's underground economy and inside the exclusive hostess clubs of Ginza.

I updated a gallery of photos taken with my mobile phone

Thursday, 4 April

I've started using Trillian, a PC program that merges the leading instant messenger clients into one interface. So far quite handy, and it's nice to be back in closer touch with friend and folks online.

Recent photos from around Tokyo:

A Japanese friend has been following an NHK (like Japanese PBS maybe?) English class on the radio. From her instruction book, some attitudes towards the "Information Superhighway" are explained in English language sentences: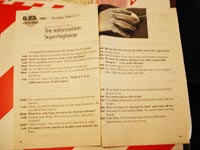 From a publicly-posted map of Tokyo, marking where so-and-so committed suicide, near an elementary school: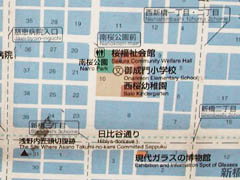 Last train on the Yamanote last night, I met two drunk girls and we horsed around on the subway platform. Then we boarded the train and we three sat next to each other, mostly silent, writing mail to each other on our respective mobile phones.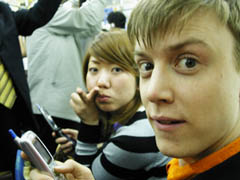 Wednesday, 3 April

The Japan topic in the Message boards has heated up recently with a relentless examination of my colonizing coitus by "baisemoi."

March - wow!

Thanks, Cyborganic