Hard:
Thinkpad X21
CoolPix 880
J-Phone T06
Soft:
Mozilla
Edit Plus
emacs
SecureCRT
SmartFTP
ACDSee
PhotoShop
WinAmp
Windows XP
Office XP
Web:
Cyborganic
Mindex
[an error occurred while processing this directive]

About this site
Contact this site




Friday, 22 November -<link>
Workroom, Foreign Correspondents' Club, Tokyo

Sometimes my editors at The Feature.com ask me to write about something close to my heart (or at least closely buzzing around my brain). Most recently, they asked me to consider the future of personal publishing on mobile phones.

Weblogging and mobile phones turn out to be the two most active technology topics in the community of people I know professionally (at least those that don't play games).

So, drawing on that, here is a recent piece on wireless web logs and the future of personal media. When we're all moving around with pocket web-ready multimedia devices, what might we actually say to each other?

Article: TheFeature: From Weblog to Moblog
What happens when weblogs go mobile? Searching reality for friends and information.

As usual, Jane provided key last minute edits and suggestions. Thanks to her! She's prompting me to perform more analysis in my writing, on beyond explication.

Hello, my name is Justin Hall. You may know me from such weblogs as...

- bud.com: Japan = Flavor Country (Horrifying, public conspiracy statistics on smoking and tobacco in Japan)
- gamegirladvance: Sims Online - Social Context for Screwing Around and Who Walkthrough?

Monday, 18 November -<link>
Nipponkan Ryokan, Kyoto, Japan

Got some posting about Korea up.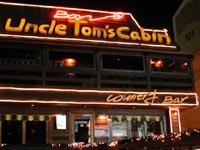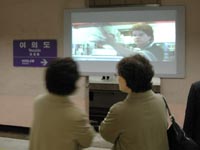 Friday, 15 November -<link>
Jane's Mom's house, Gifu

Home of the schizophrenic?

Out in more rural Japan with Jane visiting her Mom. On this Friday morning, small trucks slowly encircle the house, each one playing a different jingle or chant out of its tinny loudspeaker - advertising tofu, vegatables, roasted sweet potatoes, bamboo. Or offering to collect old furniture, recyclables. They compete and layer; a noisy, incomprehensible cacaphony.

Thursday, 14 November -<link>
Papillion Overnight Bus, between Tokyo and Gifu

Riding the 11.10pm bus from Tokyo into the country-side the navel of Japan Gifu that's both hotter in the summer and colder in the winter, where we will gladly step off at 5am in the country where we might have her mom take care of us some, meaning we'll have only family things to worry about, as the rest of life will be limited to 33k slow bauds through expensive everywhere slow wireless japan

right now i'm very actively watching the lights on my wireless modem since the driver has hit the open freeway it's making my green skip to orange which means my bloated word attached file article about mobile blogs might not reach carlo in time and maybe he'll reach for my rough draft i sent him against my instincts but he needed something to show the art department but that can't run, no, because what i ended up with is so much better. thanks in good part to editing by jane, after some fervent knitting by small light in the seat next to me before sleeping herself, the second to last one on the overnight west-bound bus. well, not counting the driver.

just as i'm writing the day turns from wednesday to thursday, from 13 to 14 november, ahead of the world it is that day. 19 years ago my dad died. by his own choice, his own hand. i suspect. it's been so long and i've had so many interceeding things to mull over, setting aside first days and then hours and always a poem and recently less seems a bit too much - i age into efficiency perhaps, or deliquency. i'll be a father, later. and then i'll resolve some of my questions about his dilemma, as i imagine it. later. after i pay these bills in my backpack, bills for things i can't read, delivered to an address i don't know, to be paid at any convenience store anywhere 24 hours a day. japan.

i'm becoming a man i guess, i've joined a club, continued a career, established a debt profile, and i've taken up with a woman jane in more responsible fashion. it is a collaboration, rich as it is full of conversation about shared interests, life support, and passionate eyes and gestures. i wonder over my father's time consorting and collaborating. but i wonder less as i have more of my own.

everything used to seem more earth-shaking. how would i find happiness? companionship? a trade i could believe in?

now i have worked hard maybe to get some of those things, some have been handed to me, either way i see the work required and i wake up every day and put off some fun and some work in balance to ensure that by the end of the day i have at least made something more towards what i want of my world. and i wonder, tonight, before my battery dies, since i've ditched asking "where did my father go wrong?" i ask, "did he just get tired of the pace he set?" and thus, by extension, "will i?" or maybe it's better to ask, "can i believe my own confidence that i have overcome the demons of self-doubt for the mostpart and so i can continue to mix my grandfather's dogged practicality with my father's culture and professionalism, supported by my mother's living example?" and then i'll say, jesus, your throat is sore, your computer is tired, shut the lid, drink some water, and close your eyes for the hours you have to rest.

Monday, 11 November -<link>
Kakio apartment

BedWars

Vision for a real-time strategy game: two players, in a cold room, struggling for two resources: space on the bed, and blanket cover.

this has got to stop.

I'm pretty sick of these people breaking into my house, wearing my clothes around, and spilling things on them when I'm not looking.

Friday, 8 November -<link>
Kakio apartment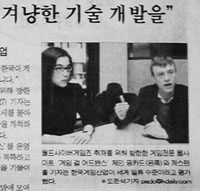 Anyone read Korean? Jane and I were quoted in The Korea Daily News talking about the development of games in Korea compared with Japan and the US. I think we freely admitted that we don't know very much, yet, but we're eager to learn. Hopefully this article reflects that, I can't yet read it though.

chopping zeros

In Korea, measure about 1200 won to the US dollar. So that Starbucks steamed milk is 2800 won, just over two dollars. Humph!

In Japan, it's about 120 yen to the US dollar. So that taxi meter starts out at 660 yen, just over five dollars.

First time we got this price shock was in the Narita Airport Train station. Ticket fare back to Tokyo from the airport was 3200 yen. I was psyched, thinking - yeah! Just under three dollars! Until I realized I had chopped too many zeros. I was looking at more like $30.

In South Korea, all the subways run you anywhere in Seoul for about 50 cents. Efficient, clean and cheap. Taxis start at about a dollar, and a fourty minute ride across town might cost almost ten dollars. We two ate fantastic full meals from generous gormet providers for $40. In short, our thin dollars went farther there, and that's a fun way to live. Heck, I even paid near three bucks to have my shoes shined! I was living like a king I tell you!

And Howard sends yet another reason to appreciate the Land of the Morning Calm:
South Korea has boosted its credentials as the world's most internet-friendly country by revealing plans to hook up every household to a high-speed net connection. South Korea, where 60% of the country's 48 million citizens surf, is to ensure all homes can receive broadband connections by 2005.
http://news.bbc.co.uk/2/hi/business/2408923.stm
Meanwhile, I found signs of ideology-free computer gaming in North Korea.

Monday, 4 November -<link>
3rd Floor PC Bang, Apgujeong, Seoul, South Korea

IP Hopping in the next PC Bang

Bringing your laptop into an Internet cafe in Korea would be a dicey proposition, if the hosts weren't so accomodating. Tonight an older man and a young woman both crawled around computers with me and flashlights fishing out ethernet cords and power strips so I could hook up, with Jane and now without her, facing the broad lines of the net in front of me as the Zerg and Protoss go head to head behind me to the bouncing music of "I want to get it on" from a lady's video chat terminal.

It's been a heady day in Korea, meeting with Jay Kim of Interesting & Creative Corp. excited to tell us history of Korean PC embrace and finger play apart from the East Asian console fantasies of Japan, they're developing the collective pixel playlands and he games worldwide. So a very nice guide, to fill our head with so many possible avenues for study and distraction for our four days here in Seoul - extended from a payphone calling International toll free United 1K desk - thank you, it's too stimulating in the future here to leave.

Now if no one boots up the computer at 211.118.140.90 while I'm trying to finish this post, my laptop will remain connected between us -

kindly korean love lodging

Grace Lee from the PR company helping plan the World Cyber Games turned out to be a generous friend - after we politely refused her kind invitation to stay in her apartment this week, she found us lodgings for 80,000 won (US$65) at the "Princess Hotel" in Apgujeong. Nice price, clean room, modern facilities, condom provided, nowhere to put any clothes except two hangars, free porn on the cable, lights outside of the empty/available rooms, a lit-up photoboard of "special rooms" with elaborate flower shaped beds, signs posted in the lobby listing different rates for short stays and overnight.

All the signs point to this "Princess" being a central Korean/Seoul Love Hotel, except that they let us check in at 11:30am, leave the hotel and return. They charge us by the day, we leave our suitcases on the floor, and we persevere.

Room 404: foreigners have different magic

In East Asian countries, four is sometimes avoided, as the pronunciation for "four" in Chinese and Chinese-rooted languages sounds a lot like death - "shi." It's superstition, in China, Korea, Japan.

Our hotel has no fourth floor. And no rooms with four in the room number. We are staying in room 505. So that's the fourth room, on the fourth floor. Disregarding the superstition-altered signage, we are staying in room 404. Maybe they gave us that room since they figure that foreigners have different magic.

recent posts on other web sites

Chanpon.org: Alex Kerr's House
Bud.com: Maturity in the Military

and World Cyber Games Coverage from Game Girl Advance:
The 2002 World Cyber Games are drawing to a close, and it looks like Russians "own" First Person Shooters this year.
A day-long series of presentations from Korean Game Makers shows that in Korea, electronic entertainment has more Genres, more Online, more Multiplayer, and more Girls.
A private hive amidst the gaming cubicles from which to broadcast to the world up to the minute news of national standing from these swelling cybersports contests.
Check out the crowd gathered to watch Guillaume Patry ("AMD_Grrrr..." from Canada) vanquish Igor Campolina ("HellGhost" from Brazil) in StarCraft: Brood War at the World Cyber Games 2002.
Delve into the world of pro-Quake controversy - nationalism, pride and financial reward have converged to create some International online confusion.
Friday, 1 November -<link>
Press Room, World Cyber Games, Daejon, South Korea

I love my web browser, Mozilla 1.1. Yes I do. Tabbed browsing. But the bookmarks are very broken.

In good Mozilla news, did you know you can use control-page up / control-page down to change between tabs? But still no toggle key to automatically open links in new tabs. Not yet. Go open source software community! I can't program, but I can help out by pointing at bugs and requesting features.

October 2002 - Korea Japan! Let's Gaming!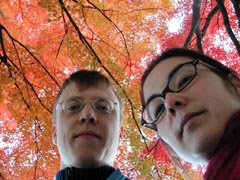 Red leaves in Kyoto
Jane and I planned a trip to Kyoto to visit a friend the same weekend that Kyoto's Japanese Maple trees revealed many translucent red leaves.
November 2002

Recent Features, Articles:

From Weblog to Moblog
What happens when weblogs go mobile? Searching reality for friends and information.
21 November 2002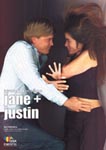 - Full Body Scan -
jane + justin
Tokyo Game Show 2002

South Korea: Wireless Wonder-Workers or Game Content Sweat Shop?
Survey of the burgeoning capital of games.
23 October 2002
living in Kakio
Homesteading on the suburban frontier outside of Tokyo
October 2002
The Wireless Angels of Our Nature
Will our application of wireless technology empower creativity or increase invasions of privacy? Or both?
For TheFeature.com.
18 October 2002
FujiFilm Axia Eyeplate
The Chewable Digital Camera
For J@panInc Magazine.
October 2002
Justin Hall Gets His Link On
Interview with Hugh 4est at South by SouthWest
16 September 2002
Murasaki Tattoo
How one American marked herself Chanpon
13 September 2002
New York City
Doug Rushkoff's wedding and wandering



Labor Day 2002
Hawaii Trip Photos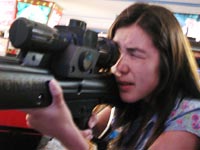 August 2002
Living Loud: the Mobile Lifestyle
Mobile phones have changed our minds and our manners.
19 August 2002
Meanwhile, Over in Japan
Somewhat cheesy, article for a friend at Yahoo Internet Life (the last issue!)
August 2002

Family in the Ozarks
Time at a midwestern swimmin' hole - delicious, gas-powered family fun.
July 2002

Internet Withdrawal in Akita
For J@panInc Magazine: It takes time, money and a steely determination to access your unsolicited commercial emails on the road.
20 June 2002
[an error occurred while processing this directive]
Advertise Here
<blink></blink>