Law and Virtual Worlds
Jane and I lived in Tokyo, Japan last fall and winter, at the same time Lawrence Lessig was posted to Tokyo University as a visiting professor. He loved it, he said, because no one knocked on his door, few people ever called on him. Well, maybe save us. We had a great time with him and his wife a few nights and days.
Jane and I were studying games with increasing fervor at that time; including one extended session as houseguests in his rental apartment playing Dark Age of Camelot.
Lessig was planning a class for this Spring semester on "Law and Virtual Worlds" at the Stanford Law School, along with Julian Dibbell (author of the seminal piece on law and social conduct, "A Rape in CyberSpace").


So he asked us to help him out with that class, presenting an online game culture overview, and being available for discussions. We've had the chance to sit in on some stimulating sessions with Larry, Julian and twenty law students arguing over issues that barely register on most other radars. I've got pages of notes on virtual community governance, property and ownership, reflected on in part by the likes of
Rheingold
and
Kim
but in this case narrowed through the artificial scarcity and systems developed for online persistent-world avatar-based role-playing games.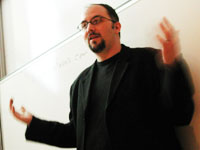 This last session we had a chance to listen to Edward Castronova. Castronova is an economist who was slightly bored of his trade and decided to apply the tools of economics to his hobby of online gaming. His highly-downloaded papers on the Economics of EverQuest reflect his unique approach to these games; he has a capacity to describe the ordinary life of active online role-playing citizens that is extremely vivid, and prescient. The class room fairly well crackled as he spoke of self-determined economic activity in multi-player persistent online worlds. Economic value is tied to human attention, he observed, and so it is conceivable that the economic value of Earth assets might diminish as people increasingly invest in online lives. !!! Hah! I love hearing things like that - obvious or not, his statement tossed all human toil upside-down in my mind for just a moment.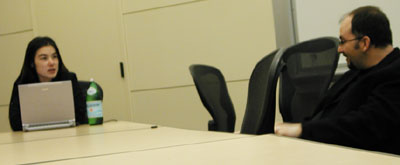 If
these games
continue to grow in population, and people select their affiliations and nations in avatar states, then laws and economics of virtual worlds will become increasingly important. That sort of reasoning gives this class a weight that negates any lingering doubts about studying "play" when few other people are paying much attention.
This semester, Jane and I are listed as Non-Resident Fellows at the Stanford Law School Center for Internet and Society - a welcome bit of legitimacy for our independent, self-directed video game studies.