Wednesday, 4 August -
link
possum jerky
the growing unsettling stench was explained yesterday by the electrician crew. They reported finding two dead cats under the house.
Two dead cats turned out to be two petrified possums. They'd probably been dead since the termite tent trapped them in a small mammal gas chamber under my house almost a week ago. They'd been decomposing long enough to turn stiff and lose their features, but not long enough to lose their smell. In fact, they were gaining it. Each day, the sickly sweet waves of decay started earlier and reached further into the yard and finally into the house.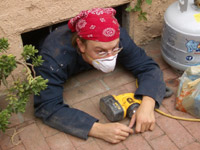 It was enough to drive a man into his crawlspace. Just 14" under the house maybe, and maybe less. There wasn't much wiggle-room, but there was a dead possum, and my friends were beginning to notice.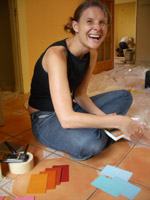 One friend in particular was Natalie Ammirato, of Mighty Industries. She had flown down from San Francisco to Los Angeles for one night with a suitcase heavy with design catalogs and paint chips. Maybe I needed her to smooth out my rough-shod digibachelor pad. Maybe I needed an experienced hand to pull the house together.
Or maybe I just needed another person inside the tiny asylum to tell me I wasn't crazy, or just to confirm my madness. And today, today was madness.
The electricians loaned me a full pant suit. I put my hair in a bandana, a plastic bag in my breast pocket, pushed my glasses up my nose, a flashlight in front of my face, and wriggled my way through twenty feet of dust, close under pipes, beams and floorboards. It was dark, dirty and uncomfortable. But I was paying people to spend much of the day in here - I owed it to them at least to remove the desiccated, decaying rodents.
I found the second dead possum, face down amidst a sea of plastic bags. It seemed to have been furiously preparing itself a deathbed. The stench was strong, all the way to the trash can.
More crew was incoming; Ernie's electricians sawing and plugging away, I waited for the plumbers. They showed up later than I expected, took one look at my water heater and said they wouldn't replace it. The device itself is old enough that you can't read the label. The pipe above it leaks and has been leaking long enough to give the metal some attractive alternative colors. The shed around the heater is dented and bent, probably from trying to hold back the tenacious bamboo that surrounded the device until someone cut it back to ankle-height knife-lengths.
The water heater is shoved into a narrow space, up against my neighbor's property line. Their plumbing promoter had been to my house and had promised me I could put in a new water heater in the same cramped space. But Bill the crew foreman saw a building code violation in progress; now these guys wouldn't do the job they promised.
On the phone, Michael the plumbing salesman apologized and said he made a mistake. He called a city plumbing inspector to come look at the place. Meanwhile, Bill the plumbing foreman disappeared with his crew.
Pete, the Culver City plumbing inspector, came by and certified that I couldn't replace the water heater unless I moved it. And the only place I could really move it was somewhere into my garden, where it could be more than five feet away from the property line and much closer to where I'd be sitting, drinking beer and thinking about what a bitch it had been to get this place together.
As Pete the inspector was leaving, he spied the workers inside, replacing the knob and tube wiring. Do you have a permit he called out? And as I was sitting outside making other phone calls, I heard Pete call out - "stop working now!" as he went striding out of the house and the workers inside threw up their hands.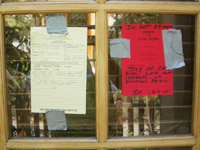 I sat slackjawed for just a moment 'til I realized what had happened - the electricians didn't have proper paperwork and Pete, called in by the miscreant plumbing salesman, had stopped their work. Gripping my phone in my hand I went tearing up the street, shoes flapping, catching up to Pete in the front seat of his car. He was spelling out red "Work Stoppage" signs to hang on my house. Did you get a permit for this work? He asked, looking over his glasses. No, I replied, but I did sign an invoice that said "$250 for permits" so I figured they had one. And that was true. I tried not to hold Pete's job against him, he was working for our safety and modernity - progress in standardization. But it was hard - he seemed so strict, and these electricians had been working hard and being friendly and cleaning my house up each night better than they found it!
As the electricians were lounging around in the garden, taking an enforced early long lunch and drinking lemonade, the cable guy showed up to install the internet connection. Except, he pointed out, I don't have a cable running to my house. The work order said I did have cable, but the work order was wrong. So maybe a crew can come out again, another day, to install the cable. But, David said that first I needed a pole buried six feet into the ground. You know, for grounding. Maybe he could get a cable installation crew out tomorrow, but I'd need the pole. And Comcast didn't install the pole. The pole buried six feet in the ground. Gotta find somebody, he said, to dig that hole. 4pm, and I needed a post hole digger and someone to drive copper down into it. I promised him I'd get the pole in the ground, if he'd get a crew to my house. I pictured myself out there with a plastic spoon; I'd have to find someone else to work, with equipment and time, because I had other duties.
I was running the phones. Besides extracting mortified possums, my job was to run the phones. I'm supposed to harass people. During these days of personal general contracting, if it's been five minutes and I haven't made a phone call, I'm slacking. I called Danielle at the plumbers office hourly to see if I had a new appointment yet. I called Emily at the phone company to set up a new phone number. I called Steven at the cable company to see about getting a cable line run. I talked to Ernie the electrician to get a pole put into the ground under the new 200 amp panel. I called Marvin, a locksmith. I called a closet consultant Anne-Marie. I called plumbing supply people, Mary and Joel, working for two separate companies, to see what rare and cheap fixtures I could find between them. I called lighting wholesalers looking for tracklights and outdoor lamps. I called my old roommate Scott to see about moving the last of my summer sublet items. I called Jamie my real estate agent to find a housepainter.
Friends and family rang me up; I could only spare them call waiting moments between fevered attempts to get another person to come to my house sooner. Living alone may be lonely but these days I have a revolving cast of strangers coming and going all day long, people mostly unknown to me rearranging my space. I'm supposed to be orchestrating them, but my own will to keep all aspects of fixing up the house in play has me strung up like a stress puppet. Each morning I wake in a blind frenzy and work all day to stay ahead of the contingencies. And each day as I lay down to sleep, all I have to show for it is a few more holes in my wall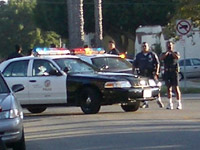 Yesterday, there was a high speed chase in Culver City. A man flew into my neighborhood off the freeway, leapt out of his car wielding a gun, grabbed a pedestrian as a hostage, and broke into a nearby home running from cops. There was a 20+ car, 5+ helicopter stake out in the blocks surrounding us. Natalie and me sat on the couch, wondering at all the whirlybirds. We ventured outside but were cautioned rather loudly by the police holding roadblocks at either end of the block - "Please return to your home for your safety." I actually saw police running down the street, full tilt boogie, belts swinging, hot polyester. Strange doings, my neighbor said later shaking his shaved head, normally it's so safe here.
Soundtrack: not much but Charley Patton, Spoonful Blues (download it free)
Posted on 4 August 2004 : 15:15 (TrackBack)
Read Comments
February 2005 - comments are closed on Links.net. Thanks.