Schwabian Matrimony at Stone Pine
My cousin Steve was married this weekend. Some of my family, from my Mom's Nebraska/Colorado side, and some people from Germany, his wife Iris's side. There were a few relatives able to interpret, and lots of smiles and gestures in between.
The wedding took place at Stone Pine, an estate in Monterey California. A cluster of luxury-ish houses for rent on grounds surrounding a thoroughbred breeding business. Lots of nice walks, and the authentic smell of horses to accompany the scenic vistas of hills and riders. There were activities galore - croquet, tennis, swimming, riding. I opted for editing video and shooting arrows.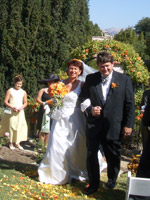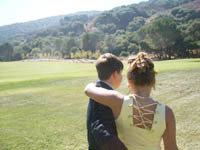 Steve and Iris stride down the aisle, freshly bound in Methodist matrimony. Iris chose a wonderful color-scheme for the event - peach and white. Even the appetizers matched!
Evan and Melanie face the hills surrounding Stone Pine. The back of Melanie's dress was lovely.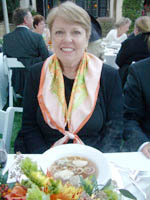 Mom smiles above her Schwabian soup. Iris imported a recipe for traditional wedding soup from her home province in Germany: Schwabia. It was tasty - something like matzo and reconstituted meat in a beef boullion-type broth. Many toasts touched on the thrifty nature of the Schwabian peoples. Extreme thrift! For example, in apartment buildings, residents are charged with keeping common areas clean on a rotating basis. People who move there from other parts of Germany wonder, what is this? I have to clean the lobby?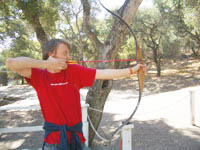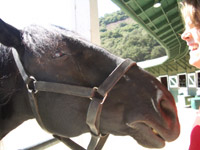 I used to like archery. It's been a while. I managed to hit the target.
Here I'm laughing a joke told by Ace, one of the enormous horses that pulled the wedding carriage.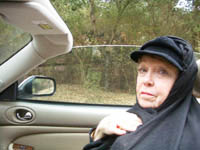 Hertz had a cancellation on a Jaguar Convertible and after my eager insistence they let us upgrade to it for a serious discount. Here Mom can be seen enjoying the Northern California convertible weather.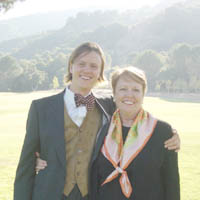 Standing, smiling with Mom.
Posted on 4 October 2004 : 11:05 (TrackBack)
Read Comments
February 2005 - comments are closed on Links.net. Thanks.