I think about the quote attributed to Tallulah Bankhead when I think about maintaining an online journal: "only good girls keep diaries; the bad girls never have time." I have been a busy if not necessarily bad girl lately -
In the last three weeks I moved into a new splendid bachelor pad, near Buena Vista Park in central San Francisco. I took the opportunity to sort through my possessions, divesting myself of old tech and legacy things of my first marriage.
I moved mostly by milkcrate - taking zipcar load after load to my place, emptying each, putting things away, and then taking the milkcrates back to pack again. Somehow this continual moving process pleased me more than a grand packing and unpacking.
Amidst all this sifting and chucking my now beloved stepfather George had a bad stroke. People can recover from those things but not so much at 90 years. So I moved apartments a few days early Wednesday and flew to Chicago to see him suffering and support my Mom who was sleeping at the hospital. It felt good to perform filial service. I felt I was able to connect with George and share my love on a nonverbal level as I acknowledged his standing on the threshold of passing from existence as we agnostics know it.
Friday I left Chicago as other family came, to keep the burden of houseguests low on mi madre and to finish moving myself. That night was my first night in my new apartment - so beautiful and tranquil! Sunday George died. Tuesday I flew back to Chicago for a wake and funeral, family and memory.
The wake was wild - 380some people filed past a closed coffin to pay respects. I stood near the door to greet folks and ended up meeting many lawyers who loved George, who loved my Mom, and who loved my first father Wesley as well. Unexpected doubling down on serious connective community sharing.
About 15 years ago George had expensive dental work done. He said he wanted to have an open casket, open mouth funeral to show off his teeth and get his money's worth. (un?)fortunately that didn't happen.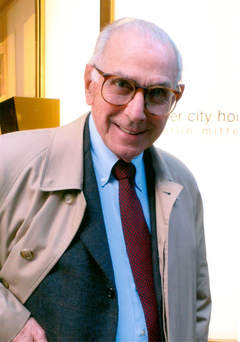 The Chicago SunTimes wrote the nicest obituary - "George J. Cotsirilos, defense lawyer respected on both sides of the aisle" - which is fitting since that was George's favorite paper. I have rich and deep feelings for George and experiences that I am writing elsewhere. Maybe someday I can share them with you.
First time I cried at the wake was seeing my friend GK who flew up from New Orleans to be there.
Now I am back in San Francisco, listening to a lot of Lead Belly, learning to live in a new space, enjoying my work at ngmoco. After serving as a producer of video games for a year, they have asked me to help with knowledge sharing and corporate culture as we grow and grow to meet the size of the opportunity: worldwide mobile social gaming.
I haven't really been on a date in a while. I've been busy! And I have felt too raw - on the first flight to Chicago the flight attendant was very helpful, filling my water bottle and it felt so nice to have a pretty woman be nice to me I wanted to cry. Heh - a little too much of a hole in my heart to undertake casual coupling. I have actually felt shy about approaching appealing candidates which is not usually my problem. Though horniness, what you might call life force, won't let me rest long.
While George lived but we knew he would die soon I thought I would numb my grief with whiskey and weed. Shortly afterwards I found myself on my knees sobbing. It's been months since I have felt that kind of physical grief! Which actually seems like kinda frequent.
A month earlier I had taken a three day weekend retreat with lingering divorce unhappiness still grinding down my mood. I found a book on Tibetan Buddhism Transforming Adversity into Joy and Courage: An Explanation of the Thirty-seven Practices of Bodhisattvas by Geshe Jampa Tegchok, and ended up reading 300 pages on suffering, the causes of suffering, the end of suffering and how we might actually live to avoid suffering. The text seemed pitched to monks - I wasn't sure how I could have sex make a family and still follow a path to avoid suffering. But it was therapeutic to let my mind understand that so much of my pain was my own creation and amplification.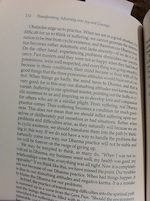 As it turns out, dealing with the grief of divorce was fantastic preparation for dealing with the grief of losing a beloved parent! How convenient!!
When I was crawling around on the floor snotting and sobbing I was upset that I had too much grief in my recent life. "I want some sustained happiness for a change" and "I want something to be joyful about" but even that feels selfish now as I am so glad to have health, good human company, a lovely place to live, funds for hobbies and haberdashery. Cheers!