My latest weekly video is posted online:
Nick Gray: Museum Hack and Scaling Friendship on YouTube
Meeting Nick Gray
I have
solicited donations
for this site and people used to actually send me checks in envelopes. Bless them and gracias!
A student named Nick Gray sent in some money and a short story, asking for feedback. Years later we met up in person and I found he had a kinetic social drive. We've maintained contact ever since.
Nick's social appetite was documented in 2009 New York magazine, in an article entitled "Meet Nick Gray, Thrower of 'Culturally Significant' Williamsburg Parties" By Doree Shafrir.
Nick Gray: Museum Hacker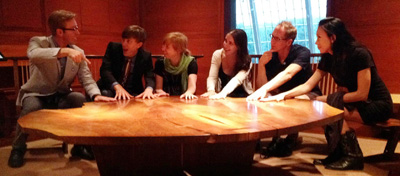 Hands on the table, during our group tour of the Met with Nick in July 2012
When I visited NYC in July 2012, Nick offered to give me a tour of the Metropolitan Museum of Art. That was one of his early adventures with "Hack the Met" - creative journeys through a vast space filled with fascinating stuff. Since then, Nick quit his job installing in-flight entertainment systems for personal planes private jets and started a company called Museum Hack to offer more folks the chance to experience great museums.
How are museum objects different from any other object? How can we participate in museums to maximize teleportation: putting ourselves in the wood shoes and rough wool of some ancestors, or poised on a blade of grass, eyeing an insect predator? I enjoyed Nick's version of a museum because it brought me closer to the lived objects inside.
Fortunately, it seems there's plenty of interest in Museum Hack - there's a recent Wall Street Journal article: "Museum Hack's Tasting-Menu Approach to the Art Museum Tour" by Laura Neilson. And he reports that individuals and companies are signing up.
Nick Gray: video for friends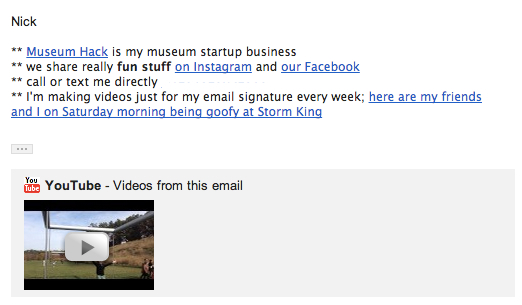 Nick's email signature in mid-October 2013
I was curious to ask Nick about his business, but also something else I noticed when I emailed him - Nick posts short personal video a few times a week that he includes in his email signature. For Nick, these short videos are about reinforcing existing social connections - not reaching a large audience. Is short personal video a good way to "scale friendship" as Nick suggests? I certainly feel closer to Nick watching his videos, but I'm not sure that it would work if everyone made short videos a few times a week. Too much to keep up with! Maybe it would be nice to have the opportunity to watch someone's most recent video - just to hear them talk, if you were curious about them. Facebook starts to seem flat when you have access to someone's moving body gestures and spoken words.
Recently I attended an office-warming party for Funomena, filled with some talented friends from the game industry. I was eager to catch up with them; a few that I spoke with felt they had already caught up with me since they had seen my recent videos! It reminded me of the personal sharing imbalance I feel when I meet someone who says "I've read your web site" - if I haven't read theirs, or if they don't have one, well, then I have some questions to ask them to balance out our mutual awareness!
Video Recycling
This week's video is compiled around another well-documented subject. Besides Nick's prodigious casual video output, Hack the Met and Museum Hacks have well-tended up-to-date online presences. So I delved into Hack the Met's video collection on Facebook using Keepvid.com. Something like Keepvid is an invaluable tool for the online video sampler and remixer. Vimeo has a download button. But most other sites do not. Someone like Nissim Farin from Footage Island on YouTube says "you can use any of my clips in your own work!" in his video descriptions. KeepVid allows you to download it, in the format of your choice! You can copy and paste the URL to Keepvid.com, or tap a bookmarklet and boom: you are video recycling.
Of course I don't want to plagiarize - I make videos myself. I like it when people say "this photo came from Justin." So I give credit in my credits and obey people's requests and permissions. There's so many videos produced by so many devices now; it's nice to think that we're all making source material and we can be socially linked as we make video together and give proper attribution :-)
Besides, like I said in my Jamie Wilkinson interview in October, writing a thorough bibliography for sampled media is a good way to show up in search engines, driving traffic to your project and potentially identifying yourself to otherwise unseen internet collaborators!
Music from dublab on the Free Music Archive: Lawrence Grey, "The St. Marks Shake" and Wake - "Steppin".