4 January, 1999

learning; to host

A first personal web page update of any new year should contain,

1. Tales of the new years festivities

I travelled east after Nebraska to meet Amy's family north of boston for much wonderful festivating - they are wonderful hosts and gracious folks and I enjoyed myself and them quite a bit. I wish I would have had more to give - something wonderful from California to bring, but I was coming off of too much travelling.

To New York, met Eve, Wilson and Ethan - I was fortunate to visit with each of them.

Eve and her roommate Brooke coordinated a Reclaim the Streets benefit New Year's party

next door to the Hell's Angles NY clubhouse

at The Hub, an anarcho artistic bike shop
tricycles, chaise bikes, tandem bikes, pedi-cabs, electro-bike taxis, sidecars
anti-car-society propoganda spread throughout, a trampoline
(Amy and I collide testing the "one person at a time" rool)
we work behind the bar

200: the crowd is squatters and trustafarians - arty weirdos and the slicksuited

up and down on the trampoline

christmas lights and a disco ball,
some guy is dressed as a flower

from my notes of the evening:

dates are numbers
and numbers are only familiar gone
only exciting anticipated

I write this too:
At the best parties I always seem to be working crew"

New Years hits with the usual endgame confusion of "who's clock do we follow?" when the question is answered by the largest group of unsure downcounters - an oddly placed bagpiper and a single drummer keep time with the cheers and i am thoroughly lost in a pair of lips giving all my soul to this woman
prince's 1999 remix emerges from the turntables and the crowd is a raucus screaming pack of 'roused rumps
we dance
and scream!
hold our arms above our heads

a weird woman with a wide smile approached me and said she'd noticed me kissing amy quite a bit and she wanted to kiss me happy new years too but she waited since i was kissing amy quite a bit and i was stuck in a moment where the gravitational pull towards spit swapping wass palpably accelerating and so i said, "thank you for honouring that" to provide myself some space and the dance floor madness rescued me and later i heard she was a he before who was late in the party seen being eaten out by some dude on one of the couches in the library area. what does sex change pussy taste like?

I am happy to be amidst this madcap scene I have not designed and it feels an appropriate entry to the year to come

1999: babpipes + turntables
tribal drumming
amidst 1000 beautiful fuckbags
2.
Accouting for some unfinished business from the previous year
Thanks to Uncle Jim who might have taught me a fantastic lesson about hosting by giving me a 16 quart pot for my birthday and cookbooks on roasting and soups for Christmas.

from my notebook amidst the shimmying whordes first night:

1998 - the sure things were disruptions and little beyond mesaured personal evolution and the piddle paddling around 1 million wonderful ideas. swarthmore + zdtv finished me - I didn't decide to do much beyond furnish + dispatch my immediate committments - which were perhaps too often electronically determined - I may have realized that I am flit flit drawn to all the same trends as my friends - beholden to fiddling with any aspect of my physical techno human surroundings.
now for the first feeling time I am with someone - now for comfort level and depth of understanding and continued progress and unrelenting passion and discovery AMY may someday this relationship propel other discoveries but now it is its own rite.
3.
Envisioning the year ahead
Looking forward to living in Oakland,


tonight: "Celebrate Oakland" - the first citywide event of the Jerry Brown administration was quite a blast. Fantastic soul food, Vietnamese dancing, giant burnt pianos for banging and tweaking, blues, reds, pinks, shrines to water and minerals, storytelling, Hamza El Din live, "The First Official Police LowRider" patrol car. I visited many booths and recieved much info for many neighborhood groups. I wore a chef's hat reading "Bring Back Biff's"
because I picked it up and
my head
was cold and someone explained what Biff's was to me (an old diner with interesting dome-deco-architecture where old people ate cheaply, soon to be replaced by a spanking new Chevron).
perhaps:
january: 10 days at Sundance with Doug's film
february: organizing a panel for the KaosPilots
march: last chance to impregnate for december/january 2000 millenial birth
april: speaking at Reboot 2.0
may: teaching at space invaders
june: amy's finished school and now the rest of life awaits!
4. Any sort of resolutions

besides deciding I need to more, and more consciously,
officially undeclared: delaying email gratification

5. An extended and unfortunately eloquent harangue

excited, suffused with community feelings and excited to be there, I traipsed around the Henry J. Kaiser auditorium amidst the Oakland Celebration, sometimes leading Amy and Kathy away from our previously-agreed-upon destination. Amy was sick, and tired. Later, after driving extremely slowly down our street, to enjoy the peace I swear! she became quite agitated with my impishness. So I thought I'd have her detail her concerns below:

Justin, my partner, roommate, date on many occasions, has trouble being considerate at times. I tried to explain in a she-beast tirade tonight that he needs to "think of others" more often if he is going to sustain "meaningful and lasting intimate relations". Below is a list of my citations.

1. Justin often tries to make others follow his lead in museums, grocery stores, and shopping centers. He not only uses tactics such as yelling louder than any other noise in the area, "hey check out _!" or simply, "hey you guys!", but also such horrific gestures as snapping to encourage movment in a certain direction, wildly gesturing, or physically grabbing me and steering me somewhere, when I clearly have other plans at the moment.

For instance, tonight, at the Oakland Celebration, once we agreed upon a destination inside the festival, he skipped more quickly than anyone ahead to what seemed to be the opposite direction. Given the choice to abandon him or follow suit, I limped behind (sickly and hunched over), asking repeatedly, "where are we going?" Answered with an impish grin and a continuation of the elusive bunny-hop, bunny fangs aglow, I persisted with my question. I never got my answer. Thus I felt passive, dependent, and mocked. Perhaps if some special surprise had been in store for me, I would have appreciated the lack of information, but when I realized that this was another case of Justin trying to force his "leadership" on others, I was a bit annoyed.

2. Justin just has this way of wanting to show you things you may have missed; he prefers not to leave certain experiences for your discovery, but instead (as in citation 1) loudly and grandiloquently points out sights, objects, people, phenomena, etc. either before you have a chance to notice them in your own way, or way after you already observed and moved on.

For instance, tonight at an "art immersion" section of the festival we attended, I grabbed a mobile video installation and began to play with it. It was a monitor situated on a shopping cart that changed sound and image with my movements. Seeing that I obviously did not know how to "work" the "art", Justin approached me at the cart and began trying to instruct me on how to "play" with it: "I think it works like this...and thus you should push it forward like this..." etc. Having soured my initial discovery of the object, he went on to add his own discovery: "oh I guess you were creating your own experience, " a proclamation meant as permission, I assumed.

3. Justin will repeat certain actions once he has been told that they are annoying and intolerable, such as tinny little noises, beastly cackles, physical pokings, and other 4th grade boy-likes-girl strategies. At times, he will tickle, grab or poke me, and once met with several loud "no's", will come back more enthusiastically for more. At times, I have violently retaliated, smacking him in the face quite forcefully, causing minor pain, hoping to put him down for a moment, but he stills persisted. I am not trying to prudishly dismiss "horsing around" as they call it, but there are times when such activity is inappropriate. I tried to explain to Justin tonight that my main requirement in these situations is that he cease to repeat activities that have been vehemently discouraged within the same sitting.

[her slapping me physically encourages me]

Inappropriate time number 1,previously cited before but never fully complied with: when we were "working together" on my film, him as an actor, me as director, and he insisted on groping and tugging at me in front of my small but impressionable crew. When I explained to him that I needed him to stand up and stop acting like my pet hormone so that I could get a few things accomplished, he seemed to think I was joking.

[Tonight I also cited as a reverse example a time when I called Justin affectionate homey pet names such as "stinky bunny" and "l'il baby kitty" in front of others at a party, and he took me aside, telling me sternly he had trouble sustaining "Amy and Jusin's world of intimacy" in all public situations. I heartily complied, making sure not to refer to him by the name of any other species in front of other people]

[that was during tough time for all of us.]

I'm sure, dear readers, you could empathize with me on my concerns about Justin's driving, and more importantly, Justin's response to my response to his driving. He is a reckless and dangerous driver who fancies himself some kind of "manwich appetite" adventurer; when I ask him to slow down, or to stop swerving, he usually speeds up, and swerves more, all the while assaulting me with his impish, smug, self-satisfied, shit-eating grin/cackle.
[i am typically a smooth, calm driver.]

4. The most important lesson of deference I would be pleased to have Justin learn is this: DONT FUCKING LAUGH IN MY FACE WHEN I EXPRESS MY CONCERNS ABOUT YOUR BEHAVOIR TOWARDS ME. At least feign an inkling of respect or serious attention, or you'll have to find some other she-beast to harangue.
It strikes me after re-reading this that I am long-winded and sound schoolmarmish, but that is what Justin brings out in me.
6.
A final thought composed in silence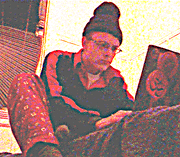 Thanks Amy - for the patience.

When she tells me not to do something, I often feel provoked to do it more, for fun. I guess I gotta get over that. I was the younger brother! I was a real pain in the butt in grade school. I like getting a rise out of people!

While I'm attracted to eternal youth and general glee, growth likely lies in abandoning the relentless need for attention that reaches beyond people's resistance into aversion.

If I can better selectively poke and link and lead, I'll die with less to remember.
(
like yesterday
)
---
justin's links | www.links.net

justin hall | <justin at bud dot com>