Justin's Sex
I've been to a lot of conventions before. And I've been interested in sex for as long as I can remember. But I've never thought to mix the two.
Adult Entertainment Expo 2004
Every profession in the world has a conference, from Pimps to Podiatrists. Why not sex workers? Each January in Las Vegas, the Adult Entertainment Expo convenes the people who sell human desire.
This is a conference designed around selling sex peripherals and sex media to sex shops. Porn videos, toys and accoutrements, whatever you'd expect to buy at a sex store or browse on pink pages online. Delightfully, there's some things here at AEE you should never expect to see at a sex store - periphery goods too bizarre, or as-yet-unfamiliar.
As a journalist attending this conference, I'm a second class citizen. Some guy who owns a small chain of adult bookstores outside of Cleveland gets a hearty handshake and big smile. I get mostly a wary glance. I'm happy to skirt around the edges, observing: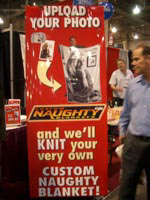 "Upload your photo, and we'll knit you your very own Custom Naughty Blanket!"
Show special: $99.95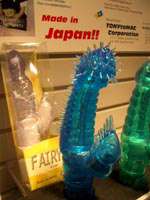 TonytoMac Corporation from Japan attempts to make inroads in the contentious North American dildo market with this spiked plastic offering, resembling more a certain famous giant spikey lizard than most other devices.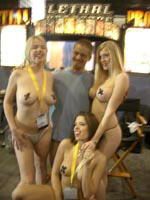 I was told that there were no bare breasts and genitalia allowed on the show floor. First time I've been to a conference with that rule. I asked, "But how will people in the industry recognize each other?"

That this is the porn industry, where some people's body parts are their resumes or calling cards. And the rule seems arbitrary: as you walk the show floor, there's video replays of shaven gyrating twats and realistic molded plastic cocks all over the place. But not much of the real thing, except under pasties, posing for pictures. These were about the most scantily clad women I saw at AEE.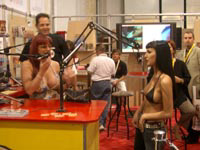 Rachel Rotten being interviewed. I had never heard of her, but a friend was excited to see her, "She's awesome!" she chirped.

These are the celebrities of the Adult Entertainment Expo, the people who make heads turn or bodies line up. I got an autograph from her, in large part because she had a kind of particular, pretty, twisted look to her. More put together than many of the other porn stars on hand. And my friend said she thought Rotten was on SuicideGirls. I mentioned that site to her when I was getting my signature; she said, "No, I have my own site." I gestured at the piles upon piles of RachelRotten.com paraphernalia all over the podium - "Well that seems clear."

People asked her during her interview - "What's tattooed on your boyfriend's penis?" "Poison" was the answer.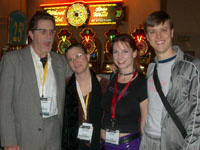 Lunch with sex educators, Robert Morgan Lawrence, Carol Queen and Jenn Ramsey (from HiddenSelf), at the Venetian. Lunch with these three was fantastic; they took my questions about sacred sexuality in stride, adding to my knowledge.

I'm proudly wearing my SAME "Made in Vagina" t-shirt.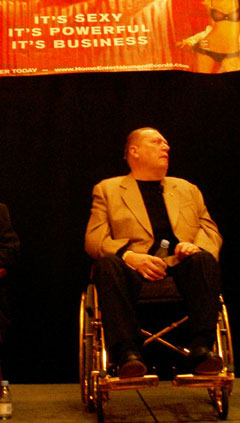 This was just after Carol had appeared on a panel with publisher Larry Flynt, sex educator Nina Hartley, director John Leslie, and a number of porn video makers and resellers, moderated by Tim Connelly from Adult Video News. The panel was a mix of porn industry paranoia and striving to reach out to larger audiences, particularly women. The paranoia seemed justified, coming from Larry Flynt - he literally took a bullet for this industry. As Carol said, "He's won a purple heart in my war." There are court cases pending against porn publishers (Extreme Associates), and numerous panelists cited their mistrust of the Bush administration. As Flynt said, "As soon as they finish with their little war, they're going to try to make us think pure thoughts."

One panelist who runs a chain of sex shops in Florida spoke of being jailed over 100 times. All of them agreed that their business has gotten better as they've emulated Nordstrom's store design, more than the traditional design of sex shops. Nice store layout, good lighting, good fixtures - these draw in women. Carol Queen added education to that mix - she is a co-owner at Good Vibrations where employees receive 30-40 hours of sex education so they are prepared to give advice and make recommendations. No more "where's the clitoris?" indeed.

Steve Rhodes reminded me of the "Boogie Dykes" article from the 2001 SF Bay Guardian - the porn industry is broadening beyond buxom blonde bimbos. Transgender, bisexual, multiracial, safe sex aware - the better angels of the industry teach people about open-minded healthy sex. Speaking to some fears of future prosecution, Flynt said, "People have changed - it's now okay for a woman to have an orgasm. It wasn't always that way." People on stage believe that the porn industry, and the sex toy industry have something to do with that. The eminently quotable Flynt drawled, "Moses freed the Jews, Lincoln freed the slaves. Our industry can free all the neurotics in the world."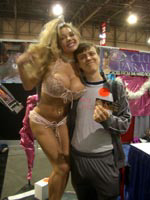 This woman called me over to pin a sticker on me. I had a hard time formulating sentences. Fortunately she had a steady pitch to share, her life story and her current projects. Former ballet dancer Vanna Lace informs me that she's now performing in a giant shoe at Club Paradise. She also mentioned that she's available as a life-sized silicon doll. We posed for a picture. I shook my head and smiled.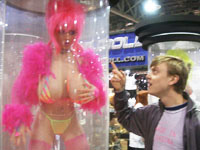 Speaking of which, I was finally able to see a Real Doll in person. As a reader of Philip K. Dick, a watcher of Blade Runner, and a surfer of pornography on the Internet, Real Doll has captivated me for years. What do they look like? What do they touch like? What does it feel like to be near a human simulacra built for pleasure and sexual release?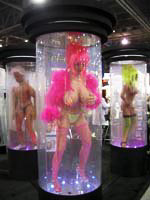 The Real Doll folks had set up a few dolls in transporter tubes, as though they'd just been beamed up from some pleasure quarter on a far-off off-shore colony. Both male and female dolls shown, but I'm told the realdoll.com folks are tsk-worthy since they haven't yet managed to make a real usable male doll. The male dolls are still too heavy to be wielded pleasurably.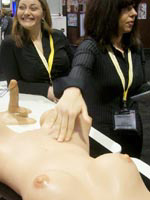 So the focus is on female dolls; they had some female and male parts out for sample touching. Youch - cool spongy rubbery firm silicon. Nearly fleshlike but so cool. You can warm it up in the bathtub. But it's still smooth, cool to the touch. What's it like to cradle this lump in your arms? Curl its prosthetic arms around you? Lay against it, whispering? Probably quite unsettling and perhaps oddly exciting.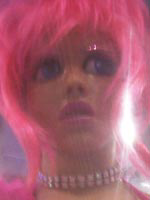 Of course if you're going to spend the ~ $5000 for a Real Doll, why bother with reality? I was somewhat stunned when I discovered that the pink-headed real doll I'd been pointing at above wasn't just largely endowed with breasts, but with anime-style eyes. *shiver*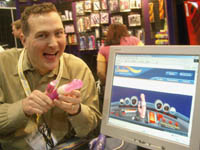 I actually had an official capacity there - I was researching the wireless and mobile internet aspects of the Adult Entertainment Expo. I had a hunch there might be something, and I was delighted to find the Sinulator.

TheFeature: The Value of the Vibrate Function.