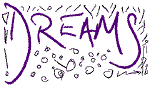 dream: 25 october 1998

sleeping in guest bedroom of svante's house in northern sweden. earlier that night, went to tuppz, a local discoteque. a few gin & tonics, some "hooch" - a citrus low-alcohol drink.

safeway parking lot with amy and kathy
i'm outside while they're in shopping
40something thickset dark haired gent
approaches, tells me he's my neighbor
and they've been trying to break my computer
"you are a dangerous bullshitter"
he pushes me up against the wall
with a big sheet of plywood
and punches me with words, those sentiments

what do you mean, i did what i could well
"hah - you were involved in electric minds"

while i've forgotten his other specific accusations
his rage at and disgust with my involvement in technoculture
was frightening and upsetting

i think we chased each other around the parking lot trading punches;
i couldn't calm down and accept myself -
i was afraid for my person, and for my soul.
life |
justin's links by justin hall: contact