Marina and Elena: Russian Dancers in Morioka
in the Morioka Mister Donut:

Marina and Elena, two Russian exotic dancers, living in this provincial capital with visas provided by a Japanese promoter. How do they like Japan and Japanese people? Japan seems a nice alternative to Khabarovsk, where Elena is from, but Japanese people, ecch. They see the worst I guess. At 23, Elena is working the system for money. She came back to Russia and picked up Marina, her pal, also 23 to get her in on this game. I asked, what are your goals? Your dreams for the future? This seemed a perplexing question. I was thinking maybe they wanted to make money to someday go back home and do something else. Or maybe they're financing travel. But without answering, Marina turned the question back on me. I said, well, in the far future I think I would like to have a family. Maybe a child. Elena said she already has a kid, in Khabarovsk, living with her family. And the man? He's nice, a boyfriend only. She has a boyfriend there and a boyfriend here.

They float from prefecture to prefecture according to the male desire gauged by their promoter who arranges their visa, work and living situation. Now they live in a flat with Romanians, Indonesians, and six other Russians. These ladies range in age from 18 to 33, all plying their foreign sexuality here. Japanese men, they like Russian, Romanian, Indonesian and Phillipine only, Elena says knowingly. This I cannot believe.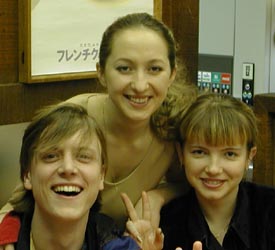 Justin, Marina, Elena

What's your work? Dancing. No talking? A little bit only.

They were quite friendly, we traded phone numbers and posed for a picture. Marina said more than once, call me, ring me up some time. We talked in mostly pidgeon Japanese with a hint of English.
Foreigners | Japan | trip | life
justin's links by justin hall: contact