Friday, 8 February

So Honey, I'm back in Yokote. It's just as quiet as I remember it now except my face isn't met by the blowing snow this time; rather some cold rain. It means the town's snow houses are melting. So next week's "kamakura" snow house party might be subdued.

I'm holed up in a hotel with Gary Davis's Maple Leaf Rag on repeat.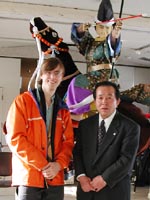 Standing with my host Itoi-san in front of his propane gas company's creation for the local festival - a famous archering warrior on horseback rendered as a puppet atop a large pole for bearing through the midst of town.

I lost my book on the train and Japan Railways sent it to me. I was counting on some quiet time but I couldn't resist contacting the one propane gas salesman I know in Northern Japan today and I was paraded before his friends, his wife, his girlfriend and his dog as a sort of visiting celebrity. There's a sure bet - bring your foreign ass far up to a small town and show up at the office of a local godfather for some kindly sponsored good times. I met this guy in the nude sweetheart, and we get along famously. We abide the quiet times. It's all Japanese practice and culture absorption.

Heck we opened the hostess bar and nearly closed it. Before there were people our asses were in chairs and we sang karaoke (don't think twice, it's alright; 50 ways to leave your lover; me and bobby mcgee), drank whiskey and shochu, and we chatted with many young ladies.

Foreign males might be rare in the countryside here, in the supermarket one young lady talking to herself near the cheese asile fairly well gasped when she sighted me. That she continued to molest cheese and talk to herself in her purple skirt, cluching her yellow mobile phone with red plastic strap, while only occasionally looking to see where I was, I couldn't figure out if she had an artistic temperment or a mental handicap. Inspired by both, I followed her out of the store. She felt old at 29, too old to be alone. I told her to travel more; she might meet an appropriate male. And I gave her my card in case she wanted to practice her aspiring English. I felt slightly shamed walking alongside this reflective spinster as a foreign male. And even more encouraging her to see the world. Shame in the eyes of the working men shoveling snow in the streets of the town, pausing to regard us walking, reflecting back at me my own questions about cultural imperialism and sexual commerce. Most of the young women I meet in this country have pinned their dreams to some half-hearted study of the English language.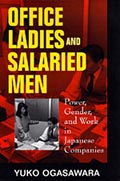 Review posted: Office Ladies and Salaried Men, working to answer the question: what do all those young professional ladies in Japanese cities actually do in those offices?


It represents the chance to travel, be more cosmopolitan, to escape the weight of tradition and gender roles. So I feel invited to offer myself as a ready language practice partner. But typically by the time it gets to that point I'm surveying for different sorts of tongue exercises. And I feel some misgivings about using my socio-linguistic background to get laid. Honey, you may view all sex as colonialism if you wish.

But as slightly sleazy as strategizing with stranger women feels, Japan men have their pick of a large lot of foreign women who have exported themselves or been imported here. And it was the lady who later became quite drunk, slightly unbecoming of her work function as a hostess at the club Toki, she explained that there were many many (ippai) Filipinos in this area (like herself), and they are all women, mostly married to Japanese men. As she was, but she divorced, not like her sister who is still married to a Japanese man in Saitama. A Chinese gal I met at the hostess club, she's 27 like me and she has been divorced already, from the Japanese man who brought her from Peking to Yokote, to live in Japan's Nebraska. Though how they met I'm still unclear. She has decided she doesn't want to marry another Japanese man again.

And in the midst of all this an ultra-tall laconic foreigner entered the club in the company of a Japanese man in sporting attire. He was a Swedish fellow, English teacher in a nearby town. He'd been living in Japan just as long as I had (since October 2001) but spoke barely no Japanese. I was later to hear the hostesses complaining slightly about his utter lack of language skills. Fortunately one Filipina in a bright red dress with big hair a big smile and good attitude spoke some ready English and coaxed an evening out of him. I felt immediately grateful for the few weeks I forced myself to sit in a wooden chair and learn some Japanese, though I'm sure he's having his own sort of extremely tall fun.

When I first came to Japan, Hostess Club's were a great mystery to me. Ensconced up in buildings, with neon signs and limited access, they seemed to promise a sort of ideal companionship and sexuality that I cared to explore. Now having attended a few I know them to be places where older men sing karaoke with young ladies who pledge to be their number one girlfriend in exchange for tokens of affection. They are largely as Ann Allison describes. I'm most astounded when I find myself attracted to one or another professional lady whose job it is to flirt and I find myself immediately caught up in the fool's game wondering if I have somehow beaten the system with my inebriated charm and that this woman might really care for me and might accompany me into the otherwise lonely night.

But baby I have my writing and that's what I came here for. And as the former judo teacher propane gas honcho lapsed deeper into his drink at the counter, my ass accumulated serious blisters from five hours on a barstool and I studied enough to want to put this sort of scene in my story. What the hell for? Chinese ladies and I got along famously, or so it would seem. I decided afterwards that I would have most enjoyed sex with the women my age, divorced, from Peking, whose Japanese from two years living here was expansive in vocabulary but strangely stilted in pronunciation so it seemed the Japanese and I had equally difficult times understanding her and so I would have been entertained to make intimate speech with her speaking with a statue's tones. Still what we shared at a barstool between Japanese love songs and other customers was enough to tide me to bed.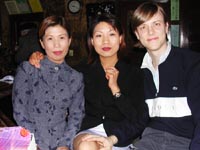 Foreigners.
(The two twenty-seven year olds are seated to your right.)

Let me say that my host here introduced me to his friends,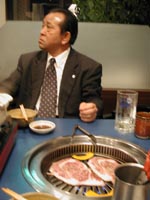 gave me a nicer shirt to wear and a shirt to spare, fed me steak and egg soup, and took me to a club to introduce me to his girlfriends over much free-flowing alcohol. All the while I saw him treated about this small town as a "papa" they called him. Low bows and free service. He called my hotel to drop his name and confirm that they would lower my price. It was kind conduct for a curio character. He was cute himself; we walked his tiny fox-looking dog around the top of the town. The dog that kept trying to chew my armpits as I sat on the heated carpet in his house . He took me to the town's expensive new traditional crafts center, modern art museum and giant children's play castle. In the space-age architected modern art museum I saw no other guests, only ample staff. We walked briskly through as he confessed he doesn't really get paintings and prints. And so, now what? I say I love you honey, and it don't matter. Just so you know I'm taken care of. And still this human striving sensation continues.

Wednesday, 6 February

A short visit from Akita to Tokyo.
Fixed computer.
Two meetings about Chanpon.
Hours and hours at the Foreign Correspondents' Club.
Qualified for a journalist's visa.
Extensive research on Love Hotels.

Sunday, 3 February

Gary Wolf has written a nice piece on author and futurist Howard Rheingold: What it is, is up to us. This article is based in Howard's experience at Reed, a small lively liberal arts college in Portland Oregon. It details some of Howard's early career with technologies of spiritual and mental expansion, including choice quotes. Fun reading, and if any of his work sounds interesting to you, you should join BrainStorms where you can talk with him and his homies.

Searching for a cheap place to stay in Tokyo, I ended up at my first Love Hotel, the Hotel Seeds.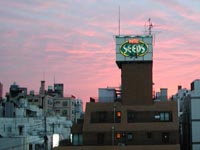 The Economist continues to delight and inform. The magazine is informed and intelligent, extremely well-written, often witty. Their stands are balanced and still strong. I derive consistent and dependable pleasure from regular reading of this magazine (I subscribe to the online edition). I believe that reading the Economist is making me a stronger writer and a expertly informed world citizen. Their coverage reflects few of the forgivenesses provided American politics and culture by even the finest of the American news organs.

Saturday, 2 February

The Links.net Travel Giveaway is now even easier to win: one person actually retracted their proposal as they found another way to finance their dream trip. The deadline is February 15.

New Links.net advertisers: Unum, Panico, Riddle and Amolomo.

Russian Wireless Tokyo Run:
Gaming Dancing No More Snow

The extreme expense of rejoining the modern media world from the winter hinterlands drives me to experiment with new technology - a cellular PC card that can be used as a modem all over Japan for slow but ready connections.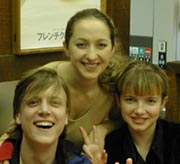 Inspired by morning reading the Keitai-l list, I sight a device designed to make any laptop online all the time across nearly all of Japan - a mobile phone modem. In Morioka one man applies unbelievable dedication: three hours to work the system ("no, this foreigner doesn't have a visa, no he doesn't have an apartment, no he doesn't have a Japanese bank account - yes he should be able to sign up for the service"), and I leave there with a card that allows me to speak Internet all around this island. I test it thoroughly in Mister Donut and after my power winds down I meet Marina and Elena, two Russian exotic dancers.
That somehow urged me from Morioka, the capital of Iwate-ken, prefecture of Japan in the North of the main island, but on the East side where the snow is only fierce and not life-threatening. That morning I had ventured to another in a string of banks looking to use my American bank card to gather cash for this credit-less country. And the woman there said: try the machine next to the bookstore; if that doesn't work, you can't get money in this prefecture. And so I stood before that machine, festooned with global cash association symbology, and there was my future fate of winter travel I figured. So when I got my money I decided to wait until midnight passed in California, withdraw my daily limit again, and then head to the mythical land of tall snow Yokote, a town provincial but not a capital where friendly men have bought me dinner and a man who is a teacher said I should study with him. On the train Yokote-bound, I again powered up my laptop. I had charged it in the Morioka train station's travel center during my Yokote-hotel booking, keeping a hungry eye on one young woman working there who had very greased back hair, shaved and painted eyebrows, smart small glasses and a prim deliberate manner. Her youth and hard poise, each of her movements and small glances served an invitation to something dark and delicious - I found my normally moral mind dreaming of scooping her up to wind about the world on a crime spree.
It was on the train that Windows first expressed some serious discomfort; an inability to boot, in fact, my computer suffered a total failure to recover its previous state as my friend and accomplice and co-worker.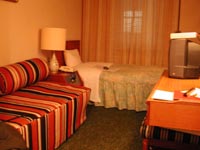 Room #308 at the Yokote Station Hotel - 6900 yen per night.


And so I decided to return to reading a teenager's book about baseball and drainpipes I'd picked up at the significant bookstore boasting adjacency to the machine that fated me to further travel in the winterlands. It was not until I checked into my severely aged and quiet, musty hotel in Yokote that I was made to understand that my computer was completely dead, Windows Blue Screen, can not Safe Mode boot. The man in the only other visibly occupied room on this floor had fallen asleep on the couch with his shoes on and the TV tuned into the channel with a blue screen and white text reading "thank you for staying here" in English and Japanese. He was sitting there at 8pm when I arrived, and he was sitting there the same way at 10.30 when I came back from eating Nabe soup with an eager air-conditioner circuitry engineer at one of the three restaurants near the station. A long dark night with no appliance looming, I wondered, here in a sleepy town with three restaurants near the train station and two hotels both dating from the late 1970s, where would I find a boot CD for Windows XP?

And so the next day, by way of the wrong train and a willingness to travel south, watching the snow turn thin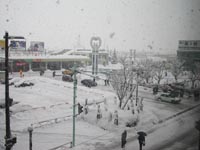 The square in front of Yokote station by morning.


and melt away entirely, and not return to the store where my computer was ill-fated by high-technology installation, I ended up in Tokyo in the afternoon. Armed with prior knowledge, I dropped my bags at the Kanda-situated Tokyo Green Hotel (now 8400 for a Friday night single, not the 6500 I incorrectly remembered). And I high-tail it to Neoteny, where the most technology-literate young people I know in Tokyo work and can communicate with me. And there is a copy of Windows XP in English and so I am able to successfully resurrect my buddy, my workability, and rearm my machine to constantly online in Japan. And with the young tech priest who helped me, Kuri, and his friend we ate Korean chatted about travel, and ended up late night in an office that served as an apartment for a deep geek. I counted six semi-functional PCs in sight, wired for network gameplay. No bed - he slept on a couch, near two TVs with four game consoles. Stacked to the ceiling were action figures and comic books. Ashtrays overflowing with stamped white butts sat next to red-lasered optical mice. Castle Wolfenstein: The Return was the game for the night; we took turns slaying Germans and Americans alike. I could follow some of the fun and put in for a few kills myself. It was a different sort of Japanese than what I'm used to, and my first night communicating in a peer group of young men. It reminded me very much of the back room at Gamers.com where I would pass some hours talking to the young men who knew how to make computers work.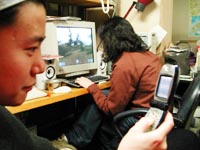 Kuri plays on his mobile phone while homie hunts Russians in a game based on Tom Clancy's books.


They knew because they both worked and played on these machines. And so these young men born in Tokyo or Modesto California each admired cars and weapons and girl-comics it seemed. And here was some culture I'd studied that was transnational; I wasn't fluent enough to see what was Japanese except the piles of comics, some of which were sex, and the karaoke from across the hall - this was an office-cum-apartment and the other office on this floor was a hostess club. I went to the bathroom and caught a middle-aged Mama-san, hostess coordinator, out in the hallway on her mobile phone calling clients to encourage them to visit this little Akasaka "snack" bar. And meanwhile you could hear the hearty guffaws, discharged bullets and endless explosions as the Axis powers retook the forward flag area across the hall.

Today I wake up with Ayako in a room we had to argue over after midnight as a single-booked is not for two, even if the bed is big enough. Whatever we had in mind was quiet compared to some of the ready humping happening across the hall. The weather is so fine and mild, being here is some sort of rare paradise where the food is endlessly available and delicious, the weather balmy and welcoming. There's no struggle to protect your neck as you walk half a block; the very air does not oppress human gesture. Both at Neoteny and the Press Club where I'm working the bandwidth is like a fast flowing river; I stand in front of a fire hydrant dancing in a warm street. And I plan to return to the cold mountains Tuesday, where the bandwidth is only a trickle but maybe there is a teacher.

January - gosh what a month.