Hard:
Thinkpad X21
CoolPix 880
J-Phone T06
Soft:
Mozilla
Edit Plus
emacs
SecureCRT
SmartFTP
ACDSee
PhotoShop
WinAmp
Windows XP
Office XP
Web:
Cyborganic
Mindex
[an error occurred while processing this directive]

About this site
Contact this site




Thursday, 31 October -<link>
World Cyber Games Press Room, Daejon, South Korea

Updating Game Girl Advance from the "World Cyber Games" in Daejon South Korea all week until Monday.

(That's besides updating for the South China Morning Post which can't be read without a subscription).

Wednesday, 30 October -<link>
Lotte Hotel, Daejon, South Korea

Now in the mix, the journalist pool at the world cyber games. Somehow all the elder journalists and writers I respect have skipped this event and so it's me, jane and the russians from cyberfight.org jockeying to figure out how we can justify being paid for to be sent here.

Me, I've just got to keep track of a dozen Chinese kids - I'm assigned freelance stringer for the South China Morning Post (they found me through weblogs, thank you very much). So as Hong Kong marches towards victory or near-miss, I'm the chronicler for that penninsula's people.

All this goes down in Daejon South Korea - a giant frozen Expo Science Park, a place built for great things and now filled with too few people and too little else besides electronic entertainment. Amusement Park music plays after five, as though accordians are the appropriate farewell for Counter-Strike match-watchers headed for Korean barbequed beef. If there's any reason to be outside of this hotel room now with wireless broadband and Scorched Earth downloaded from the web, please let me know. This morning we saw two dozens presented Korean game company products, a succession of overlong demos: copycat games and broadband pioneering in an auditorium cold enough to about show your breath. I'm still recovering feeling in my shins - shoju rice spirits raw over ice helps immensely. Turning on the heat would have helped as well, but Richard from the organizing group explained that people running the building are not allowed to turn on the heat until November. Piffle!

Thursday, 24 October -<link>
"Red Carpet" Club, San Francisco International Airport

Reading Lawrence Lessig's Code and thinking about intellectual property. A month back, I was comissioned to write a 100 word capsule review of Howard's book Smart Mobs for Wired Magazine. They ultimately killed the piece, so I posted it just now on Amazon.com. The site encouraged me to review other things I'd already purchased there, so I reveiwed Elektra: Assassin:
"Hunter/Steadman inflected treatment of Nixon's 21st century sick-media America being invaded by a resurrected muse/ninja/cyborg/palimpsest killer in a long red thong. Her character is conflicted and messy-weird but the story is that of another man, a proto-macho cigar-chomping positive-slant on the good-old-American-rebel guy. The art is a treat, the story is cocky and strange. Good comic."
Then I noticed "Submissions become the property of Amazon.com." So I decided to cut and paste my Elektra review here so I could own at least some digital public copy of it.

Wenesday, 23 October -<link>
Colin's apartment, Palo Alto

New TheFeature.com article posted, the advance study for my next week's trip to Korea:

South Korea: Wireless Wonder-Workers or Game Content Sweat Shop?

Monday, 21 October -<link>
fccj

At first, all is quiet. Three weeks of living routine, setting up a home in suburban Japan, playing games with my girl, writing freelance and researching weblogs.

Then my schedule explodes like a birthday party pinata that's been hard-whacked one final time, spilling itineraries and dates, meetings and conferences across continents.
San Francisco: 22 October - 24 October


Hopefully confirm my visa situation.


Korea: 28 October - 5 November


Visit the mecca of gaming and attend the World Cyber Games


Kyoto: November 9-17


Technology and good company in the culture cradle of traditional Japan.


Chicago: November 25 - December 2


Celebrating the American harvest holiday with family and friends.

And I have a fresh cough just arrived!
In spite of Korean garlic soup, it has survived.

Sunday, 20 October -<link>
fccj

Kakio - home-making on the suburban frontier west of Tokyo.

Saturday, 19 October -<link>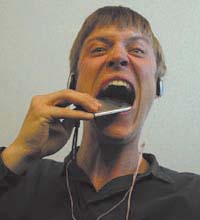 Recent article made available on J@panInc:
FujiFilm Axia Eyeplate: The Chewable Digital Camera

Friday, 18 October -<link>
fccj
Recent article posted on TheFeature:
The Wireless Angels of Our Nature


Will our application of wireless technology empower creativity or increase invasions of privacy? Or both?
Tuesday, 15 October -<link>
fccj, Jane's laptop

Japan/N.Korea Kidnappings:
News // Spin

In Japan, big news - North Korean President Kim Jong Il reported that his nation kidnapped Japanese citizens to train North Korean spies in Japanese or to allow North Korean operatives to assume their identities and passports. He apologized and some of those abducted Japanese citizens are returning (those still alive). The media here is full of reports about the survivors, the North Korean trechery, and cries, howls! for justice and accountability, where are the other survivors? Newscamers point daily into the living rooms of Japanese families with kidnapped relatives, now following their struggle to find their missing family members alive. Prime Minister Koizumi is enjoying some bouancy in his declining ratings since he helped discover the fate of some Japanese citizens missing over twenty years.

At the Foreign Correspondents' Club, the spin - after decades of absolutely ignoring an inconvenient, difficult, unclear story, the Japanese media has now pounced on this tale like a trend. For all their current clamboring for justice and compassion for these families of survivors, what about the years these families worked to get even an inch of attention in the local newspapers? Or a peep on national TV? All the politicians jockying for position with returning survivors coming off the planes, why weren't they crying for justice and petitioning North Korea over a decade ago when suspicions were emerging about these cases? These families who are now national figures of international injustice were once bullied by unsympathetic policemen, politicians and journalists who didn't believe their case and called them troublemakers rather than persue these missing persons. So says Pio d'Emilia, rabble-rousing Italian journalist, based for a long time in Japan and soon petioning for transfer to the Democratic Republic of North Korea: "That's the place to be now, since the regime is opening."

Sunday, 13 October -<link>
kakio outside of tokyo

I made a fan page for Charanjit Singh - not because I know anything about him (other than his music makes me creem), but I made this fan page because I want Google to pick up his name, and the name of that album so if someone else looks for it they will find me and maybe I can meet the other fans of "Ten Ragas to a Disco Beat." Also, I include MP3 fun for many Internet friends to experience my pleasure. [link fixed, thanks Howard and Phil for the heads up.]

Tonight I realized I have two friends named Ryan, and each of them has a domain name which is five letters preceding the word "monkey"

http://www.brassmonkey.com/
http://www.texasmonkey.com/

Saturday, 12 October -<link>
kakio outside of tokyo
party on the sides

My hair was getting a little long; I had little hair-wings on the back of my neck. I can get along with most things, but somehow, my face in the mirror framed by these hair wings was really getting to me.

I'm not much for haircuts; I usually cut it short once every eight months or so and then let it grow. This time, I was thinking of getting a mullet-cut, probably inspired by a recent viewing of the film Radio Free Steve. "Business in the front, party in the back" as they say.

Jane mentioned that one of her bandmates, Chris Groves the bassist in Dealership, he used to play in a Kenny Loggins cover-band called "Log-Jam." Then he had long hair; accented appropriately with sunglasses, tight jeans and a tucked-in white button-down shirt.

Recently Chris had a haircut I admired, the "modified mohawk" - long on the top and in the back, short short on the sides. Jane finally sat me down in our apartment with our utility scissors and quit my hair whining.

It feels great to get the excess hair off my ears and neck, and I like being tickled by long hair-tails. I like my modified mohawk! Modified mohawk is happy for long hair style life. Being tomorrow is pure today. Let's seeing future for all sexy boys.


Jane's cut: Modified Mohawk from the front. Model is wearing the thin cotton "WILD BOY" suit ensemble, from Shin-Yurigaoka OPA mall 1000 yen store.



A picture of the modified mohawk from the rear. Here's another shot from the rear.



Gratuitous, second, stretched mohawk from the front shot.


Photos by Jane


unhinged

My dear travelling companion of the last 18 months, in beds and bags, from conference to city to capsule hotel and rural inn, my laptop has begun to come unhinged. The screen now hangs at a rakish angle, and when we want to compute together, my laptop asks that I prop up its back, the screen needs a hand to lean on to continue its work. Unless I take this computer in for surgery soon, it will end up in the retirement home, my closet.

knitting is the new gaming.

Jane reveals the new entertainment paradigm.

Wednesday, 9 October -<link>
kakio outside of tokyo

This last June, I agreed to help Tokyo technology maven and global linker Joi Ito set up his web log. He's been on a tear ever since then, posting upwards of an entry a day and getting loads of comments from lively folks.

A web log is a lot like this ol' Links.net - a web site updated by a single person or group of folks dedicated to a particular issue or mindset. It's dedicated media filtering.

But unlike this web site, most weblogs are easy to update, favoring quick almost jotted thoughts (occasionally deep ones too). Most web logs tend to look alike - link-loaded sidebars, with reverse chronological posting in the main column. But they are made lively with visitor comments.

Nearly all weblogs are supported by "blogging" software, software that enables easy publishing online, usually through a web browser. Log in to one web site and make changes to another. Multiple people may edit one page, for example bud.com or Chanpon. This software usually handles the archiving and listing of different entries according to date and category. No messy directories, enforcing random heirarchies. Instead, random categories and severe adherance to linear dating. Basically, a weblog is a easy fun tool for tracking what might be on your mind.

So Joi is thoroughly fired up about weblogs for his own use and doesn't see why these tools couldn't be developed for a broader audience. Working with many of his mixed-culture team at Neoteny, he's putting together a team of folks to research and promote 'blogs, web logging.

Jane and I are part of this team, helping promote weblogging in Japan and develop tools for weblogging worldwide. It's shaping up to be a fun, fast-paced project with good people. A good chance for me to develop some professional Japanese and continue my exploration of personal web publishing.

Tuesday, 8 October -<link>
kakio outside of tokyo

I feel like all my recent life has been building up to this moment: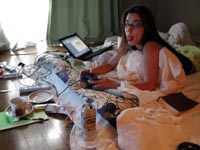 Curtains drawn in the afternoon, amidst empty foil packages of Pocky, drained tea cups, eaten convenience store cups of flan, dictionaries of spoken Japanese and Kanji, a tallboy steel Asahi beercan, a notebook and a laptop, Jane has hunkered down with .hack - the first volume in a series of meta-media role-playing games from Bandai.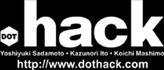 massively multi- single-player online game
.hack ("dot hack" - english | japanese) is a game about players of a multiplayer role-playing game. So you boot up, check your email, participate in BBSes, and then log in to play a multiplayer role-playing game. Within that multiplayer game (and leaking into your emails and BBS chatter) are ominous signs that the gameworld is adversely affecting real people, other players - fellow online buddies are passing out into comas after long gaming sessions. It's up to you to play through the game and find out what's in the gameworld that is hurting your fellow players.
Except the whole thing is a self-contained single-player world on your PlayStation 2 - marvellously meta. It's a simulated online game - through a town Jane wanders, sparsely surrounded by other "players" who might trade items or make little remarks. She finds some friends, enters a dungeon, one of her party members logs off to go to bed. A simulation, commentary perhaps, on play in these virtual worlds. I'm not the primary player (mostly Jane's notetaker) and we're only just beginning with volume one, so we'll see what Jane might post about this on GGA.
The game is long on difficult kanji characters rendered in too-few pixels, making much of the game impenetrable but Jane is muddling her way through. There's no FAQs online yet; many of the hard-core English-speaking fans of Japanese RPGs seem not to be bothering to translate their way through .hack since it will be released in the States early next year. Bandai has released .hack in conjunction with an animated TV show and card game. The game we purchased (used for 4800 yen) comes with a copy of a short film setting up the plot. It's set to be an international cross-marketing storm, popular at least with media geeks who like games. Jane and I were looking for something to stimulate us and this idea of a game within a game was too delicious to avoid.
We picked this game with some help; we ran into Christian (formerly of Gamers.com) at California Extreme and he's been giving us advice on cool games unique to the Japanese market. He's in the States, so maybe we're serving him as surrogate gamers.
About the last thing this apartment needs is broadband, then it will be a true media cave. Then maybe a second TV and a GameCube. How long are we going to be living here?
Sunday, 6 October -<link>
kakio outside of tokyo
I'm a webalist
A brief piece on Jungle music and a freelance writer - finger propulsion: I'm a webalist.
Writing books pays.
Just got a $60 PayPal royalty payment from sales of Just In Tokyo. Thanks readers! Thanks GC Press! Over 50 copies sold.
Saturday, 5 October -<link>
less-empty living-room, apartment, kakio outside of tokyo




Jane demonstrates the fish grill. Most Japanese kitchens don't have large ovens like kitchens in the United States. But underneath the typical two gas-burner ranges, they have narrow-sliding grills designed for fish primarily. Put a little water in a pan to keep it moist, the fish on the metal mesh, and she fixes two pieces scrumdelicious salmon up straight.

It's pretty amazing what a TV, game console, refrigerator and washing machine can do for a sense of home. These appliances help structure and extend our dwelling time. I had taken plenty of classes in college studying the impact of technology on our lives, and then I'd grown soft moving around so much: I got used to finding what I could and being happy with what I had. But sitting still in one place begets infrastructural demands. Residing in sleepy near-rural Japan with a fellow media-addict, not having anything here, other than a pokey 33k wireless net access card (shared between two hungry computers) and two Gameboy Advances was stress-making. Food, cold libation, entertainment, friends were a mile walk away at least.

Today we have an ever lovelier apartment, as she describes. And now that we have some things, what do we do? Accumulate, sort, ponder.

there's a rub

But I can't say where I live exactly, I don't remember my address; I've never heard it spoken out loud in Japanese. And I certainly can't write it out, not from memory and barely if I copy what I've seen. I carry around my address copied by Jane's mom into a giveaway "Crash Bandicoot" pad from the Tokyo Game Show. I hope some future cab driver might understand. But I could never order pizza over the phone. or broadband!

Thursday, 3 October -<link>
Jane's impromptu folded-futon-couch, kakio outside of tokyo

Nice mention of my Guide to Tokyo from PeterMe, "Suffice to say that "Just In Tokyo" is, I think, the only guidebook ever to make me laugh out loud. A lot." Thank you Peter!

Wednesday, 2 October -<link>
nearly-naked living-room, apartment, kakio outside of tokyo

low doorframes

about twice a day I crown myself in this apartment.

nowhere to put nothing

how about a kitchen that has two burners and one large sink, with no drawers?

Clompy McLeadFoot

Had a slight run-in with a neighbor, I posted the account here Clompy McLeadFoot to see if I might get some education from comments.

Tuesday, 1 October -<link>
nearly-naked bedroom, apartment, kakio outside of tokyo

First day to move into our new apartment. Joi arranged a last minute meeting with a business associate that I was interested to attend. Jane headed on ahead alone to ensure the delivery of our futons, baggage and random appliances sent by messenger from her Mom and her Aunt.

Meanwhile, Typhoon Higos hit, among the worst wind/rain storms to hit East Asia since World War II. Rain blowing horizontal. Dark early, with thick weird in the air. How to find your way walking to a new home one mile from a trainstation?

the crush

While stimulated by my conversation I was sorry to ditch her for this "moving in together" occasion. I rode home later in the thickest crush of commuters I've ever experienced - trains literally packed by men standing on the train platforms - each station on the hour ride, I think, ahh, here's relief, people are getting off. And for a moment, you can breathe and adjust your possessions and your posture and look for a good place to stand as people shove past you to get off. Then against all hope and probability, more people get on, even far away from Tokyo, they are shoved in, compressing me with my two umbrellas, first night presents of whiskey, salmon and some little cakes, and my backpack loaded with laptop and overnight things. It's large and unweildy and I don't want to inconvenience my fellow passengers so I put my backpack on facing forward, with umbrellas hanging off each shoulder strap, and my groceries hanging down below my backpack tied on to some other straps. Each people compression causes me to poke my fellow passengers; I'm straining hard against poles and handles to keep from crushing a slight young lady against the handrail. There is a sheer mass of people sweating within licking distance and no-one is saying nothing. It is nearly dead quiet of peoplenoise - only the soundleak pop excitement from some guy's headphones. My phone rings with Jane, concerned I won't find my way home, or I might get hit by cars on the too-narrow sidewalk. It is a shock, I am pressed together with all these people but I'm breaking the conversation code that keeps us all separate. I rush off the phone with her so as not to be rude. And then with my phone above me, above my backpack, within reach, I take a phone-res digital picture of my surrounding sufferers.

September 2002 - Hello Japan! Let's Living!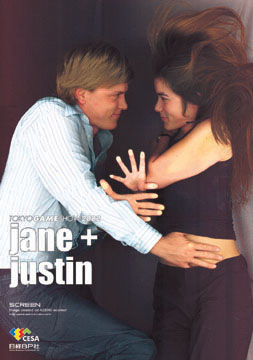 - Full Body Scan -
jane + justin
Tokyo Game Show 2002

South Korea: Wireless Wonder-Workers or Game Content Sweat Shop?
Survey of the burgeoning capital of games.
23 October 2002

living in Kakio
Homesteading on the suburban frontier outside of Tokyo
October 2002

The Wireless Angels of Our Nature
Will our application of wireless technology empower creativity or increase invasions of privacy? Or both?
For TheFeature.com.
18 October 2002

FujiFilm Axia Eyeplate
The Chewable Digital Camera
For J@panInc Magazine.
October 2002

Justin Hall Gets His Link On
Interview with Hugh 4est at South by SouthWest
16 September 2002

Murasaki Tattoo
How one American marked herself Chanpon
13 September 2002

New York City
Doug Rushkoff's wedding and wandering



Labor Day 2002
Hawaii Trip Photos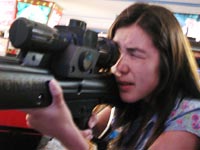 August 2002
Living Loud: the Mobile Lifestyle
Mobile phones have changed our minds and our manners.
19 August 2002
Meanwhile, Over in Japan
Somewhat cheesy, article for a friend at Yahoo Internet Life (the last issue!)
August 2002

Family in the Ozarks
Time at a midwestern swimmin' hole - delicious, gas-powered family fun.
July 2002

Internet Withdrawal in Akita
For J@panInc Magazine: It takes time, money and a steely determination to access your unsolicited commercial emails on the road.
20 June 2002
[an error occurred while processing this directive]
Advertise Here
<blink></blink>