Wednesday, 14 January -
link
Packing my Rocks for the Misty Mountain
Thinking of this photo I bought myself some $11 total wraparound glasses at Whiskey Pete's in Prinn Nevada. Yesterday I donned them yesterday with my mobile phone headset which made for this photo, which amuses me greatly.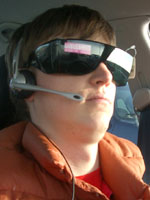 I drove to Howard's, where I found his hiking shoes sitting out. We immediately took off for "dog bite trail" on Mt. Tam, carring bags full of rocks.
Near the top, we stopped on an outcropping. Surrounded by mist in the valleys below,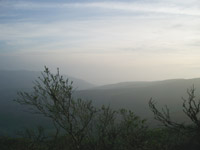 we set out to carve and polish stone pieces.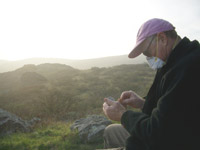 Finally, we stood together, dusty and chilled.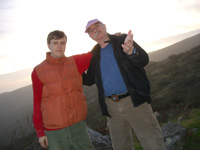 Posted on 14 January 2004 : 09:47 (TrackBack)
Read Comments
February 2005 - comments are closed on Links.net. Thanks.