Thursday, 30 September -
link
TGS2k4
Footage from the Tokyo Game Show last weekend: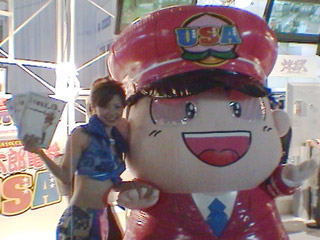 TGS2k4.mov - 53 megabytes - 7 minutes, 21 seconds
Featuring interviews with game designers, veteran journalists, academics, and footage of Costume Players in chains. Thanks for everyone who was interviewed, including the people who spoke into my camera but it wasn't audible or visible or it was accidentally taped over; I'm learning how to pull this stuff together. This is fun! [Update: I made another video from Tokyo Game Show:
Robin in Wonderland
]
Posted on 30 September 2004 : 09:40 (TrackBack)
Read Comments
February 2005 - comments are closed on Links.net. Thanks.