Justin's Sex
Adult Video News Awards 2004 - Reflections
There was a beat-the-band eagerness to embrace life in much of the Adult Video News Awards - the closest thing to Oscars for porn. Jim Norton was the scathingly self-deprecating host; obviously an admirer of the industry: "This is the first awards ceremony where I recognize everyone. But I feel strange seeing you all without my finger shoved up my ass."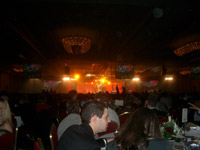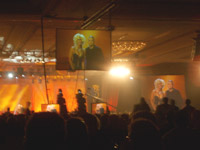 Left: the view from table three hundred and twenty one.
Right: Jim Norton and Jenna Jameson, on the big screens.
One you woman took the stage with bravado - "I'd like to thank you for all the cocks I've sucked. And for the cocks I haven't sucked, hold on." One young won an award, maybe best actor, and he took the stage to say, "I enjoy what I do," which won laughter. He followed that with: "It's great to be able to express myself sexually... fetishes, fantasies.... Act the fool on camera."
It was a carnival for sure, a carnival meets an awards ceremony - people were laughing. There are film clips of famous stars demonstrating sex and relationship tips from porn stars, but oddly no excerpts from the winners or nominees.
The Tubes played rock jams, and the final act was Lil Jon and the Eastside Boyz, rappin' out their hip-pop hit "Get Low." They called for all the ladies to join them on stage and it was a massive boob shakin' party up there, as the (male) crowd surged forward: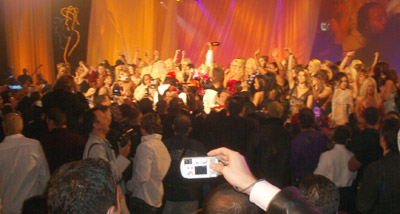 It was amusing, but there was something wrong - the expertly titled "Weapons of Ass Destruction" wins an AVN award, and I realize I don't know this industry. I don't watch much porn. I certainly don't own much. I'm not a participant - I can't speak informedly about the actors and actresses up there. I don't have a favorite porn film. Legendary directors, fallen starlets, superlative performers - nearly none of whom I've followed. I read Luke Ford's A History of X, but it didn't emblazon my mind with lasting opinions on an industry characterized by immense turnover. During the opening panel session of the Adult Entertainment Expo (AEE), Nina Hartley said the average career length in the porn industry is three years (making unionization difficult, she pointed out).
The Internet might change those dynamics, by allowing stars to maintain their pornography careers through webcams from home (like Lorsha the creamy housewife, for example). I wanted to meet active self-publisher Asia Carrera for years, since she's an active geek I've had an eye on her life and times since college. But she didn't appear to be there. I suspect I might be more familiar with the webmaster's world at Internext, a convention about sex media on the internet in the week leading up to AEE.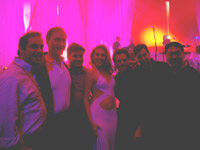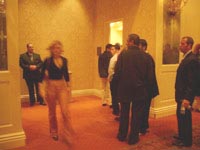 Illustrating the Gender Ratio at the AVN Awards:
Left, men pose with a single porn star near the stage before the ceremony.
Right, the line for the mens room.
So I'm left noticing that the line for the mens room is far longer than the line for the ladies, and the average bust-size of women leaving the ladies room is around DD. Gender ratios, time needed to pee, there were several subversions on hand. Everyone jokes that they would love to be a porn star, and the people up on stage were reveling in their profession. But something struck me as sad.
It was in faces mostly. People with distorted features. Vacant eyes. Bad skin. In other words, normal people, who have stayed up late too many nights in a row. Dorks - sex dorks. People who have given themselves to be vessels of desire and act out id functions. I saw a lady with a chest that must have measured past 40G and I wondered what she benefited from hauling those knockers around? She must have some good chiropractor friends, maybe with specially-shaped massage tables.
Tell your friends you're going to Las Vegas for a sex convention and you get a lot of eager questions when you get back. Did you have sex with a porn star? No - I met some inspiring sexy people. But I was spooked when I looked deep into a few pairs of eyes in the industry and I saw some damage.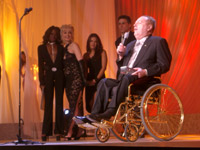 Call me a geek. Perhaps I was intimidated by a surfeit of bodaciousness in one room. A friend was looking through my photos after the AVN Awards, he asked "Why do you have so many photos of Larry Flynt, and so few pictures of porn stars?" Taking pictures of hotly-attired women is easy, I tell myself - Flynt is a fascinating figure.
I've been trying to avoid aggressive resume-talk recently ("what do you do?" "what did you do before that?"). But I was curious about these older gents sitting up front, at the Evil Angel tables. On the far left is Brockton O'Toole, a 74 year old actor working in porn.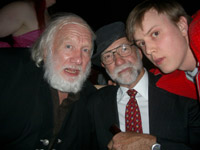 Has a degree in philosophy, worked as a lawyer, he had this advice for me: "It's good you're getting started in this industry as young as you are! I waited until I was 44."
I wasn't yet an actor in the industry, but I was eager to survey. Not because I thought I would be laid, but because I was curious to see how practicing active sex media affects the humans involved. And I can't say for sure without experimentation and perhaps more data gathering, but my initial sense is that there's something deeply taxing about the profession, or people who are taxed are drawn into it.
Taxed is how I describe the state of their skin, their eyes, their nerve endings. There seemed to be a fair amount of ambient desperation. And if I could sum up the quality of the collective complexions in a word, that word would be "distressed." And what does it matter?
These folks occupy a special place in the economy of attention. Healthier sex culture in the world at large would likely help these people stabilize some - pulling them from fringes. I suspect life on the fringe helps drive porn stars to drugs, for example a near double-overdose around the time of the AVN Awards.
So I was more of a reporter, and less of a raconteur. I didn't dive in, I stood on the edges looking. With large personalities and tuned bodies and pimped out styles all around me, I was just overwhelmed. Maybe I just didn't see a handle or role for myself there that evening.
I attended the show with a number of young men who didn't work in the industry either. Together we were looking for the entrance to the Awards in the Venetian hotel. We saw a number of cameras around some porn stars, and as we approached them, we saw the crowd had parted wide to let the porn stars through. We followed along behind, and we became part of the porn parade - indistinguishable from porn stars perhaps, for a few moments - I was rocking my SAME Made in Vagina shirt, under an electric red suit made of discarded carpet. So I had a bit of the style vibe on. But I was a newbie for the whole show, not a ready participant.
I did meet a number of folks excited about sex and play, roles and exercising the sensual mind. And why didn't I play with them while I was in Vegas? I was too busy being a reporter, a geek and a good boy! So who is misguided then? I did return home with some phone numbers, and some fantasies. And a curiosity to watch more erotic flix, so I know the stars the next time I have a chance to chat with them.
- AVN Awards Coverage from AVN.com
- Tristan Taormino's Awards for 2003