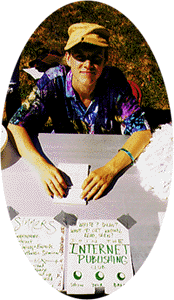 ******** Justin Hall's Links from the Underground comes to Austin! *********
Tuesday June 4, 1996
7:00 pm
High Time Tea Bar and Brain Gym
1501 South 1st
austin, texas
Justin Hall, a World Wide Web publishing guru and all around human dynamo will be available to talk and answer questions on Tuesday, June 4 at 7pm at the newley reopened High Time Tea Bar and Brain Gym, 1501 S. 1st, at the corner of S. 1st and West Elizabeth St.
Justin publishes *Links from the Underground* (http://www.justin.org), which has over 15,000 daily readers, without sponsorship or fees. It has been cited in a broad range of print including the Wall Street Journal, the New York Times, Rolling Stone, New Yorker, Playboy, Wired, Internet World, and the San Francisco Chronicle.
Justin is making his way across the U.S. to spread the gospel of personal publishing on the WWW. The talk is free and open to the public.
austin | tejas | destin | summer tour |
justin's links by justin hall: contact