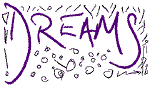 11 may, 1995

Stats final at 9am, stayed up packing, talking with becky, martin.

Everybody who was in the class was hanging out in the gym, all of us centered around a black man holding forth, and another tried to take the stage and much making fun of going on and then to class.

science class at parker, on the web and computers. Peter Barrett was administering, I got in trouble for being late. GK, Jesse were in there. Very informal. different age groups. I sat down next to Abbey, who was being determined, strong moral. We stared eachother in the face, bold and close while she took her stand, on some hijinks.

There was something broken about a web demo, so I left the class to help fix an imagewriter printer. I thought it a good idea to pat the printer on the side, "good printer". the woman who owned it spoke from within, saying essentially thanks, I'm poor, I live in a housing project, which I said I'd heard of, she said it was only a 5 day temporary thing. Her warranty's almost up. I said she should renew it, she said she couldn't afford to, but she'd think about it.

In class, Jesse got sassy as hell delivering a report with Ben Gordon. Started unveiling his technique in class, and only got more bitter when I observed it out loud. So he wanted beer, so I got it for him - a dark draught from a trashcan in some room that was supposed to be his. First accidentally pouring water in the cup, and having to dump that out, then the brown ale.

then there was snowball fighting with Raina watching and an adult and two kids doing it, me just sort of dodging. Then I was in an airline bathroom, listening to the adult give a speech about underage drinking to the kids, and doing a poor job because he liked liquor, and it came across and no reason why they shouldn't except the law, and I thought I could make a better arguement by telling them that was a big hassle.
---
life |
justin's links by justin hall: contact