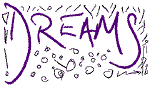 11 july, 1995

Slept at Chris and Peter's - I'm sick cold/stuffy/sneezy yucky.

riding a large public transportation bus filled with new christians somewhere in chicago. People walking the asiles giving motivational christian talks. I say, hey I could do that. After the ride, a break, we stop somewhere remote, am I to get off? no, we'll be returning.

mom talking to a social worker about suicidality and saying I was diagnosed as a type a borderline personality - dangerous psychotic, suicidal. sent me spiralling, I started giving people weird looks and feeling uncontrollably psychotic.

looking at danny's old fish tank, talking with someone about imprisoned fish, they're not mine so I'm not guilty. The tank cover is shifted off a bit, the baby octopus drifts out and is swimming through the air, I push her back in and close the top.

contemplating prom - someone tosses me a bottle full of water I duck and it goes through the window behind me, creating an absolute mess. I'm out in the hall then selecting my clothes - going to wear one tight black synthetic t-shirt or then a goalie type black stretchy synthetic long sleeve, with zippers at the shoulders to secure pads - I'm looking at it, asking someone, does that look bad? and I see I have a scar/cut of two inchs along my right shoulder top. No it looks cool. Selecting a bottom for me half naked not going to be a heavy blanket green reversable black with gold threaded design, cuz that's too heavy.
---
life |
justin's links by justin hall: contact