Recently I read with horror as Ben Brown posted on Twitter about a burglary in March 2014 - gigabytes of personal photographs were stolen with a computer hard drive from his home:
The dogs are ok. Everyone is fine. Just really sad to lose 25GB of personal photos, my grandfather's Leica camera, and some heirloom jewelry

— Ben Brown (@benbrown) March 27, 2014
As I felt terrible for Ben, I realized I was in a similar boat. All my personal digital memories are in my home. I have too many gigabytes to store in the cloud. Working with video, I now have many terabytes of storage here for my memories. Someone who broke into my house would sell my hard drives for spare parts and the contents would be lost to me.
So, spurred on by Ben's sad story, I began asking around for people's backup strategies. During a visit to the Internet Archive, just before I interviewed Richard Stallman, I complained to John Gilmore than I had too much data to backup in the cloud. Gilmore suggested I get a harddrive, fill it up and mail it to my parents.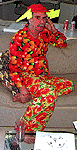 Twas a brilliant low-tech suggestion: I bought a big hard drive, copied all my personal digital assets on to it and shipped it to Chicago - about a five hour plane flight away. If the entire United States is rapidly overtaken by a government of totalitarian infophobes seizing our bits at taserpoint, I'll be hosed. But if there's a California earthquake, fire or burglary and I survived without my immediate computers, I'll at least have copies of my photograph of Howard Rheingold in his citrus fruits shirt.
For about two years I've been slowly emptying a storage space I had in San Francisco: scanning old personal video tapes, papers, photos, DVDs, EZ Drive disks and hard drives. You can see some of the results in my "Justin Hall appearing elsewhere" YouTube feed. I realized that old data is fragile and very small relative to today's data. It's only getting more expensive to rescue old files from old drives. And I don't have a job. And I'm making a documentary about my life, which is sorta what I've been doing for 20+ years anyhow. So now is a good time to preserve my datas.
After a brief bit of research, I purchased the "WD My Book 4 TB USB 3.0 Hard Drive with Backup" for $160 from Amazon, and saved the box it came in to remail it.
Spring 2014, I spent a few weeks consolidating my photos, videos, school papers, personal scanned documents, email backups, web site backups, old laptop dumps, archives from my company GameLayers - whatever I could get my hands on, to copy onto the drive. Then I shipped it yesterday! In a few months, I'll buy a second drive, fill that up, and swap it with the first drive each time I travel to Chicago.
Now there's a copy of all my personal data on a hard drive labelled "continuance" that should soon be collecting dust far away; thusly I spent many hours and $160 + $19 shipping for peace of mind.
I still need to figure out what I expect anyone to do with my data when I die; I can pretend I have some measure of preference and control over that while I'm alive.