Miracles of the 21st century - people have conversations and record them to share with the world!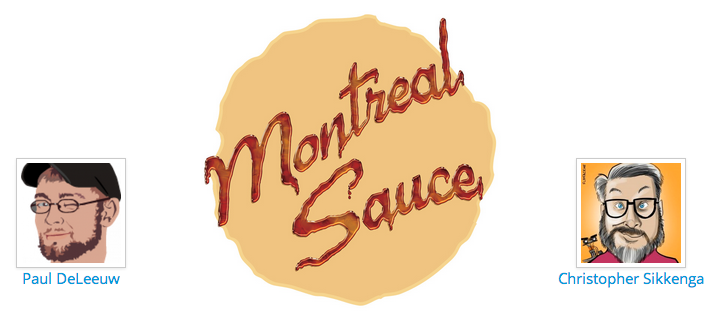 I met Christopher Sikkenga through the web game PMOG. A few years later, he's started a regular podcast conversation with Paul DeLeeuw called "Montreal Sauce." On 26 June 2014 I was allowed to be a guest; you can listen Justin Hall on Montreal Sauce podcast!
Borrowing from their web writeup, here's a breakdown of some of what we discussed; much of it concerns my video efforts with the Justin Hall Show, and what it means to make personal media:
We all quickly agree that we have no idea if the 300 sequel Rise of an Empire is historically accurate, but Wikipedia is the way to find out. Justin encourages us to edit, not just lurk on the free encyclopedia.

Chris pledges allegiance to After Effects comparing it to a tool rather than service or box of filters like Instagram. Similarly, this week Chris shares that the way we interact with our phones/tablets isn't necessarily intuitive according to some.

Justin prefers using Final Cut & Motion for developing The Justin Hall Show.

We discuss the age of the camera phone and sharing on the Internet. While Chris wonders if some folks are sharing because they're self-absorbed, Justin rightly points out that "authenticity cannot be measured." Paul introduces pre-parent Paul's thoughts on Internet sharing vs. parent Paul's opinion.

We discuss digital identity and "Internet fame" and briefly talk about "This is Phil Fish."

Paul talks games, Directional episode titled "E4" and twitch.tv, the video sharing site focused on gaming.

We discuss promoting the podcast, creating brands, marketing on the web and the level of engagement of the brands online.

Paul reminisces about the Grand Valley Summer Film Program.

Justin talks about a recent read, When The Shooting Stops, The Cutting Begins.

Chris suggest A Complete History of My Sexual Failures, a personal documentary that was an emotional roller coaster.

We talk San Francisco, Google and Detroit. Plus the awesome power of communities.

As Chris shares his joy for PMOG, Justin hopes to attend Montreal Sauce Con in 3 years.

Justin's goal is to premier his film about 20 years of web sharing at XOXO Festival & Conference in September.
I am grateful these two decided I might be worth their attention. Perhaps you'll find Montreal Sauce is a tasty addition to your media diet!