I'm pleased to present this month's Justin Hall Show episode, an interview with Kenyatta Cheese: Professional Internet Enthusiast. Kenyatta describes how our fandom and media consumption serves as media production and skill-building for community organizing.
Patreon: Kenyatta Cheese: Professional Internet Enthusiast and YouTube: Kenyatta Cheese: Professional Internet Enthusiast and Facebook: Kenyatta Cheese: Professional Internet Enthusiast

I met Kenyatta in Spring 2006 and we taught a class together: CTIN 499: Portable Video Production and Internet Distribution within the USC School of Cinema-Television: Interactive Media Division. Here's a high-dynamic range photograph of us 9 years prior:
Long before Vine and YouTube, Kenyatta worked bring video to the internet, at the intersection of art, activism and technology. This has lead him to study viral and meme content, as a co-founder of Know Your Meme, a pioneering popular internet studies service. Early in his career he helped people get video cameras working with computers in backpacks, to allow for live-broadcasting from protests. Now Kenyatta has a company Everybody at Once helping fans of television shows express themselves online.
Kenyatta is playful; it was fun to interview him. And it was good to be able to feature Kenyatta on the Justin Hall Show because Kenyatta directly improved my work. In October 2013 I was just starting to ramp up on making Justin Hall Show episodes, Kenyatta insisted on loaning me his overclocked Lumix GH2 camera. I've learned over time how to make good use of it and it's been a serious upgrade, one that I'm very grateful for. Kenyatta Cheese in the credits of most all Justin Hall Show episodes; and now people watching the series will know the face behind the credits!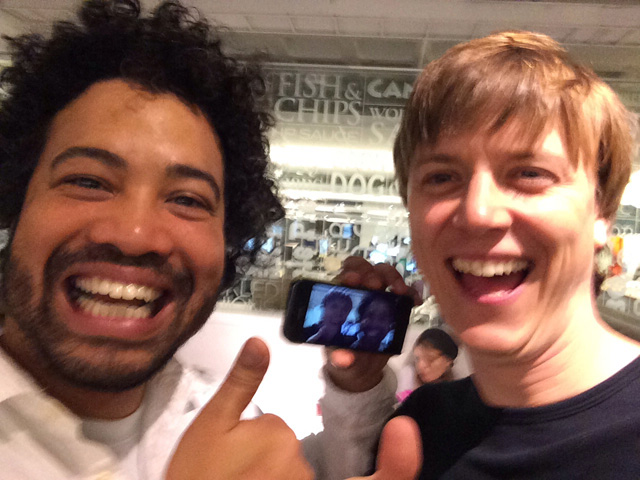 For most of my recent flicks, the plug for Patreon comes at the very end. So someone only sees patreon.com/justin if they stay past the credits - that's a lot to ask, and I want to see if I can get more folks to sign up if the message comes up at the front. I listened to National Public Radio news here in the US recently, and there was sponsorship reminder aplenty. So up front I put together an updated, integrated promo in the first 30 seconds; we'll see if I get more than the usual 2-3 signups in the next month!
This video came out at the same time as an upgrade to the software I use to edit my videos: Final Cut Pro X 10.2. I dove into presentations from Steve Martin's and Mark Spencer to learn the new capabilities. I allowed myself a fair profusion of 3D titles here. It was fun to play off the spirit in all our online totems - I enjoyed nerding-out on the visual presentation around Kenyatta and his talk of internet folk art.
Episodes are better shorter; I'm aiming for well under 10 minutes these days. Kenyatta and I had a broader discussion lasting 50 minutes. There's some good insights and a broader sense of the arenas in which he's served. I'd like to make a podcast out of it and some of the other conversations I've had! If you would enjoy working with me to make a podcast out of the longer Justin Hall Show interviews, professional or amateur, let's see what we can work out - justin@links.net.
As ever I'm eager to continue interviewing and exploring and meditating for you through these videos. If you enjoy this one and/or want to see something different, email me justin@links.net. I am grateful for the chance to be animated in cyberspace together in the same era!
BTW - to answer the question at the beginning of the video for myself, I'm not sure I know how to get strangers on the internet to join up with you and do what you want, but you can write & record your experiences and you'll find people who are already doing what you want and together you can see what's next.
Kenyatta Cheese: Internet Enthusiast
🌊 an episode of The Justin Hall Show
🌞 filmed on location at Orbital, NYC - thanks to Gary Chou
📱 thanks to Ilyse Magy for use of her iPhone 6 to record the interview
📷 thanks to Kenyatta Cheese for use of his overclocked Lumix GH2 camera to record the introduction
💡 thanks to Howard Rheingold for studio lights
📺 thanks to Tom Wiltzius for the studio monitor screen
🐰 thanks to Ilyse Magy for editorial feedback
Footage:
😻 photos of Kenyatta Cheese by Tricia Wang and Amit Gupta
🎬 excerpts from Lying Down Game, Numa Numa - Know Your Meme
🌐 50,000 particles random walk - Atsushi Tadakoro
👾 animated GIF keyboard for iOS - PopKey
🙈 Crasher squirrel photo by Melissa Brandts
🐱 Nyan Cat by Christopher Torres
🎩 GANGNAM STYLE (강남스타일) - PSY
🌐 Study for Glitch Synthesis - Atsushi Takadoro
🌐 Experiment of Attraction 2 - Atsushi Tadokoro
🔮 crucial.conflict (loop) - Switzon S. Wigfall, III
🔮 Empty conference room flip.dream 700.45 (loop) - Switzon S. Wigfall, III
🌐 Cinder particle test. - Atsushi Takadoro
🗽 A Day in Congress - an E.W. Hullinger Production
🔫 American Troops March Off To War (1943) - US Army Signal Corps
Music:
🎵 Tech Talk - Jason Shaw
🎵 Laundromatted - Lawrence Grey
🎵 Fat Caps - Jason Shaw
🎵 Mastoid (2007) - The Gasman, from Archive
🎵 Dr. Who Theme - Ron Grainer & Delia Derbyshire
🎵 Rockitship Long Light Years (Version 2) - Blevin Blectum, from Talon Slalom
🎵 Vaxin (2013) - The Gasman, from Archive
🎵 Wrapped in Aw - Blevin Blectum, from Emblem Album
🎵 Vivaldi's Autumn Mvt 3 Allegro - John Harrison with the Wichita State University Chamber Players
🎵 Wataridori 2 - Cornelius
YouTube: Kenyatta Cheese: Professional Internet Enthusiast and Facebook: Kenyatta Cheese: Professional Internet Enthusiast