links.net
:
vita
:
swat
:
Gabriel Cavalleri

I didn't know Gabe all that well. When I heard he'd killed himself I knew who he was because he distributed books at the library and drove the shuttle. I saw him often enough to be struck by the loss.

He had a solid presence - a flat mouth with upturned edges - a hard won smile. Chats over reserved readings had a signifigance not otherwise attached to simple student transactions.

From what his friends say, he took everything to heart, a sensitive soul. Helpful to folks without drawing upon them for his own support.

He put himself under enormous pressure to perform in this academic setting, when he started slipping he seriously lost perspective.

He attempted suicide a few times his sophomore year, one time leaving a note, something to this effect:

I've dedicated my life to learning. I've fallen too far behind to accomplish this. I'm sorry for letting everyone down.

15 november 1995, he hung himself from a tree without a note.

I wrote a bit of initial reaction when I heard he'd killed himself - just one day after, jarringly near to the anniversary of my father's suicide.

First time I have excerpted my notebook online.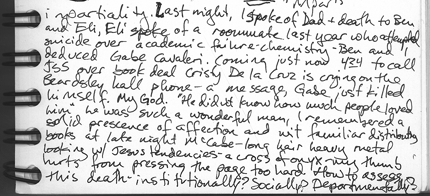 Raina took chemistry with him, she had a strong reaction. So did David Reese, but his ain't online no more.

After speaking with administrators and students, I had strong reaction of my own. I sent it to the Phoenix, but they seem to favour administration propoganda.
---
justin's links by justin hall: contact