Sunday, 28 September -
link
Optimal Optio
After years of faithful and fabulous service, my Nikon CoolPix 880 conked out. It actually happened a few months ago, around the time I bought a Sony PC101 video camera. I thought I might carry that smallish video camera with me, and use it to take still photos.
It takes decent shots and it is decently small. But video cameras demand extra batteries, power chargers and spare tapes, and that's a lot to carry for an entire day on the town. If I know I'm going to be doing some taping, I'm glad to have it all on hand. But for a casual dinner or a night out, I don't want to bring a shoulder-breaking load of video journalist equiment.
Still I demand the capacity to take photos. I love writing, and these pages are filled with my words. But my photos too are an invaluable part of my personal journalism. I love being able to look back on the mists rising off of the sulfer baths, the belt buckle of my grandfather's friend, the kids at the Davidson Gospel festival. I look back on all my recent text entries, and I long for a small ready digital camera.
Japan feeds that hunger, with plenty to photograph and ample electronics stores. We've been staying near one of the many Biku Cameras in Sibuya. I decided to buy a new, small digital camera my first day in Tokyo, so I could use it during my next month travelling in Asia.

I went to DPReview.com, and browsed the ultra compacts and compact digital cameras. I've very much enjoyed Nikon, I've been impressed with the size of the Casio cameras. Reading reviews of the cameras I admired, the Pentax Optio S came up repeadly as the best camera in that category: small and able. (Pentax Optio S on DPReview, Pentax.com, and Amazon.)
The nearby Bic Camera had the Pentax Optio prominently displayed; the salesman said it was his best-selling model. It was small but had a good heft in my hand. Slightly annoying joystick nubby thing for navigating the menus, but it had a good responsive interface and English menus.
For someone used to a thirty month old digital camera, there's been some notable improvement in these young devices. This camera is faster than my old CoolPix to boot up, take and store pictures. It records short videos like the old camera, but this one recordsd sound. And you can annotate photos with 30-second sound clips. I discovered much to my delight that I can pick a custom startup photo, and I can set the camera to "meow" loudly when I turn it on. Yee-hah!
The buttons have been neatly simplified. The form has shrunk, while becoming more powerful. I'll have to see if it can still take capture good magic moments, but I'm already getting a good feeling from the early shots I've seen with and without flash.
The store ordered an English language manual for me. I bought a 64 meg SD memory card. Total - around $500. It's a lot of money, but if I can sell just one or two photos I take on this trip, I should be able to pay it back. Either way, it should make for better web posting (my first picture posted from the camera, besides the picture below, is a picture of a capsule hotel for a piece about luxury capsule hotels for Chanpon).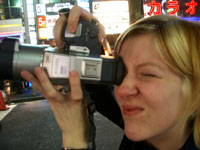 This is a photo I took of
Robin
, using her giant old digi-cam (a
MVC-CD1000
) in Shibuya. She's an avid photographer herself, and she loves the 10x zoom on this thing. The camera has a CD burner in back; each photo taken is immediately burned onto a CD. Wacky! And large.
Posted on 28 September 2003 : 21:01 (TrackBack)
Read Comments
February 2005 - comments are closed on Links.net. Thanks.