a photo with legs
I moved to Japan in September 2001 and set up shop as a roving freelance writer. Howard Rheingold came to town in October, to explore some advanced mobile phone culture in Japan. I travelled with him, using my gakusei Japanese and rudimentary Tokyo-familiarity to help him around town.
I had a chance to sit in on some fascinating meetings with technologists in Japan. And I took photos along the way, of Howard and his travels.
One night, on the way to "Mo-Mo Paradise" an all-you-can-eat Shabu-Shabu place, we were crossing one of the wide streets of Shinjuku walled with electric light. It was a perfect digital urban dream - neon signs and flashing banners advertised cameras and restaurants and bars. I snapped a photograph of Rheingold. Later I tweaked the curves in Photoshop, and posted it to the web.
Howard ended up using that for his author photo in his book SmartMobs. And a few magazines and web sites internationally have used that photo to frame articles about Howard, staring curiously into the glimmering electrosphere. I've made some money selling photos of Japan; things that magazines, television shows and newspapers find by searching the web: mostly love hotels and capsule hotels. But no photo has been so popular as this one.
A few months ago, someone representing a musical act contacted me - they wanted to use this Shinjuku by night photo for the backdrop on their upcoming tour. "We'll cut the man out, of course," they said. How strange! If you see REM perform live in the next few months, keep your eye out for the content on the left: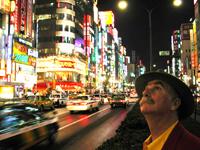 No word from them on
this photo
though.
Posted on 24 July 2003 : 11:41 (TrackBack)
Read Comments
February 2005 - comments are closed on Links.net. Thanks.