Nineteen years ago, I first saw the web though a newspaper article and by 27 January 1994, I'd posted my first personal page. It has been a hugely fun adventure that unfolded from that experiment! What happens if I compulsively share my thoughts online? I am grateful for a medium and an audience that I could explain myself to, and it's been fantastic to come to know so many other people through their characters onscreen.

So each year 27 January is a bit of a second birthday for me, a personal holiday. "Manufactured Justin day" maybe. How to celebrate 19 years old for this Justin's Links? These days I do so much reading on my mobile phone, I realized my old site looked like stale poop on a mobile device. So for the last few weeks, I combed thousands of pages and tweaked them to have decent mobile viewing.
It looks like about 23% of my visitors today are on mobile. In 2004 I made cartoons and poems on my mobile device, for reading on mobile devices. That was fun, but a bit early.
How are people finding my pages? Well, I'm the #3 Google search result for Natto, my girlfriend Ilyse discovered. Writing thousands of pages about whatever strikes your fancy for almost two decades throws a big net out over the long tail.
For this overhaul, I had old versions of softwares running on a 2008 MacBook Pro - BBEdit, terminal windows, Interarchy FTP. Essentially the same tools I was using to make pages in a drafty apartment above "Maelstrom Books" at 572 Valencia in 1994 over a 14.4k dialup modem. Something appropriate about antique tools for this mission.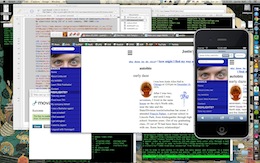 And ultimately the true power came from Unix - sed and find. Mass search and replace for crusty old hand-coded web pages. I found myself fixing 18 year old typos - for example referring to Jake Baker as Joe Baker. Sorry history. I still have too many pages to fix for mobile and impossible amounts of inaccuracies and misconceptions to discover.
It begs the question - if I make all these pages more readable in 2013, am I saying these pages are worth reading now? So much of this sprawling web pile is out of date, to my eye - new information has emerged, new feelings about relationships, new sense of self. And many pages are undated, so they appear to be my current thinking! It's embarrassing, frankly, which is a good part of why I leave it up - if this site is embarrassing for me, it must be a bit funny and silly and good to keep me honest. The many many broken outbound links, well, those are just sad. Some day I will be a broken outbound link!!!
All this time spent tuning old things - fortunately it turns out that 1994-era HTML is pretty readily mobile-readable. Perhaps that's an upside for my curmudgeonly sitting out the Flash/CSS design revolution. I posted a brief tutorial to explain how you too might make simple web pages look halfway decent on mobile phones.
Sharing the joy of online publishing with folks was a huge motivator in the early days of my web work. These days most people get their web publishing thrills from the likes of Facebook, Twitter, Google+, Blogger, Wordpress, Tumblr or whatnot. So many ways to share online! Hurrah! So I don't labor to teach how-to-HTML so much any more. But I still compulsively write about what I'm learning and experiencing.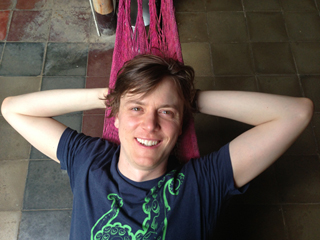 pictured in a hammock in Granada, Nicaragua December 2012 - thanks Ilyse. I'm still alive!
My last big lesson posted here was "here's what I learned running an internet gaming startup." This month I'm publishing a draft article on what I learned in 3 years working as "Director of Culture & Communications" at ngmoco:) / DeNA, a mobile social gaming company. For years now I'm working on longer form, somewhat polished writeups of "what else this adultified Justin person has gleaned from his experiences" - death, divorce, love, drugs, the search for spiritual sexuality. Not so much daily publishing on the web like I did for years in my daze but I'm still wearing out my hands.
So I look forward to posting more stuff on this here web, until I die, that you might read on your mobile device or your computer or whatever they have in the future if it will also read HTMLs!