At the start of the year in January 2013, I was living near Duboce Park near the middle of San Francisco. I had a lovely one bedroom apartment with wood paneling, and a fireplace, on a garden filled with busy squirrels.
Each day I put on a tie and a jacket over blue jeans and took the Muni light rail to my job as Director of Culture and Communications for a mobile phone games company called DeNA. I had started there in 2010 when the company was ngmoco:), a mobile gaming startup that pioneered free-to-play and took some creative risks with great artists and creative developers. My boss changed in 2013 as members of the leadership team exited for other opportunities after the DeNA acquisition. My job was to help the employees feel aligned around group identity and shared goals; by January 2013 I was feeling a bit burned out, frankly. As "Culture and Communications" person, I intended to connect people to a sense of meaning and common humanity in their jobs. But as the company groped for sustained profits, I found myself repeatedly unclogging byzantine communications pipes and my inspiration diminished.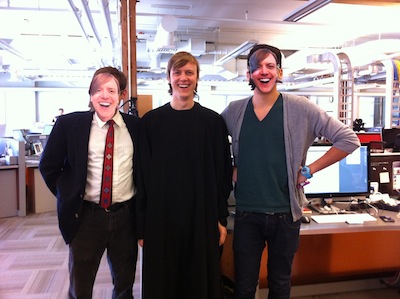 Immensely surreal moment: colleagues John O'Neill and Tim Shundo wear my face for Halloween 2011 when I was Director of Culture & Communications at DeNA.
In January 2013 I was pulled into a room by my boss, the new head of HR. She said that I was good at telling the story of the company inside the company. So would I tell the story of the company outside the company? She asked if I would serve as a recruiter. It meant I would no longer be a "director" and I wouldn't be invited to company strategy meetings. But after being a recruiter for a half dozen or so months, and learning the ropes, there was an opportunity for me to establish the company's college recruiting program.
From 2004-2007 I went to a graduate school program for interactive media and game design. I love arguing about ideas, and being around people building experimental play. University recruiting sounded great - I could mingle with professors encouraging the avante garde, I would have a chance to help student projects turn into real live games, and I might help some talented people begin their careers. Plus I didn't mind stepping down as a director; I figured the company would be paying me to learn a new skill, and I would enjoy the chance to take on a new challenge. They found someone else to take on the culture role, so I could focus on my new work.
So in January 2013 I became a recruiter for a mobile phone games company. An old colleague became my boss. I was no longer a one-man communications & culture band; now I was a junior member of a recruiting team.
I quickly remembered there are two distinct role types at software companies: engineers and everyone else. Engineers were some kind of insane holy unattainable - there could never be enough engineers. We had a number of open engineering positions - each resume that showed up was an adrenaline spike.
Nearly every other position: designer, artist, lawyer, marketer - there were so many candidates for these. Some positions had dozens of resumes arrive each day, and I soon learned the job of a recruiter is primarily to say no 99 times and yes once (unless you were chasing engineers, in which case the job of a recruiter is not to stop looking).
Constantly rejecting people sucked, but I genuinely enjoyed my weekly meetings with hiring managers across the organization. Amid the banter and honesty, I teased out the kind of person who would mesh well with their team culture and future goals. I began to learn to read a resume less for the specifics and more for the story.
Through Howard, I was introduced to a veteran recruiting pundit who served as my mentor, and I did some freelance writing about recruiting for a recruiting web site. I went to a conference about recruiting innovation. I met other recruiters and explored my community of peers. I set out to learn the trade! And I re-read the portion of my father's eulogy that reminded me he was on his law firm's hiring committee: after a round of brusque recruit reviews, he passed around Kafka's Penal Colony to remind his colleagues to be humane.
I enjoyed the interview process - meeting new person after new person. Connecting resumes with personalities, stories and aspirations. Speaking to people's visions for themselves and their careers. Exploring someone's candor and honesty about their situation. And abiding people's sense of entitlement; a favorite example: asking about gym membership subsidies during interview #1 before we've established that we have any real common cause. I had fun with interviews; I would test people's comfort levels and confidence by leaving silence to see what kind of nonverbal experience we might share. Some folks could play with that informal space, and I knew that they would be more likely to succeed in our environment.
But I was growing frustrated; I wanted to solve big problems. They asked me to recruit smart engineers. So I reached out to my smart engineer friends outside the company to see if I could excite them about our company. I quickly fell flat on my face. "We are a company you might have heard of and we aim to make the most profitable mobile games!" wasn't enough of a employment sales pitch against huge perk-laden companies like Google or Facebook, or nimble innovative startups seemingly on every block in San Francisco.
So in March I set to work developing a company story I could tell in public to excite engineers and innovators. Amidst this work, I was approached at my standing desk by my boss's boss. He came over to ask why I had 950 unread resumes in the company's applicant tracking system. I explained that anyone could process resumes, but I was good at telling the story of the company so I was focusing my time on "employment branding." He told me that I needed to read resumes, because that was my job, and they didn't have another job for me at that company at that time. Ours was a heated exchange - I think in part because I had a standing desk so I was eye to eye with this guy. We spoke directly and stubbornly at each other, in the middle of the office, standing a few feet over our nearby colleagues; me explaining that I didn't like the job he was giving me, him telling me I didn't have a choice.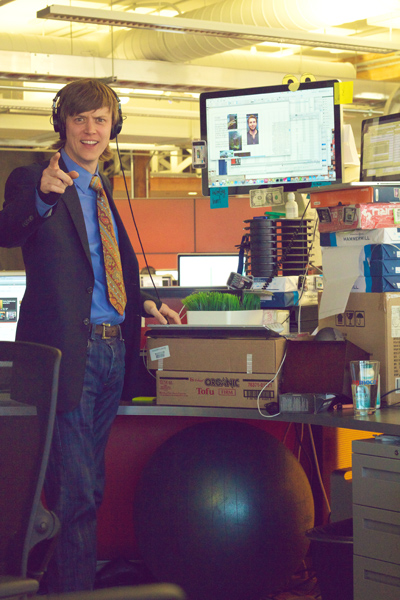 Standing at my desk at DeNA ~2011 - thanks Tim Shundo for that pic!
I could see his logic: they badly needed all the hands-on recruiters they could get; "creative employment branding strategist" wasn't on the near-term radar. And I began to realize that any university recruitment program I started would need to focus on developing a pipeline of MBA students and computer science graduates. I wouldn't be spending so much time identifying new creative talent and innovative student game design. Increasingly, I didn't relish my present work, and my future at the firm grew dim.
I believe I was a pain to my boss and teammates, since I avoided basic recruiting tasks because I wanted to fix systemic problems that were above my pay grade. I am grateful that they put up with me in spite of my impatient petulance. I remember feeling sorry for my boss - she hadn't asked for someone so big for his britches to join her team.
So I stopped wearing a suit and tie to work every day, I dressed more like a normal tech worker. I challenged myself to excel at the tasks I hated. I considered looking for other opportunities, but I focus on my work too much to thoroughly explore other options. I decided to shut up and be a good recruiter while I was there. After three years, the sun began to set on my day at ngmoco:) / DeNA.
In late 2012 a friend called - a dilapidated house on his block in Bernal Hill was for sale through auction. It seemed like a great deal; if he bought the place tomorrow, would I buy it from him and live there? He would loan me the money. It was crazy, short-notice and rash. I drove over to look at the place all locked up. I gazed in the windows and saw a lot of space. The photos online made the house look like a serial killer's residence and workshop. I was blessed: after sixteen years working with technology startups, I had a fortunate stock event plus some other money that put me in a position to make a down payment. What the heck, I could afford it: I gave the go-ahead.
I didn't get that place. But I got a real estate agent when I realized I could afford a home in San Francisco. In January 2013 he began sending me listings. Once my job seemed temporary in March 2013, I fast-forwarded my home search while I still had a paycheck and could qualify for a loan. I wasn't sentimental or picky - I looked at ten places, and successfully bid on the tenth one. I snuck into conference rooms at work to call all the parties repeatedly each week, and closed the home sale in 21 days in April 2013. I have a crazy stupid adjustable rate loan with a pre-payment penalty - the type of loan that helped cause America's 2008 housing crisis. Basically in 2018 my monthly housing costs will likely triple, but for the next five years, I'm paying less for my mortgage than I was paying in rent. Hopefully I can figure out a new loan by 2018.
The house is a two bedroom on the south edge of San Francisco's Mission district. Built around 1893, I believe the house originally came with an outhouse, because a bathroom on stilts was added to the back of the house some time decades later. Upstairs is a cozy two bedroom house about 1000 sq/ft, downstairs is a garage with an un-permitted room added. It was that room that made me want to live in this house - I could see myself working down there.
Out back was a small concrete and pebble garden with a yellow brugmansia tree dominating the one dirtbed that sees the sun. Brugmansia is strongly psychedelic and also extremely toxic for your liver. The flowers have a most intoxicating smell; released only in the evening as night falls. I mentioned all of this in my letter with my bid for the house; the landlord said the letter made him want to sell the house to me over the other bidders.
Shortly after I moved in, someone spraypainted on a nearby street "fuck techie scum" and there have been frequent street protests against evictions and rising rents. As a white guy who works in tech, I resemble the face of the enemy to some folks pained by gentrification in the neighborhood. I have lived on and off in the SF Bay Area since 1994, so I don't feel like a techie-come-lately. But I am acutely aware that I represent economic forces that are driving out some of the latino and punk culture that makes this neighborhood lively and lovable.
Nearby in a similar-sized house lives 4 generations of a family from Peru and their two dogs. They couldn't believe I was moving into the house alone, without even any pets. Nearby is an artist's collective including a rap group that I saw open for KRS-One at Yoshi's jazz club in San Francisco. You can hear a rock band in the nearby Central American Pentacostal church rocking out on Sundays. Moving in, putting things away, and fixing things gave me a huge sense of purpose. A friend Jake noticed I seemed more full and happy in my body when he saw me standing in the house.
Now I was working as a recruiter because I had a giant loan and a bunch of house stuff to fix! 21 May I went to dinner with a friend of mine who had helped me join the company in the first place. He asked how work was going: I explained my frustrations and he asked why I was working there. I said the money was good and I was getting pleasure from investing in my house. He reminded me that time was the one true scarce thing. Suddenly I realized I was living my work life with a low-level goal: sustenance and cave-improvement, not a big goal, like learning, world-bettering, or personal evolution. Yow!
My mother turned 74 in April 2013. After my stepfather died in 2011, and my brother moved to work in Europe in the fall of 2012, I understood I am my Mom's primary family member. Between her travel and mine, I'm proud of the fact that I saw my mother in April, May, June, July, August, September, October, November and December 2013. Time is precious, family is precious - I owe my Mom so much for raising me and supporting my oddball choices; I am grateful to look in on her now and enjoy her company.
Mom and I had scheduled a trip to visit Rome together In October 2012, renting an apartment for a week, wandering around, shopping at food markets and cooking together. Instead a relative fell ill and we left Rome on day one to spend the week in a hospital in Omaha, Nebraska. My Mom and I ate one Italian meal together: unremarkable convenience pizza at the Rome airport. I ended up working remotely from the hospital; I skipped the vacation.
Fortunately my relative's health returned. My Mom and I had a vacation to make up for: we decided to book 3 weeks together traveling in Scandinavia for the summer of 2013. I planned the trip with her 9 months in advance, and told boss after boss after boss about it. As the trip approached, everything came together: DeNA hired another recruiter who spoke fluent Japanese (DeNA is a Japanese company) and he had more experience than me, a natural improvement on my function. My boss asked me in mid-June "what positions do you want to recruit for when you come back?" Impulsively, I made a circle with the fingers on my right hand - I didn't want to recruit for any positions. I announced I wanted to take a 3 month sabbatical, using up vacation time and unpaid leave, to travel with my Mom and experiment on myself.
As a recruiter I hired 12 people in 6 months [My former boss, the head of recruiting Jenn Leong emailed: "i just wanted to correct you on something.. you were a Great recruiter and during your 6 months of recruiting you hired 21 people.. not 12" - thanks Jenn :-D] My last hire was for corporate counsel: that position had been open for almost a year. I felt like I could have a big impact by helping our leaders reach consensus on someone good and finally filling that senior lawyer role. I believe when I left my boss and team might have been sad to see me go, and I was grateful for their patience and to have learned how to serve in that role. But I was ready for something else:
A friend Ben had been telling me for a year or more that I should take time to tell short video stories. Now a vision for my time materialized in tangible form: I acquired a green screen to set up in my home office. A green screen would allow me to record videos of myself telling a story, and then show images or text or whatever behind me to illustrate my hand-waving.
June 28 was my last day in the DeNA offices. June 29 was my departure date to travel with my Mom. That day I published my first greenscreen story: "Summer 2013 Sabbatical Time". I wanted to explain to my creative community, friends and family why I was leaving my job and what I expected to happen. Perhaps I could begin to attract new prospects, or at least ease the minds of family and friends that fear I've toggled off my good sense.
I left with a clean heart and few intentions for three weeks of daily exploration with my Mom across Denmark, Norway and Sweden. The natural landscape of rural Norway is a true marvel. I felt an ache near Trollheim to wander off into the blasted mountains some day. It was an inviting emptiness. My Mom and I had a sustained conversation about our lives plus inevitable adventures - eating rehydrated dehydrated cod, a low-visibility rainstorm driving us to travel overnight by boat and plane, Mom braving the catacombs at Elsinore's Kronborg, visiting my friend Svante's family in a red house in rural Sweden and a chance to return to the most lovely modern art museum I've yet seen in this world: Louisiana nestled in a forest on the shore above Copenhagen.
I read a dozen or so books in the time we traveled: all Scandinavian crime thrillers. The fiction was engrossing, a pleasurable reading experience - plus color on my surroundings. Here's a list of the books I read and liked that summer: http://links.net/daze/13/07/23-scandinavian-crime-fiction-a-vetted-human-pleasure.html
When I returned, my time was my own. I made video after video. I caught myself cackling with glee multiple times a week as I laid down some amusing music, or made myself look like I was standing in a desert. I experimented with all manner of scripting: riffing on a topic, speaking from an outline, working from exact wording on an iPad teleprompter. I followed Final Cut Pro X tutorials on YouTube to improve my craft. Mostly I just made video after video solely to post online and keep moving.
In September, after returning from Burning Man, I pledged to make one video per week for the rest of 2013. I chronicled that desert arts festival, and the pain from pulling a muscle in my back as I loaded water in a truck there. I interviewed museum hacker Nick Gray, biographer Walter Isaacson, and VHX CEO Jamie Wilkinson. I met up with another guy named Justin Hall, a comics artist and teacher who lives in SF who is a total sweetheart - I interviewed Justin Hall on video and we've had dinner together since with our partners.
I made a video explaining a potential NSA free online backup service for everyone on the internet, called Citizen Cloud. That got a lot of traffic from both liberal and conservative audiences; I was invited to do some standup comedy as a "volunteer NSA supporter".
By the end of the year my ambitions had grown some. The 20th anniversary of my personal home page was coming up, so I decided to abandon weekly video-making to instead focus on a single video about my site Links.net. January 2014 finds me digitzing old VHS tapes, digging up old web pages, and basically interviewing myself about my drive to share myself on the web. In December I interviewed my Mom about my online oversharing and she said some remarkable touching things that I didn't know; I'm honored she's willing to contribute like that. In the first part of 2014, I aim to produce a documentary about 20 years of personal online publishing, and I've invited other people to share their reflections with the tag #20links. Fun seeing how I might solicit other voices in my own media production.
So I start 2014 with an unclear path to any kind of paycheck. But I am filled with purpose and pleasure by my current work: telling stories. This year I turn 40. Maybe I'm halfway through my life. On December 31 I sat down with someone I hadn't seen since I met him on a road trip 18 years ago passing through Wichita Kansas. He remarked that being loved was one of life's great treasures.
In 2013 I have known love in my daily life. I have been with my lady Ilyse since the fall of 2011. When we first met, we felt like we were headed in opposite relationship directions and weren't compatible. But we couldn't stop talking to each other! Ours was the most stimulating and hilarious conversation I'd had in years. In 2012 Ilyse nursed me back to health after I tore up my shoulder. In 2013 Ilyse moved in with me in this new house!
When I was dating, I experienced a lively dialogue in my head as I sat across the table from women I didn't fully mesh with or enjoy. Today my partner is someone who pulls that dialog out of my head, makes it real, and then makes me laugh. I feel profoundly blessed; I strive to support her passions and freedom, as I invest in trusting our communications to carry us through friction.
Fortunately our greatest challenges in 2013 were self-made. Since we are such avid talkers and scenario-spinners, we began discussing the type of spiritual life we would want to lead down the road. In my early middle age I've become a sort of militant agnostic. I believe there are so many competing human truths and explanations for the unseen; how can any one spiritual framework be proclaimed true above others? Plus I get so upset to see the suffering wraught by structured faith groups. Listening to myself argue with her, I realized I was becoming intolerant of organized religion.
Ilyse comes from her own faith traditions and we embarked on a series of discussions about the kind of faith we might join together. Planning our shared path to godhead strained our sense of mutual flexibility, and I found myself doubting our easy connection.
Fortunately in 2013, I was able to connect more with her family and she with mine. Whatever differences we have in our personal approaches to faith, we are rooted in our tribes. So it has been comforting to find that I am with a woman who comes from people with whom I can share jokes and truths, while she can increasingly connect with my more reserved relatives. Over time I realized that easy communications could be a solid foundation for mutual agreement, instead of expecting to determine our household commandments long in advance.
For the end of 2013 and the start of this year, she and I were both working flexibly, often from home. These days I usually spend 3-4 hours a day in conversation with Ilyse; stimulating, nourishing social time. She has an abiding appetite for adventure and new experiences, so we have been good travel companies and co-explorers. At the start of 2014 she had taken up walking San Francisco in earnest and now we regularly embark on multi-mile excursions.
Still in spite all this fun, my divorce has me mistrusting my romantic instincts. I am so grateful for Ilyse's unwavering hilarious support; I understand we should take our time to develop our unique model of partnership. But as I wonder where this relationship leads I experience some tremors: I misjudged my prior relationship. I thought that marriage was forever! In my worst moments I doubt my ability to be a consistent partner, my selection of a mate, and my ability to help shape a sustainable relationship.
My divorce was final in mid-2011, after a relationship lasting from 2005-2010. So it's been a few years now and I have gotten over so much of the daily anguish of failure there. I have divorce nightmares maybe only 2-3 times a year! I have worked to forgive my ex-partner some for joining and leaving the relationship. Now I think I still need to forgive myself. I was hell bent on only being married once, like my grandparents. I fucked that up! Sorry Justin. I forgive you?
Now with Ilyse I can see the challenge for me is to learn to relax and trust and take my time. Fortunately Ilyse is a patient supportive partner who has not been intimidated or put off by any of my baggage or healing from my prior commitment. After my first marriage experience, I am thriving in a sustained relationship with someone gentle and smart as this lady has been with me.

Justin and Ilyse ride the Muni bus back from New Years eve dancing ~4am 1 January 2014 - thanks Jimmy Defebaugh for the photograph!
Ilyse is an artist; her work focuses on resources, waste and sustainability. This means that she doesn't throw anything in the trash lightly, and she considers the new objects in her life carefully so they don't end up in landfill. Her ecological awareness has rubbed off on me and I find myself leaving our thermostat set to 63 degrees, foregoing meat more often, and bringing old containers to the hippy store where we load up on bulk beans, rice, spices and popcorn. It's nice to feel like I've lessened my footprint on the earth, but so much of the world around me is hugely consumptive. It can get depressing to read about filth clotting the world on my devices loaded with conflict minerals.
Exploring alternatives to carbon-spewing air travel, Ilyse and I took train trips from San Francisco to the midwest and back. Amtrak is a fabulous way to see the USA roll by if you have time! 50 hours one way from Chicago to San Francisco; I recommend getting a Roomette if you can afford it.
Now I commence 2014 not in a jacket & tie on public transit, but wearing sweatpants tucked into my socks for warmth, padding down outdoor stairs in plastic slippers with a flask of water, tucking under my house to power on a computer and crack open my latest personal video project.
We get good at what we practice; today I am practicing storytelling and envisioning, not game making or company building. My money is starting to run out which should force me to generate tangible economic value before too long! Exciting.
[Part of an exercise called "Year in (P)Review 2013 / 2014" (YiPR) run by Randy Smith - thanks Randy!]