Justin's Sex
2000.05.12
gamer guys at the playboy mansion

Pay for a party at the Playboy Mansion, get Playmates to wear your company t-shirts and pose for pictures! (FiringSquad PC tech editor Brandon center)


Part of the hype-job that is the largest video games convention in the world, the Electronic Entertainment Conference in LA in May, companies throw parties. Gamers.com threw a party at the Playboy mansion, with two other companies, 3dfx, a graphics card maker, and "surfing2cash.com," a way to make money fast from home. In exchange for tens of thousands of dollars, each company was given a hundred invitations for a catered party with six bunnies standing around the swimming pool. We were given free reign to wander the grounds, and there were a few outlying buildings we could visit. Inside the mansion, Hef was probably pounding viagra and swallowing nubile ladies, but the mansion itself was offlimits.

Victorian with Pillows and Kleenex

It's a sprawling old european looking stone mansion on five acres, with little fuck nooks scattered throughout. Victorian stylings with pillows and kleenex. A charming stone passageway bordered with tropical vines and wood trim, then you come upon a room carved out of the side of the stone, with an oval mattress, pillows and kleenex.

fuck nooks.


It looks like a normal party, but in fact it's a Playboy party!


The largest outdoor attraction? A zoo - shades of Michael Jackson - wounded owl, flamingos wandering loose on the path, cranes with mohawks, monkeys in tall wire cages.

There's a game-room house, with more 70s styled fuck rooms. Not bed rooms - they come from that ouvre of faux-wood panelled love making - they look like the aged Playboy Magazines from a friend's basement in an 80s childhood, the style of cool sexy good times when stereophonic controls integrated into your bedside was just the cat pajamas man. Now it all seems slightly dated. and the rooms seem to have an antique, museum quality to them.


"Sure, people still use them - they like to come back here and watch tv, or sleep," Angela Little, August 1998 tells us. She's from Alabama, blue eyes, red lips, blonde hair, snakeskin cowboy hat. "No drugs or you're so booted out of here. Sometimes people do get naked and get a little freaky" - sounds like my kind of party. Sagging sixty year old men and lazy hollywood stars with their alcohol guts chasing surgically altered waxy bright beauties around faux grottos to land in a heap on 20 year old leopard print pillows amidst the lizards and the monkeys. Every bathroom has a full range of hygenics, including large red bottles of "Lavon's" mouthwash.


How strange is this dedicated decadence. My brother was idly speculating about someday owning a setup like that - spacewise, it would be very expensive.


The cave-grotto with a pool and tub.


It's clear that this Playboy place is a combination of LA stardom/babylon, wealth, and the runoff of successful distinguished porno publishing. It's not Luther Campbell, or Austin Powers for that matter. Larry Flynt wouldn't build a fuck mansion like this - his would be more to-the-point. But somehow Playboy with the "articles" and decades of stylewatching for the aspiring masculine upper crust can host parties with the historical hint of orgies without having to fulfill. I asked Angela what all this space is used for, when it's not being rented out by software companies and Madonna - "the playmates are always invited to bring their kids by to check out the zoo" plus there's movie night, new movies show fridays and classics on sunday nights. And there's a guest house for the Playmates - four bedrooms, one bathroom. So there must be a steady stream of girls, at one time nubile and professionally pretty, who are keeping the place sexualized with their large bosoms. "Hugh isn't coming down tonight," an official woman reported, "but if enough of these girls start flashing some cleavage, you never know."

Nao and I were discussing what we had imagined the scene to be like before we arrived, and we both imagined it in the daylight. More lawn around the pool - not a big tent with neatly catered shrimp on a stick. Wandering through the garden paths in the fading twilight, I come upon a little alcove and a very cool seat carved out of a large tree. Anywhere else it would have been pleasant, maybe druidical - here I was imagining naked nymphs and hoary old geezers locked in mortal embrace amidst the dense underbrush. But there were none, only the echos of Fred Durst broadcasting live on MTV from where it must have all happened some years ago.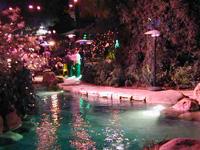 Lovely poolside.

Most of the photos from Bob Colayco at FiringSquad
More reverant coverage of this same party from MacGamer.