Thursday, 29 August -<link>

I spent all day today, skipped lunch and pleasure gaming, to process information. Mostly Chanpon.org - now updated more frequently.

Should Everything Be a WebLog?

I was hired to edit Chanpon.org - the magazine part of a web site about Japanese-Foreign cultural mixing. We suggested to start that I would update the site every two months, with four to six articles.

After a few months of editing in this staggered fashion, I began to get impatient. URLs from around the web, articles and books seemed appropriate but would be filed away until I would write an appropriate piece about them or assign them for an upcoming issue.

I moved Chanpon over to some web publishing software so the site can be updated more often. Now I can post there, and see other people post there, once or twice a day instead of only every eight weeks. But I have to discipline myself to work on the backlog of interesting longer pieces I have here - it's far easier to post short fast things that suit my attention span. When I sit here all day processing information.

The other day, Douglas Rushkoff said, "Hey, check out my web log." Quickly I responded, "I've seen your web log - it's too long [to be what I normally consider a web log]." Like it's not a real web log if each piece has developed paragraphs? I've been online for four days and I already need to unplug. Jane noticed that my breath changes when I write, edit, work on the computer - shallower, sharper. Maybe I'll print out Doug's web log and read it outside in California.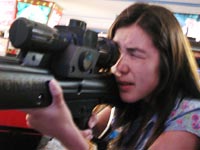 Hawaii Trip Photos

Wednesday, 28 August -<link>

Lucky Fast Cheap Travel

NYTimes: "Big Airlines Cut Service and Add Fees"
In light of articles like that, and much recent talk of airline woes, I feel increasingly lucky to have found two plane tickets yesterday, flying to New York Saturday through Monday, for $216 each. And they're upgradable, so we might be flying first class with some frequent flyer vouchers. (upgraded) First class plane tickets for $216 bucks four days in advance. I love the system sometimes. I can see why the major airlines are losing money, meanwhile I'm quite happy to be milking this system for comfort.

[Orbitz did a great job scanning times and places near my desired destination for the cheapest, and United Mileage Plus 1K status (earned last year flying back and forth to Tokyo) has yielded some pleasant Pacific privilege].

Best Guide

The best guide book is a witty, informed companion, with compatible opinions and some taste for things you might not want to try. But by reading the book, you get a good sense of range and depth so those activities you choose seem like yours, even if you are doing them with your guidebook in tow. For Hawai'i, Jane and I were quite delighted to have found Hawaii the Big Island Revealed (Amazon.com) - written with some heart and thorough knowledge. This book is a good model for how I could evolve Just in Tokyo.

Tuesday, 27 August -<link>

It's so hot in this office it makes me want to kill. Fortunately, there's Halo nearby.

And blessed be that I could achieve some things today: a chart of megabyte usage, month by month, for digital pictures. And a start on some photos from Hawai'i: wedding.
big things: canadian world cyber games
This afternoon did my first web-cam conference call to a 26 year old Canadian-born Korean Sam running the World Cyber Games in Toronto. He's an empresario for these upcoming Canadian national qualifying matches - electronic games as spectator athletics. The winners in Toronto in September will travel to Korea in October for the World Cyber Games finals - kids with good reflexes to show their stuff in front of a screen, in a country that reputedly makes minor celebrities of gifted game-players.

I am planning to attend the WCG finals in Korea, with Jane. As it happens this guy Sam saw me speak at the Design Exchange in Toronto last year and thinks I might make a good emcee for this contest. Time is short, so is the budget. Sam asks, can I find my own sponsors to pay for my plane tickets?

Talking to Sam reminded me of talking to the Quake champion, Dennis "Thresh" Fong - I worked with him at Gamers.com and he had these pitch moments where he would get someone in front of him, he'd turn all of him body to face them and he'd say, "Now this doesn't look like much, but it's going to be very big, and if you can give freely, you'll be ensured a big place with us when big things start happening." It was entertaining watching Dennis work his confidence on people, and it was entertaining engaging Sam's confidence over the web cam.

So I feel slightly seasoned when I'm asked to give, to believe. Still I like to participate in things. Sam's offer, his event is not too tangible yet, but it feels like fun and whether or not this guy is in the lead, I can't resist wanting to see this merging of personal electronic stimulation, performance and competition. There's a Dead song that goes - "the bus came by and I got on, that's when it all began." In this case, the bus has come by but I have to contribute some tyres if I care to ride.

Monday, 26 August -<link>

Computer Blue

This chilled morning composed 30 emails in four hours - back from vacation. Someone used justin at bud dot com as the outgoing email address on some spam and so my inbox in chock full of bouncebacks. Maybe my address will be blocked and I will become an e-mute.

I've been reading about the new Macintosh operating system, and admiring friends and webloggers with new Macintoshes for months. These latest generation computers seem like the smartest mix of creative power and technical fun. I'm beginning to wish I had one again - if only for a change and a challenge; I'm feeling slightly technologically too stable again, and maybe confined:

My current computer is less than 18 months old, a sexy scuffed sleek black ibm thinkpad. Some of the keys are losing their letters from too much textual rubbing. It doesn't feel inadequate except for hard drive space: I take on average 500 megabytes of digital photos each month and save just about every single one. This seems frivolous except when I refer to my archives and pull out nice photo treats or reminders. And I have not enough room to support music library accumulation - I have to delete music to make room for new music - a return to the ephemeral in media.

So these trivialities, and I can't play Neverwinter Nights - too much video power it requires. Jane can, on her laptop. Humph - feeling distanced from Macintosh using fun and not able to keep up with my lady online. Buying two new laptops is foolish. There's no real solution - save for abnegation, a word which here means self-denial.

Wednesday, 21 August -<link>

I have been working on freelance writing, trading fiction with GK and helping Joi with his lively web log, that I have not written in the moment, reflecting much on Hawai'i. This is unremarkable, perhaps, except that Jane has been doing a fine job - both relieving and strangely unsettling. My life is being documented by an online diarist with a digital camera! And it ain't me this time.

Well mostly, there's still talk in my head, and sometimes between us, about the shape of our time to come - would we live in Hawai'i, we wonder? What should we do tomorrow? I like to make plans and think ahead and make sure that things will be lively, at least if we don't know what will happen, let's at least examine some of the options.

Then I look over past the bed where she is sleeping, maybe still in her white dress and I realize that we've spent a part of tonight eating chocolate ice cream, typing on our respective laptops, watching the history channel - the ordinary stuff of life we do sometimes at home, and we'll do here in Hawai'i, and we would do in Japan, and maybe I would be happy doing most all the time. Having access to a computer on vacation allows me to keep up with all sorts of things that don't stop just because I'm scampering around on the side of some dried, hardened firerock in the middle of the world's largest ocean. But it also keeps me from unrepentant romance as well. "Did you get that article I forwarded you?" does not quite compete with, "Hey, let's take a late night walk through the thick jungle surrounding our secluded cottage," or "Let's break out those candles, shut off the TV, unplug our computers, go sit in the bathtub and splash each other slowly."

At least she makes fun of me when I'm frumpy. And she has her computer and her diversions. She asked me several times today, are you tired? Because while I'm often bursting with energy, she said, sometimes I just drop off and loll around, voice low, eyes lidded and slumped down. I guess I've been that way more than usual today - hard to say exactly why. Maybe I'm relaxed. Or I'm too busy worrying about how to relax when everything around me online is still in motion. Anyhow, I'm just ranting. Maybe I'm getting my period. At least I have a good smart conversation partner; I kneel down and plant my parched cut lips on porous gray gravel in thanks.

Monday, 19 August -<link>

Just because I'm on vacation doesn't mean I'm not working. New article published today, "Living Loud: the Mobile Lifestyle", from TheFeature.com - Mobile phones have changed our minds and our manners.

Wednesday, 14 August -<link>

Most every time before I leave town is an all-nighter, like final exams. Tonight I'm writing a survey of the worldwide wireless Internet lifestyle for TheFeature.com, and a capsule review of Howard's new book Smart Mobs for Wired. Re-applying for a Journalist's Visa to Japan. Fixing up Joi's weblog and Chanpon.org.

Tomorrow early Jane and I leave for Hawaii, my first time seeing that paradisical volcanic pile floating between Asia and America. I think we'll be on Oahu and "the Big Island" - any tips?

Jane's been helping me through my work by making me chai tea and sitting on the couch next to me playing NeverWinter Nights long loud and hard. I asked her a question that evidenced a hole in my geek knowledge (I'm not very deep into Star Trek). She took umbrage, as though I was testing her perhaps? She responded, chidingly, "Do I need to tell you all of Aragorn's names again?" and then proceeded to name him and his titles and the names of his weapons from memory.

"Wow," she speaks into her keyboard, "I still have 2900 XP to go before I can reach the next level." After a few clicks, I hear the pained wail of a dying townsperson.




Monday, 12 August -<link>

Jane forwards me this article: "As Tokyo Loses Luster, Foreign Media Move On" - about a decline in the global newsworthyness of Japan. I must say the Foreign Correspondents' Club occasionally had a thick quiet to it, as interesting folks left for China, Afghanistan, Korea - nearly anywhere else. The World Cup was exciting, sure. But short of some kind of internal political upheaval, culture and technology aren't enough to hold front page attention on the floating island kingdom. Funny that the NYTimes Tokyo Correspondent would write this story - basically saying, "hey look, I'm stuck in a second class assignment."

Sunday, 11 August -<link>

marriage topography
| | |
| --- | --- |
| Dan and Adrienne were married this weekend up in the hills of Oakland. In spite of the recent Bay Area heat wave, a good group of folks gathered indoors and out to wear broad smiles and wish them well. | Adrienne and Dan marry, Honorable Chris Wetherell, presiding. |
On the dance floor, two familes and all their friends converged. Having recently read Linked (recommended by Howard, recently reviewed by Peterme) I was inclined to see the dance floor in terms of one of Albert-László Barabási's diagrams from the book.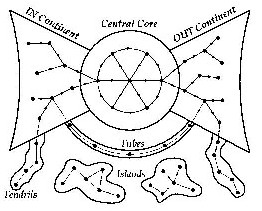 "The Continents of a Directed Networks," figure from Linked.

From above the dance floor, you might have seen one large cluster of people in the middle, with small groups around the periphery. Occasionally there was a connection between the groups, but they were mostly discreet.

At least until Lauren came along. A bride's maid with a will to shake it, Lauren moved between all the groups. Entering a closed circle, she would draw out any one particularly lively gal or guy. People watched, responding with smiles and clapping, hooting and their own particular movements. Then she moved on.

Lauren was a hub - everyone at that party was within one or two degrees of having danced with her. Moreover, as she danced through these closed circles, she changed the shape of the floor, opening people up to face into different circles as they watched her and then took notice of the person standing next to them, who might not have otherwise been their friend.

I had a fraction of Laruen's velocity; I danced mostly with folks I knew, and some with folks I didn't.

My head was stuffed with network diagrams and a critical question - isn't it better to expand these circles, so everyone might dance together? For a time, Lauren was my hero. I had the capacity to act as her, we all do - introducing ourselves and engaging strangers. My index finger was firmly planted against my lip, my movements slowed as I thought through the most moral means of engaging the other wedding guests on the dance floor. I looked up, out of my thoughts, past busy Lauren, to see each person there dancing, engaging the world as they would. I smacked my forehead, exhaled deeply, and began dancing with them again.

Friday, 9 August -<link>

hey weblog skimmers!
This journal entry is about poetry and wrestling. It's more poignant and personal than funny or informative. Not any links worth clicking on or passing along unless you are interested in keywords: poetry, wallace stevens, Hulk Hogan, Smackdown, pounded nostalgic populism

last night:

my love shares with me poems - yoko and the emperor of ice cream
then for her pleasure we watch WWE - Smackdown
seizure inducing television

unquestionably the best moment from this night -
from my youth, the great wrestling populist, the aging and Hamilton-tanned Hulk Hogan taking on 25 year old Brock Lesnar, the 2002 king of the ring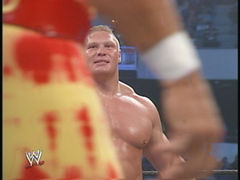 hulk hogan enters in red and yellow feather boas, as jimi's voodoo child plays loud as his theme song.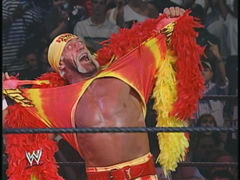 as i watched young, incredulous, hulk hogan always came to the verge of losing and then was resurrected by "hulkamania" - cameras panning over rans, rabid, waving yellow and red - it was up to the crowd to pump him up again
but it was not enough this time -
my nostalgia is found bleeding at the mouth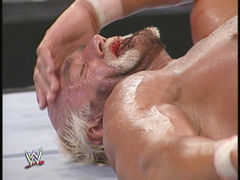 pounded into the mat with chairs and bulk
bulging Brock has "dismantled the legend"
so much for the matchup of the old populist and the new one.
(it would have been wild to see Hulkamania versus The Rock, with his The People's [everything]
Brock leaves the arena rubbing the blood of Hulk Hogan on his chest
Thursday, 8 August -<link>
lamenting the advent of temperature control
These August days when I first arrive in my Embarcadero Cove office, at 8am, it is cool in here, around 60°F (15°C). I wrap an extra layer of clothes around my shoulders maybe, and tuck my feet under my butt. It is a quiet, cool time in the morning and I am alone working.

By 2pm, the interior temperature tops 95°F (35°C). That's friggin' hot. I sweat at my desk. My coworkers program in silence, until even their keystrokes stop. I look over and they are asleep at their desks, bare feet up. I contemplate Fallout, since I can't think, I figger.

When Edward Seidensticker came to the Foreign Correspondents' Club of Japan he spoke lovingly of the street life of old Tokyo, especially Shitamachi. Shitamachi, where the wealthy merchants that had been at the bottom of Japanese social heirarchy were finally free to dress funky, spend their money and engage in lively pleasures. Kabuki theatre, woodblock prints, fine garments - many Japanese arts now considered "traditional" (ie, mostly past), were part of a street culture; present but dwindling when Seidensicker arrived from Colorado in Tokyo after World War II. What killed them? Television - people "watching the fool [Tokyo] Giants instead of talking to each other" he fumed. Dennis Normile, Japan correspondent for Science Magazine rose from the audience to posit that television probably shared responsibility for killing street culture along with air conditioning.
I should be outside.
Wednesday, 7 August -<link>
find me just past the food court, near the piercing pagoda.
Yesterday I logged on to Amazon.com looking for I-can't-remember-what, I believe I had just finished some assignment writing and so open time felt like a gift, something to be wasted. I began poking around through the "Friends and Family" section of Amazon.com. Searching for people I knew on this site, I found Jane listed, as was Zack, Howard, Peter, Wayne and dozens of other online shopping familiars. I could look at some of their casual browsing, reading over their wishlists. "What interesting documents" I began to think, these lists of books and movies my friends were curious about. But they lacked the deep desire to buy them, I guess, that's why these things are on a wishlist and not on a shelf. Briefly I considered buying expensive things for people I don't live with, as a sort of gift from heaven surprise. That thought passed.
What interested me more was finding my friends. I tracked down friends-of-friends and added them to my buddy list. I searched for college buddies, high school homies, web business associates, family members, and family members of friends. All these I added to a growing list of wishlists I probably would never read. I was stimulated that afternoon accumulating friends on Amazon. Then today it dawned on me: I spent yesterday afternoon hanging out at the mall.
Tuesday, 6 August -<link>
klinenberg's heat wave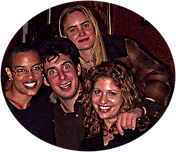 Eric Klinenberg was a friend of my brother's when I was growing up. Smart, a bit cocksure at times. I had a fantastic time when he let me stay in his apartment in Oakland - he had a soulful sociologist's book and record collection.
Eric's first book has just been released: "Heat Wave: A Social Autopsy of Disaster in Chicago:"
At Chicago's Midway Airport, during the heat wave of 1995, the dew point hit the low eighties - a figure reached regularly only in places like the coastal regions of the Middle East. In July of 1995, Chicago effectively turned into Dubai.

As the air mass settled on the city, cars began to overheat and stall in the streets. Roads buckled. Hundreds of children developed heat exhaustion when school buses were stuck in traffic. More than three thousand fire hydrants were opened in poorer neighborhoods around the city, by people looking for relief from the heat, and this caused pressure to drop so precipitately that entire buildings were left without water. So many air-conditioners were turned on that the city's electrical infrastructure was overwhelmed. A series of rolling blackouts left thousands without power. As the heat took its toll, the city ran out of ambulances.
This from Malcom Gladwell's review in the current issue of the New Yorker.
The book primarily tries to answer two questions that got buried or not addressed at all, at least initially, in the following reports, press coverage and city news conferences: Why did so many people die alone during the heat wave, and why were those deaths so easy to overlook or forget?

"How can it be that 700 people, most of them old, alone and impoverished, died during that heat wave?" Klinenberg asks. "They died alone -- with windows sealed shut and doors locked. They often weren't discovered for days and were found only because neighbors smelled something strange or because mail piled up."

To Klinenberg the heat wave serves as a barometer of contemporary urban conditions that shape the way we live and die, clarifying huge, largely ignored cracks in the city's social foundation.
from a recent News Release about the book.

Monday, 5 August -<link>

Sunday, 4 August -<link>

Family Gathering

For the last week, I have been a part of a family, a group of 20 people related by blood and marriage. From Nebraska, Colorado, Ohio, branches of my family convened at a house on a lake in Missouri. Swimming, water skiing, horsing around, playing board games - mostly just talking, relaxing and taking stock in one another.

Family and Lake of the Ozarks Report

July 2002 - more! but older.