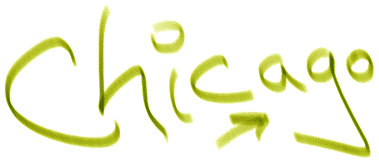 chicago

I remember asking my Grampa why they call Chicago the "windy city." Because of the smell of the politics he said.

After leaving my sense of the segregation and stagnation has grown on me.

At the same time, Chicago was a good city to grow up in. It was urban without being absolutely cutthroat, and the place is pervaded by a pleasant midwestern sensibility.

Mostly they just go to bed too early for me around there.

It may be like this in any city, but it was kinda boring to be a teenager in Chicago. I didn't have a car to go to far ranging suburban events, I was too young to shake a leg most places in the city, and my computer was undoubtedly reliable. Until I started doing drugs, there wasn't really much reason to go out.

I spent a lot of time on BBSes.

I grew up on the North Side of the city, in a house at 1240 North State.

I spent most of my waking moments in the city either attending Francis W. Parker school, or hanging around with people that did.

When I was a junior, my family moved to East Lake Shore Drive (I was living on LSD!)

while in chicago, i worked at kanbay, met brian, worked with him at bcg.
life |
justin's links by justin hall: contact