links.net
:
vita
:
swat
:
Dan Lurie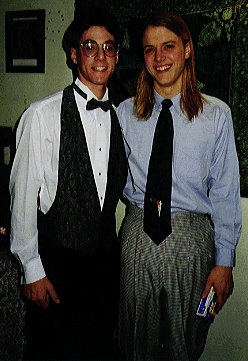 Unabashed revelling in Americana, and his New Jersey heritage. Unabashedly unironic. He told me about Ray Krok's dream of the same food, ordering without a menu, across the world, and believed in the dream of McDonalds. He even ate there!
We lived in Willets together, in first south, the loudest, most raucus hall. We were next door neighbors to Jerry and Raina.

When we first met, I was putting tabs of acid in my new mini-fridge, I immediately asked him if that was okay.

He hadn't really come in contact with that stuff before.
Dan has mellowed out quite a bit since I first met him. I'm happy he doesn't work in the tuxedo shop anymore, the mall is a bad place for him.
His first two years, he was a volunteer firefighter, something Vonnegut would have a lot of respect for.
After Swarthmore, he moved near San Francisco and works as a landscaper on some super duper big private gardens. Sounds very tranquilo.
justin's links by justin hall: contact