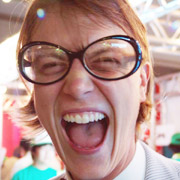 Wakawaka!
Photo by: Robin Hunicke

I saw this girl at the Tokyo Game Show wearing these totally rad glasses. I asked if she was a game designer; she said she was just talent, a model, a booth babe sort of. But she looked like a young artist! Quirkily arrayed. I encouraged her to take her funky wardrobe and make some software. Then my disappointment was offset when she offered to let me wear her glasses after I heaped praise on them. And Robin snapped this photo!
October 2004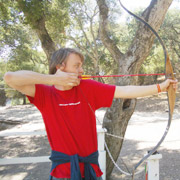 archerin'
Photo by Mom
Ready, Fire, Aim - archerin' at my cousin's wedding.
October 2004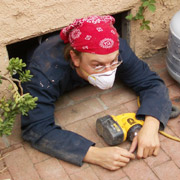 crawlspace
Photo by Natalie Ammirato of Mighty Industries
Crawling out from under my house, after digging out some dead possums.
August 2004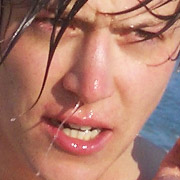 snot surf
Photo by Ethan, of The Veranda House
Aggressive fun in the Nantucket surf leads to some thin scrapes and copious snot. Ethan shot this prize drip-action photo, as well as a short video included here.
July 2004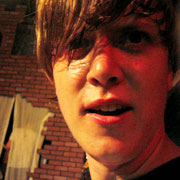 sweat face
photo by: Raina Lee, of 1-Up 'zine
After some sweaty dancing and carrying on, Raina took this picture of me at a video game themed fashion show that we attended - note the Super Mario castle in the background. There was some serious rocking out happening at a club called "The Smell" in downtown LA - tiny little MIDI melodies turned into moshtastic guitar jams. I may have been among the oldest people in the place, but I could still cut a rug. Raina got another pic of me dancin' - mid-craze.
July 2004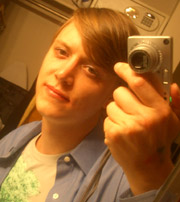 makeup mirror
self portrait, mirror of room #209 at the Farmer's Daughter Motel
experimenting with makeup - here, blue eyeshadow, mascara and red lip pencil. Wearing a blue no-iron Brooks Brothers shirt over a gray and green SAME tee.
June 2004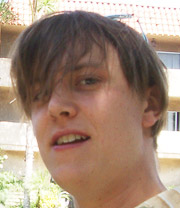 wiljojust
This is just the blondest part of a threesome prone to provoke - Wilson, Joanne and Justin gathered on Tujunga Avenue north of Los Angeles. Wilson was in town pimping his SAME fashions and looking for future styles. Joanne lives in LA, worked as a video editor and Avid technician. They didn't have much information about each other, but I think Wilson would have appreciated Joanne's human-sized MaxiPad costume at Mills and Joanne would have appreciated a few of Wilson's cheeky t-shirt slogans. For the time being, I was content to make them pose for a photograph.
June 2004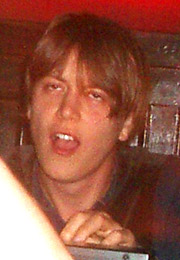 gaping gazing
Photo: Ryan Junell
I was running Ryan's video mixer at the Cafe du Nord. He took a break after he'd been VJing for a WideHive record release party for Mayhemystics. We found some delicious visual recursion, running his video camera on our faces and then projecting on the wall our gaping maws and bugged eyes with staggered with delays, traces, colors and layers of other footage. It was mesmerizing; I believe it put me in a sort of trance, something Ryan captured as he was photographing the scene in front of me. See the zoom for details. Also, here's a picture of Ryan at the controls.
May 2004

looking left
Photo: probably Mom
Maybe when I was seven? Or thereabouts. Sporting a towheaded bowl cut! Found this digging through my archives the other day.
May 2004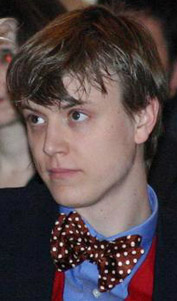 bowtie
Photo: Joi Ito
The original shot was taken at the Emerging Technologies Conference in San Diego in February. I'm sitting with Xeni, during Joi's panel on digital democracy; I was typing her wisdoms into the running IRC channel during the talk. That was a bowtie I received from a yard sale that was closing down; they couldn't get rid of the bowtie so I took it. Went home, and learned to tie it from drawings on the internet.
February 2004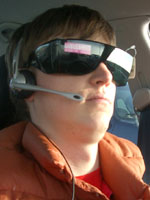 cybersport
Self-Portrait
Thinking of this photo I bought myself some $11 total wraparound glasses at Whiskey Pete's in Prinn Nevada. I donned them with my mobile phone headset, while driving over the Richmond Bridge. I took this photo, which amuses me greatly.
January 2004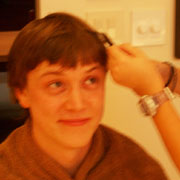 Cassidy Cuts
Photo: Christina Hall
In the early stages of a haircut by my nine year old niece Cassidy.
November 2003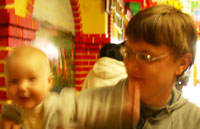 Waving
Photo: Chris Hecker
Three hours after landing from Seoul I was en route to the Mission district with Chris for a Mission-style carnitas burrito. The Kim Chi in my system and the Mission Burrito passing down my gullet did vicious battle. But I was soothed by the enthusiastic cooing and waving of Chris and Jen's tiny child - Clementine.
October 2003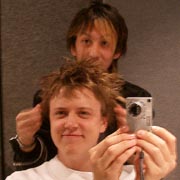 Hair Make
Yuki Oshiro works his waxxed up fingers to volumatize my thin hairs. Wandering Harajuku with my Japanese professor Deborah Shamoon, we stumbled into a design academy graduation party on the top floor of La Foret. Free hair stylings and make up! I arrived in the chair too late to get my face touched, by Oshiro-san did manage to sculpt my hair look oshare. He'll be making new doo styles in London in January.
October 2003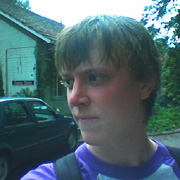 Sauna Side
Fresh-cooked self-portrait outside of the Sauna Society in Helsinki. Taken with a Nokia 3650, on-loan from Justin at TheFeature.
August 2003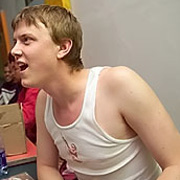 Chesty
Photo by: David Huang
I'm pictured manning the merchandise table at a Dealership gig; Saturday 21 June, at 21 Grand in downtown Oakland. Band photos here. I'm wearing a "WilMark" tank-top, a predecessor of fashion by SAME.
June 2003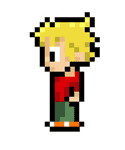 Justin Icon
A Justin Icon, by Jane.
Modelled after the pixellated heroes of old video games, Jane mocked up one of these little cuties for each of us, for our business cards, for E3, the videogame trade show. Now they're sitting aside our profiles on the Game Girl Advance editors page.
June 2003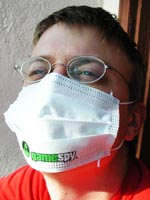 FaceMask
Photo by Jane
With news and fears of SARS in the air, GameSpy offered the most timely, if indelicate, promotional item at E3 this year - the GameSpy branded surgical face mask.
May 2003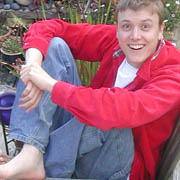 Square on Deck
Photo by Jane
Coiled in to a red white and blue square on Howard's lower garden deck; just having watched him and Jane paint, I was here talking to Judy as the others prepared to take a hike up on Coyote Ridge, Mount Tamalpais.
April 2003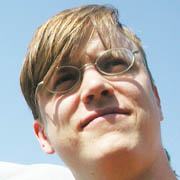 One Men
Self-portrait with Colin and Jim, during a visit to Corrine's farm in Rock county Nebraska, during a recent family drive.
April 2003