links.net
:
sex
:
You can do this too:

learn to publish pages
---
Pointers to Pages o' Purveyed Prurience
by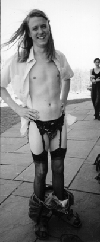 by Daphne Straus
Access statistics and fan mail have taught me that a large portion of the Links from the Underground crowd is after the latest in pages of porn. It must be all those people researching sociology and sexuality on the web. Don't forget to wipe the semen off your keyboards!

Many of the sites here end up in my shuttered sites section.

some folks seem to like real young women; why don't they work in high schools? maybe they do.

how better to examine your feelings about sado-masochism than first hand s-n'-m slave narrative with daily updated full colour action photos? Keep up with her weight, and you'll see weird jury duty photos, and can you believe her mom took that picture? She's 35, divorced, and if she's making this site, she's pretty into it. Only two weeks worth photos up, it's young. (5/2/96)

This is the kind of site that tests my patience with pornography. This guy loves strippers, strip clubs. Sure I dig on women in their physical prime, movin' their bodies. Athletes of a different sort - discipline and passion, a joy to behold.
Meni subscribes to the ideal of waifish, young, thin, heavy chested, aloof intangible beauty. Women this perfect I've only seen in pictures.
He also explores "Meni's Nightmare Date", two overweight women (from Hustler's beaverhunt?), one looks insecure enough, without being posted as a object of scorn. Check out these fabulous witticisms:
"Fat chicks are like mopeds, they're fun to ride, till your friends see you on one." Meni
"A 5 in bed, is better than a 10 in your head." Ross Jeffries
"It's 2 a.m., head is head, it's getting late." Phil (cruising Elm St. for chicks).
Sure, fat girls are pitifully funny. Like dunderheads at strip shows.
I wonder how many of his dancers have eating disorders? He's got tough standards:
Annie, a gorgeous Canandian with an incredible body that could be the best body in the club. Something you'd see on ESPN 2. Always tan, and very tight.
He should go to Somalia; tons of thin, tan girls there - and I hear they need jobs.
Barbs aside, making flat out fun of people is mean. I'm stuck looking for the social redeption here. Perhaps there isn't any.
Thinly disguised Porno Gallery. Steve set it up to share the bountiful beatury of sex, and make a point about free speech. Turns out the speech ain't too free - he's askin' for donations to cover bandwidth.
Download times are slow, you'll find your patience rewarded by 50 pornographic images. Steve is prone to pontificating,
"If you came here looking for words like sucking, licking, choking, cumming, spuzzing, fucking, pussy, cunt, pecker and cock, you came to the wrong place. While these words may accurately depict what is contained in the pictures in my Gallery, I do not believe them to be a tasteful way of portraying pornography, for pornography is the art of love. The above words do not describe love and I am here only to bring you a since of the purest love available to mankind."
Not that I don't agree with his sentiments, but those words would best describe what's going on here.
Finally, equal time for non big blonde boobed bimbo CDRom sales company sexuality, Jennifer has posted The Naked Man Page. A few links, two pictures. Gives a sense of the meager pickings available. I wonder if ever a site's been shutdown from penis pursuit overload? She was nice enough to link to my home spun centerfold page
Hubba hubba, Hustler's online. The publishers of Barely Legal magazine have set up a full fledged magazine web site. Membership has its priviledges, for $10 a month, or $90 a year. A high price for Hustler on demand! There are three months online at a time for subscribers.
To tantalize non-subscribers, a few pics from this month, the current table of contents, and a preview of next month. Each screen featured some prostrating woman enticing me to the content below - and oh, what content below. I found three pix - a broad brested babe with pierced belly, a balding fellow groping "Megan" in a ski lodge, and two gartered women twisted in mutual cunnilingus on a military vehicle. And that was just for free!
Their faq answers many pressing questions like how to clean jizz of your monitor.
Pushing boundaries at the WELL, Jef's Nude of the Month accounts for over 35% of the WELL's web hits, only one picture a month. He has pretty good taste - considering there's only a few pix up. He's been forgoing typical centerfold stuff, February's eerie case of vagina dentata, and thoughtful July. There's a Disney nude in there somewhere as well. I'd love to find a site of those! They'd better have good lawyers... (7/11/95)
Feeling like tracking down a hot pixel cluster? Finding some sweaty sites? Writing an article about sex online?
Snow Leopard's Adult Page has the Aussie lowdown on net wide sex sites. Good surfing here, look for some rare picks. Watch the speed, though, it's in Australia. (7/11/95)
A bold title, for only a May updated Complete Internet Sex Resource Guide. On best.com, a solid server, this one serves up every type of Internet sex resource - as of May. (7/11/95)
NetSex I have gotten to before, but am having trouble with today. (7/11/95)
For Your Eyes Only... offers a subjected survey of sexuallicit sites. Proprietor Matthew Stone has dug up a couple URLs for each of over twenty categories. A good overview of adult entertainment online, how people are trying to make money off of purveying prurience. You can do quite a bit of sexual meandering from here - and, it's still free! Note: occasionally this server goes down - the whole thing, not just 404 For Your Eyes Only. So buck up, surf on, try again tomorrow. (7/11/95)
| | |
| --- | --- |
| [an error occurred while processing this directive] | With a winning lede "open your mind!" Playboy magazine has put up quite a sophisticated male site. Playmates pix are avilable here, but only one per month. But besides skin, there's that timeless white boy wit, that pleasant cock stroking sensibility about the world. If you're lonely, wealthy, white, and male, surf here for an ego boost. |
Following swiftly on the web-bed heels of Playboy, rival soft-core skin mag Penthouse has made its way online. Unfortunately, the connection can be terminally slow, so be forewarned, any connections refused by host should be taken with a grain of salt and a re-click. The pictorials take on different airs, removed from their nudie magazine context. True, the models are presented with wonderful airs - sophistication, jollity - but these women are the same age as the women I am in school with. Some of the blurbs about them mention their weight. I know too many women with eating disorders and body image problems to be able to comfortably swallow this porn pill whole. If you are up for it, this site is a slick sexual selection of print Penthouse.

The Yahoo list at Stanford used to have an Erotic Arts section and a Society and Culture: Sex section. As of January 23rd, they'd posted this message:

As Yahoo's popularity has increased, this section has caused alot of inconveniences both to users and site maintainers of this type of material. Users complain that none of the sites work, and new links that are listed here usually do not last for more than a few days. We have decided not to maintain these links in the future. The links we have currently will only be displayed for a short time. Thank you.

Some high quality bondage photographs online here. The Virtual Gallery has an exhibit up by Hisayoshi Osawa. The site is slick as anything, and the photographs look great on this Indy I am on. Most all of it is highly stylized photographs of women only (breasts, no pubic hair), arrayed in various forms of fetish gear. Whether you are into naked women, or bondage, or not, these photos are engaging. Many are quite expressive. It's a medium easily pigeonholed, but this guy seems to be trying to make art out of it. Either that, or he's a good photographer obsessed with women and power. Watch out for numbers 8 and 20, they'll throw you for a loop. There are about 28 photos in all, but 16 through 21 are mostly inanimate objects.
What used to bear a fitting name, the Point of No Return, is now InterSex City, the red light district of the web. You used to be able to find a number of FTP and web sites distributing erotic and pornographic pictures and other sex-related materials. Now, this appears to be a cybersex cash-in, cuz you can't see shit unless you pay First Virtual. (6/9/95)
---
Sexy Stuff | Prurience Pages | Sexy Sales | Sexy Models | home spun centerfolds
sex advice | sexdex | justin's links
---
justin's links | www.links.net

justin hall | <justin at bud dot com>